'The Pulse of Entertainment' 2013 in review, garners double readership
By
Eunice Moseley
L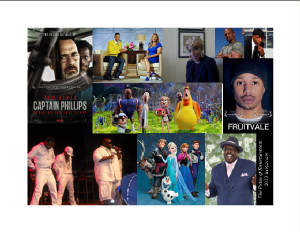 ooking back on interviews and event coverage for my syndicated column, The Pulse of Entertainment, for 2013 I see that I garnered double the readership numbers for its website www.ThePulseofEntertainment.com. The year began with 30,000 hits a week and ends with over 60,000. As always when I look back on the year I am astounded at the interviewees and the hard-to-get-in events I was blessed to partake in.
Highlights of the year starts with my favorite interviews that include former BET president Reggie Hudlin about co-producing the film Django Unchained starring Jamie Foxx; rapper/actor Common about his starring role in LUV; multi-Grammy winning Mary J. Blige, who I interviewed twice in 2013, for her role in Betty & Coretta - where she played Dr. Betty Shabazz - as well has her role in Black Nativity (I also interviewed Tyrese, Angela Bassett and Forest Whitaker); comedian/actor Katt Williams on his role in Scary Movie 5; Jeff Clanagan (Codeblack Films) about his partnership with Lionsgate to produce films and the success of producing comedian/actor Kevin Hart's film/comedy ventures; record label executive Kevin Liles (Warner Bros Records) about his charitable event brought to my hometown of Baltimore that benefited young disadvantaged students; Arsenio Hall about the return of his late night talk show, "The Arsenio Hall Show," on CBS; Sheryl Lee Ralphs (original Dreamgirl) about her life's coverage on TV One's "Life After"; Queen Latifah, whom I interviewed twice in 2013, about her new talk show "The Queen Latifah Show" executive produced by Will and Jada Smith's Overbrook Entertainment, Sony Pictures and her company Flavor Unit; Terry Crews about his first voice-over role in Sony Picture's Cloudy 2; Tom Hanks about his starring role in Columbia Pictures' Captain Phillips; Neicy Nash about her starring role in the TV Land sitcom "The Soul Man" staring and produced by Cedric The Entertainment; Cedric The Entertainer about his new hosting job on ABC's "Who Wants To Be A Millionaire," TV One's Roland S. Martin about his new daily news show; playwright and film producer David E. Talbert about his Fox Searchlight film Baggage Claim, and American Music Award winning Rock star Lenny Kravitz about his role in the Lionsgate film The Hunger Games: Catching Fire and designing Queen Latifah's talk show stage called "Big Sexy".
My favorite reviews - some with interviews and some without - include the 19th Annual SAG Awards; Keith Sweats book "Make It Last Forever" which came with an interview; Charlie Wilson's album "Love, Charlie," which came with an interview; Chante Moore's "Moore is More" album release, with interview; the film 42 about the life of Jackie Robinson; Pain & Gain starring Dwayne "The Rock" Johnson, Mark Wahlberg and Anthony Mackie another true story about fitness center extortionists; Disney's Frozen; the performance of multi-platinum selling Dru Hill in my hometown of Baltimore at Rams Head Live; the BET Awards, the film White House Down starring Jamie Foxx and Channing Tatum; the Gracie Awards; the true drama Fruitvale Station starring Michael B. Jordan; multi-platinum selling Marques Houston's "Famous" album, with interview, as well as his a review of his album release private concert; TriStar's Elysium starring Matt Damon; R&B singer Mack Wilds, also known as Trishan Wilds (Red Wings), on his debut R&B/Hip-Hop album "New York: A Love Story;" Sony Picture's Cloudy With a Chance of Meatballs 2; 14-time Grammy winner Ricky Skaggs' "Ricky Skaggs and Bruce Hornsby Live" album release; Lionsgate's The Hunger Games: Catching Fire; Mandela: Long Walk to Freedom, and Jonathan Butler's "Merry Christmas To You," with interview.
As the New Year begins my calendar shows up-coming coverage of the NAACP's 45th Image Awards, Disney/ABC's press tour - a presentation of the 2014 program schedule, and the 20th Annual SAG Awards. Learn more about The Pulse of Entertainment and where it is published at www.ThePulseofEntertainment.com, and me - Eunice Moseley - also a public relations strategist and business management consultant at www.FrelanceAssociatesInc.com.
New York native Elease Donovan stars in Oxygen's 'Bad Girls All-Star Battle' premiering January 7, 2014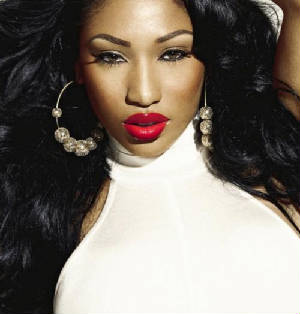 "I never had someone to purposely push my buttons," said reality star Elease Donovan about her role in the Oxygen reality show "Bad Girl's Club," which is premiering the "Bad Girls All-Star Battle" Tuesday, January 7, 2014 at 8/7c. "It made me stronger. It's a tough show and some leave early. I learned a lot on my first show. It took me out of my aliment…taught me how the world really is."
Donovan, a model and swim wear designer, said when she was first approached during season one she felt the show wasn't for her.
"I was still in school and I wanted to graduate," Elease pointed out about the reality show created by Jonathan Murray for Oxygen. "By season two I was working on my third swim wear collection and not much was going on."
Launched in 2006 "Bad Girls Club," a reality show about aggressive, quarrelsome and unruly women where the contest is to see who can last the longest until the last day premiered its 12th season in July of 2013. On January 7th the Oxygen Network premiers the 3rd season of the "Bad Girls All-Star Battle." The franchise has had five spin-offs - "Bad Girls Road Trip" (2007); "Love Games: Bad Girls Need Love Too" (2010); Bad Girls Tanisha Gets Married" (2012); Bad Girls: Flo Gets Married" (2011), and "Bad Girls All-Star Battle" (2014) - where the winner gets $100,000.
Born in Kingston, Jamaica and currently based in Miami, Florida Elease Donovan has appeared on the cover of such magazine's as "Blackmen Magazine," "The Pulse," "7 News," and "FCM." Learn more about the "Bad Girls Club" franchise, which also airs in Australia on MTV, the Netherlands and in Sweden, at www.Bad-Girls-Club.Oxygen.com.
(Syndicated Columnist: Eunice Moseley, has an estimated weekly readership of over ¼ million with The Pulse of Entertainment – she is also a Public Relations/Business Management consultant and Promotions Director (at-large) for The Baltimore Times. Her Event: Baltimore "Uplifting Minds II" one day national entertainment conference (seminar panel & talent competition) at Security Square Mall Sat. April 19, 2014. www.FreelanceAssociatesInc.com, www.ThePulseofEntertainment.com, www.UpliftingMinds2.com).