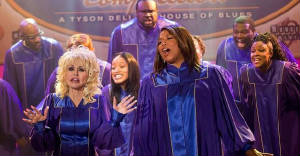 Warner Bros' Joyful Noise is a must see for all music lovers, arrives in theaters January 13, 2012

~

"Gospel is influenced by so many genres. We have to allow that influence for the youth," said Queen Latifah about the Praise & Worship music used in the Warner Bros' distributed Alcon Entertainment presentation Joyful Noise, which stars Queen, Dolly Parton, Keke Palmer, Jeremy Jordan and Courtney B. Vance. "It's a new generation. I don't remember people dancing in the church, but it's the kids' way and it's for the right reasons."
Joyful Noise, which arrives in theaters January 13, 2012, is a must see for all music lovers. Not only do you get the most inspirational Contemporary Praise & Worship music from beginning to end, but you will see some dance moves not normally seen in traditional churches.
Written and directed by Todd Graff (The Abyss) and music by Maryn Warren, Joyful Noise centers on the Divinity Church Choir and their passionate attempt at winning the National Joyful Noise Competition. Vi Rose (Queen Latifa) is the new choir director who refuses to 'modernize' the choir's performance for the competition.
Choir member G.G. Sparrow (Dolly Parton) is Vi Rose's rival for the choir director position and a supporter of change. G.G.'s grandson Randy (Jeremy Jordan) develops a soft spot for Vi Rose's daughter Olivia (Keke Palmer), also a choir member and soloist, and joins the choir to get closer. Vi Rose is fighting against the budding young relationship and the choir's plea for change.
"Meryn brought me these love songs turned into Praise for God," Dolly Parton said about the outstanding music used in this film. "He did a marvelous job. You can dance to it and praise to it."
Joyful Noise also stars Kris Kristofferson, Dexter Darden, Angela Grovey, Paul Woolfolk and Jesse L. Martin. Queen Latifah and long time manager Shakim Compere are co-executive producers, along with Timothy M. Bourne. This musically driven film presents the Gospel through Pop, Country, Rock, R&B and Spiritual channels. The Divinity Church Choir will also tackle songs from artists that include Michael Jackson, Chris Brown, Usher, Paul McCartney, Sly & the Family Stone and Stevie Wonder.
To learn more about the Warner Bros' distributed film Joyful Noise log onto www.JoyfulNoisethemovie.com. Joyful Noise is rated PG-13 and arrives in theaters January 13, 2012.
Disney ABC Television announces its winter schedule; 'Let It Shine' and 'Scandal' appear to be winners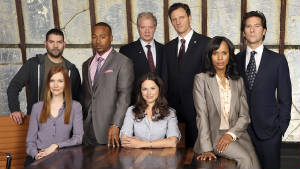 I attended the Disney ABC Television Group Winter Press Tour where they announced their programming schedule for winter 2012. Of the many shows announced the Disney Channel original movie "Let It Shine," starring Courtney B. Vance (The Preachers Wife), Dawnn Lewis (A Different World), Tyler James Williams ("Everybody Hates Chris"), Coco Jones and Trevor Jackson, and the ABC series "Scandal" starring Kerry Washington (Ray), Columbus Short (Stomp), Tony Goldwyn (The Pelican Brief), and Jeff Perry ("Grey's Anatomy") appear to be winners.
Created and co-executively produced by Shonda Rhimes ("Grey's Anatomy"), "Scandal," is based on the life of co-executive producer Judy Smith, a Crisis Communications Strategist, played by Kerry Washington. Directed by Paul Hoen, the Disney movie "Let It Shine," is about parents (Vance and Lewis) - rooted in a traditional church - who are trying to deal with their son, played by Tyler, who has a passion for Hip-Hop music.
"2012 is starting with an omni-bus distribution deal with Comcast," said Disney Channel's President Gary March. "Our content will be available for laptops, smart phone and tablets. Our viewers are digital."
In 2011 Disney Channel was the #1 network for kids and received the highest ratings across all platforms: Disney XD, and Disney, Jr.
The rest of the schedule includes "The Revolution," a reality show where a person's body, mind and wardrobe is revolutionized. ABC's "Missing" starring Ashley Judd and Cliff Curtis; "Don't Trust the B____ in Apartment 23; "The River," "GCB," ABC Family's "Switched at Birth" and "Jane By Design," and returning shows "Desperate Housewives," "Modern Family," "The Middle," "Suburgatory," and "Happy Endings."
For more information on the new shows of ABC Disney Television Group log onto www.DisneyABCTV.com