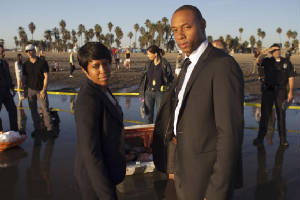 Regina King and Dorian Missick partner on new season of 'Southland' on TNT, premiers January 17, 2012

~

TNT's "Southland" has actors Regina King and Dorian Missick as partners in the 4th season of the dramatic series, which premiers January 17, 2012 at 10 p.m.ET. King plays Detective Lydia Adams, often known for losing her cool while balancing work and motherhood and Missick plays her partner.

"Southland," nominated for a SAG Award for Outstanding Performance by a Stunt Ensemble in a TV Series, takes a valid look at crime in Los Angeles and the LAPD. Picked up for ten episodes, "Southland," was created and co-executive produced by Ann Biderman. "Southland" is produced by John Wells Production in association with Warner Bros. TV.

"My choice was to be on a show that was an ensemble. I'm not really interested in 17 hour a day every day...that's what you get when...the show is all about you," said Regina King, who will serve as Social Media Ambassador at the SAG Awards, about starring on the TNT weekly series.

Dorian Missick added that one of the things he loves about the show "is that the writers really do play attention to detail."

The cast also includes Michael Cuditz as Officer John Copper, Shawn Hatosy as Detective Sammy Bryant, Lucy Liu as Officer Jessica Tang and Ben McKenzie as Officer Ben Sherman. Regina Kings former co-star on "227", Marla Gibbs, is on the series as well.

"The cool thing was that she auditioned for the part so it wasn't like Regina created this opportunity for Marla," King pointed out. "Then they called and asked me would I be ok with it and I said,' Of course'."
"Southland" seasons 1 - 3 are currently available on DVD. For more information on TNT's weekly series, "Southland," log onto
www.TNT.TV/series/southland
.
Machine Gun Preacher, the life of Sam Childers, is now on DVD and Blu-Ray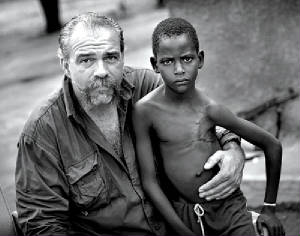 "Sometimes to save a life we have to reach out and forget the cost," said Sam Childer, a biker turn preacher, who the Marc Forester directed Relativity film Machine Gun Preacher is based on. "Don't count the cost."
Childers didn't count the cost when he picked up a machine gun on behalf of refugee children when he learned of their plight in the Sudan. Sam witness children enslaved and/or brutally killed - along with their families - if they did not join the despicable Lord's Resistance Army.
The former drug dealer literally single handedly saved 100s, and now thousands, of children by freeing them at gun point and taking care of them ay an orphanage he build in the heart of the torn and dangerous area.
"It...reminded me how I use to hurt people," Childer said when I asked about his reaction to seeing the film the first time. "Thank God for opportunities to help people."
Sam, who is played in the film by Gerard Butler (300), said his non-profit is currently working on three projects that concern sex trafficking in the Sudan, Uganda and the United States.
"We also have a television show, 'What if you had a second chance'," Sam added. "I believe prostitutes don't want to be a prostitute and homeless people don't want to be homeless."
In explaining how hard it is for him to finance his attempt at saving children against slavery Childers pointed out that, "I've been fighting a battle all week long. It always comes from...a brother and sister in Christ. Remember it was religious people that hung Him (Christ)."
For more information on Machine Gun Preacher log onto www.MachineGunPreacher.org/movie/ and for the DVD and Blu-ray log onto www.BlockBuster.com.