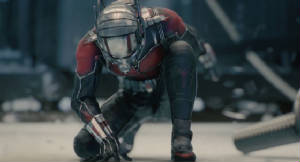 Marvel inspires again with Ant-Man, a Walt Disney presentation, in theaters July 24, 2015
Marvel inspires again with Ant-Man, a Walt Disney Studio Motion Picture presentation, arrives in theaters July 24, 2015 in 3D and IMAX 3D. The super hero Sci-Fi film follows Dr. Hank Pym, played by Academy/Emmy/Golden Globe winner Michal Douglas (Wall Street), a former S.H.I.E.L.D. agent and the original Ant-Man. Dr. Pym is out to stop his protégé' Darren Cross, played by Golden Globe nominated Corey Stoll (The Strain), who stole his shrinking technology to become Yellowjacket - determined to control the world.
Dr. Pym (Douglas) and his daughter/assistant Hope Pym, played by Golden Globe nominated Evangeline Lilly (The Hobbit), enlist Scott Lang a down on his luck father who needs desperately to make child support payments, to wear the Ant-Man suit and stop Yellowjacket before he can complete the formula and sell it to the highest bidder. Ant-Man aka Scott Lang is played by MTV Movie Award winner Paul Rudd ("Friends").
Ant-Man is Rated PG-13 and offers plenty of comic relief from the suspense that Sci-Fi films bring thanks to co-stars rapper T.I. and Michael Pena. Ant-Man also stars Emmy winner Bobby Cannavale (Third Watch), Woody Harris (Remember the Titans), Judy Greer, Abby Ryder Fortson, David Dastmalchian, John Slattery as Howard Stark, Martin Donovan, Garrett Morris, and a cameo by Stan Lee (Marvel). The script writer is Joe Cornish, Adam McKay, Edgar Wright and Paul Rudd. Director is Peyton Reed and it is produced by Marvel Studios.
Fans of George Harrison urges sister for memoir, Louise Harrison publishes 'My Kid Brother's Band aka The Beatles'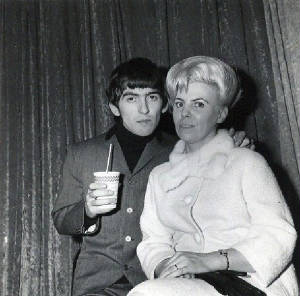 "The major reason I decided on writing the book was so many people respect and admire my brother and thought how did that happen," said Louise Harrison (82), sister to The Beatles' lead guitarist George Harrison, about her motivation to publish her memoir, "My Kid Brother's Band aka The Beatles." The book is about her relationship with the group during Beatlemania. "It wasn't a magic wand it was our upbringing, our parent's love, the humor. Both John and Paul lost their moms so our mom was their mom and I want them to know what wonderful parents we had."
"My Kid Brother's band aka The Beatles" (Acclaim Press) recounts the summer of 1965 when Beatlemania hit the UK and she was living in the United States helping to create that same atmosphere here. Her book release marks the group's 50th anniversary.
Here in the U.S. the need for consist updates on the group by media resulted in an on-air radio gig for her as the official Beatles reporter.
"It all happened accidently," Louise said about how it happened. "With the Beatles doing the 'Ed Sullivan Show' my brother was ill. He had a temperature of 104 degrees. A young teenage cut his hair and it made him very annoyed. When I got back a radio show I had been begging to play their music reported it wrong. I called and told them what really happened and they said to come on the show. I said no at first. The program director called and said because it is of interest and a crazy story we like you to come on (and speak about it)."
In the end Louise Harrison agreed to report regularly on her bothers' band adventures. Louise travels the world now with a band she manages called the Liverpool Legends Band, a Beatles tribute band. The band must be good because they perform consistently all over the world. At the time of the interview they had just performed in Mexico City before an audience of 16,000.
"I still work with my band. We have a private concert (coming up)," she said. "We just formed a non-profit to help keep music alive."
In particular they want to help keep music alive in schools. The Beatles' members include George Harrison, Paul McCartney, John Lennon and Ringo Star. There are only two members still alive Paul and Ringo. The Beatles are members of the Rock and Roll Hall of Fame, and garnered 10 Grammys and a Billboard Award, and an Academy Award for Best Score.
The Beatles have sold 178 million albums in the United States and over 600 million around the world. George died of lung cancer in late 2001 and it is reported that his estate at the time was worth 100 million. Harrison wrote the Beatles' hits "Here Comes the Sun" and "Sometimes." He founded the Dark Horse Record label, co-founded the platinum selling group the Traveling Wilburys and formed Hand Made Films (Time Bandits).
The Beatles broke up in 1970, but remained friends. They left hits such as "Love Me Do," "Help," "Let It Be" and "A Hard Day's Night" to last forever. Paul and John wrote most of the songs which were owned by Northern Songs - Paul and John had 20% share in the company. George had a writing deal with Northern Songs as well but it only lasted three years. The controlling interest in both companies was sold to ATV which eventually brought the entire Lennon-McCartney catalog. Michael Jackson brought ATV and the rights to 200 Beatle songs. Jackson earned a reported 100 million by merging ATV with Sony creating Sony/ATV publishing keeping 50% stake. The merger made Sony/ATV worth half a billion. John and Lennon's estate still holds the writer's royalties on all songs.
Find out more about The Beatles by logging onto www.TheBeatles.com, for George Harrison log onto www.GeorgeHarrison.com, and for more on Louise Harrison's book "My Kid Brother's Band aka The Beatles" log onto Amazon.com.
(Syndicated Columnist: Eunice Moseley, has an estimated weekly readership of over ¼ million with The Pulse of Entertainment. She is also a Public Relations Strategist and Business Management Consultant at Freelance Associates, and is Promotions Director (at-large) for The Baltimore Times.www.ThePulseofEntertainment.com. EVENT: Sat October 24, 2015the "Uplifting Minds II" Free Entertainment Conference at the Celebrity Centre in Hollywood, CA. Sat April 16, 2016 the "Uplifting Minds II" Free Entertainment Conference at Security Square Mall. www.UpliftingMinds2.com.)