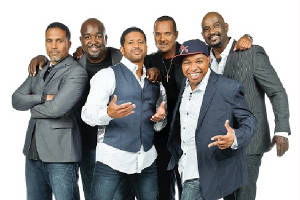 Take 6 takes us to church with their newest album release 'One'
By
Eunice Moseley

"Most of our records are Jazz...this particular project is straight Gospel," said Claude McKnight member of the multi-platinum selling a cappela group about their newest album release "One" on Shanachie.

In celebration of the 25th anniversary Take 6 (McKnight, Mark Kibble, Joel Kibble, Dave Thomas, Alvin Chea and Khristian Dentley) released a Gospel project that has a guest appearance by Stevie Wonder. The sextet, known for their Jazz/Gospel influenced projects, has garnered 10 Grammy Awards and 10 Dove Awards during their career. On this new project Take 6 focuses solely on Gospel taking us from ole' time Spirituals to Contemporary R&B influenced songs.

"We always ministered," Claude pointed out. "On this one we wanted to get home how the belief system works."

Take 6 offers 11 selections to explain their message, of that I find I play over and over again "Down Here I've Done My Best," because their harmony had me visually in a cotton field singing of my misery with ole' time Spirituals. "Can't Imagine Love Without You," featuring and written by Stevie Wonder, is a classic Wonder masterpiece with Take 6 offering harmonic supporting vocals. Their cover of the Spiritual "What a Friend We have in Jesus," which includes a twist of Jazz influence, is also a favorite along with "Glorious Day," a jump-and-shout selection and "Further Along," for its ole' time Spiritual feel.

"'One' to us is there is 'One' Jesus, 'One' Savior and 'One' way to come to the Father," stressed McKnight. When I asked about their 25 years together he said, "We continue to do it because we are 'One.'"
For more information or to hear some of the album, "One," log onto
www.Take6.com
.
ASCAP Rhythm & Soul Music Awards, a spectacular event honoring Quincy Jones and Pharrell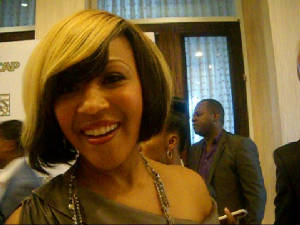 As the red carpet opened we were all anticipating who would show up of the honorees, awardees and guests of the 25th Annual ASCAP Rhythm & Soul Music Awards held recent at The Beverly Hilton. After the arrivals dinner was served as the program began, which honored Quincy Jones and Pharrell Williams.
"I work real closed with Jay-Z," said producer/songwriter S1, who was with his songwriting partner Shea Taylor, about how they ended up working with Beyonce' on "Best Thing I Never Had." "(Coming up) we will be working on a lot of Kanye West and we're about to dive right back in with Beyonce'."
I also talked briefly to Erica Campbell (Mary Mary), who won for "Walk;" Lonnie Bereal, who just released a project,-"The Love Train," was there to accept an award for Chris Brown's "Wet The Bed," featuring Ludacris; Drumma Boy was awarded for LMFAO's "Party Rock Anthem;" Xscape member Latocha Scott was there to promote her upcoming solo album, and Miguel, who was there to accept an award for "Sure Thing," stopped briefly for a picture.
During the dinner special honors were given to Quincy Jones, who seems to tear up receiving the Founders Award and Pharrell Williams received the Golden Note Award. Noah "40" Sheibb was named Songwriter of the Year and EMI Music Publishing received Publisher of the Year.
Though spectacular in its presentation and stage setting the ASCAP Rhythm & Soul Music Awards seems to be a big family gathering of the biggest songwriters and producers in the business.
"Go after your dreams, don't give up," said Mary Mary's Erica Campbell.
For a complete list of the ASCAP Rhythm & Soul Music Awards winners log onto www.ASCAP.com.
(Eunice Moseley is a syndicated entertainment columnist, www.ThePulseofEntertainment.com. NEWS: Attend the "Uplifting Minds II" entertainment conference Sat., Oct. 20, 2012 from 1 - 7pm at the Celebrity Centre in Hollywood, CA. - admission is free! www.UpliftingMinds2.com)