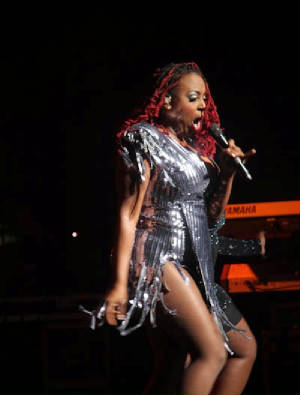 Ledisi's 'BGTY' Tour, featuring Eric Benet, receiving standing ovations across the country
By
Eunice Moseley

I was invited to review the Ledisi 'Be Good To Yourself (BGTY)" Tour, featuring Eric Benet, when it arrived at Club Nokia in Los Angeles and need I say it left me feeling so 'good' about myself and the future of R&B music. Her simple set does not prepare you for the powerful performances by both her and Eric. So if you haven't seen the show, do 'yourself' a favor and invest in tickets, it's worth it.

Eric Benet opens the show singing his favorite hits, as well as songs from his current album release "Real Love," fitting title for a man with 'real' vocal power and range. He had his lovely and talented daughter India comes sing a selection as well, and he even blessed us with a look at his beautiful baby girl.

Then lady Ledisi did her thing with her curvy backup singers who also amazed me with not only their vocals abilities, but their dance moves. Ledisi owned the stage as if her whole life was meant for that moment. She gives everything physically and vocally combining R&B, Soul and Jazz. I just loved the way she incorporated skating into an R&B flavored song. Her band was also a stand out feature at the show.

The "BGTY" Tour is the second leg off her latest album release "Pieces of Me," the highest charting album of her career, yet it seems it is just now getting full-steam. Will there be a third leg of the tour? The way it's sweeping across the country stacking up standing ovations you never know.

Ledisi's tour, which started in June, just finished a show in Washington, DC where even the First Lady Michelle Obama came out to see this unbelievable talent. I have no doubt she walked away feeling good about it as well. Bravo to the seven-time Grammy Award winning singer/songwriter and her traveling partner Eric Benet for a great show.
The "BGTY" Tour is headed next to Detroit, Buffalo and Nashville as it comes to an end in Atlanta in early August. Find out more on Ledisi's tour, her album and her first book, "Better Than Alright..." release on Time Home Entertainment, at
www.Ledisi.com
.
Jazz pianist Marcus Johnson expands branding from music to wine, FLO Wine Brands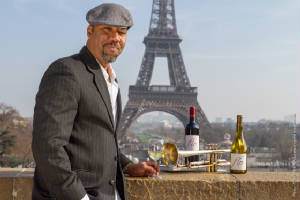 "I like wine," Billboard topping Jazz pianist Marcus Johnson said about his new venture into wines with his FLO Wine Brands (red and white). "It's one of the things I've like for the past 25 years since I got out of Law School. I had a friend that had wine tasting at his house and I learned to enjoy it with food...I always had the idea to brand beyond music alone."
His branding into wine not only made him a sudden success in that field, being one of few blacks (if not the only one) to have a wine collection - Chardonnay and Red Blends. His FLO Wine Brand comes from the appellations of California and is distributed by Southern Wine and Spirits. The FLO Wine Brand is incorporated into his "Sip and Sounds" Tour that combines wine tasting with his music.
"I look out into my audience and its women in general," Marcus said about audience response to the combination of music and his wines. "It's (wine) something I like and fits perfectly with music - the FLO CD."
The FLO Chardonnay and Red Blend wines are sold in most spirit and wine carrying supermarkets, such as Giants on the east coast and Albertson's on the west coast.
"I would love to have us go to being the top 20 wine brands in the country," Johnson added.
Marcus said that each venue he performs at he brings his wine and because of the audience's response to the wines the venues decide to keep it in stock.
"We only have two (Chardonnay and Red Blend) for those with developed pallets," he concluded.
The Flo Wine CFO is Sean Johnson and its president is Rob Piziali. The FLO Wine Brands can be found in nine states so far, but the response has been overwhelming and that number is increasing as I type. So look out for the Marcus Johnson FLO Wine Brand at your next dinner out on the town, at the next venue for a show and in your local supermarkets.
Learn more about the FLO wines by logging into www.FloBrands.com, and learn more on Marcus Johnson's "Sip and Sounds" Tour by visiting www.ThreeKeys.com.
(Eunice Moseley is a syndicated entertainment columnist, www.ThePulseofEntertainment.com. NEWS: Attend the "Uplifting Minds II" entertainment conference Sat., Oct. 20, 2012 from 1 - 5pm at the Celebrity Centre in Hollywood, CA. - admission is free! www.UpliftingMinds2.com)