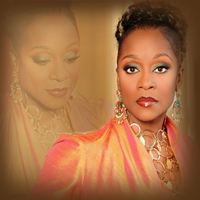 Four-time Grammy winner Regina Belle releases a powerful sophomore Gospel album, 'Higher,' available June 5, 2012
"You really have to concentrate on your response to not just the people, but God," said four-time Grammy and Academy Award winner Regina Belle about her second Gospel album, "Higher," (and ninth recording project) on Pendulum Records. "I want to change people's lives....I don't have the luxury of just entertaining people."
The soul-stirring project is so powerful, I must say, it made me take another look at the legendary vocalist, now First Lady of New Shield of Faith Ministries in Atlanta (headed by her husband John S. Battle, III). On June 5, 2012 Regina releases a project she can be sure, will change lives. Her first single off the "Higher" project is "Make an Example Out of Me" written by Micah and Heidi Stampley. The single reached the Top 20 Gospel Radio Charts. It is a testimony of her own experience after being diagnosed with a brain tumor - which she has made a full recovery from.
"Higher" is produced by Ray Davis, Ruben Rodriguez, Chris Walker and Belle. It has special guest appearances by Pastor Shirley Caesar, Kathy Taylor and Lowell Pye (Men of Standard).
"People inspire you to write songs for better or for worst," Regina said when asked about her inspiration for some of the songs. "It reflects circumstances I went through with my health. I prayed that it would be used for the good, to be an example...to help somebody."
"Higher" certainly did just that because one of my favorite cuts from the album helps me by giving me inspiration in the mornings -"God Must Have Been With You." That selection is a powerful testimony of God's grace and Regina puts her all into that number. Other favorites of mine include the first single "Make An Example Out of Me," a passionate heartfelt prayer in song; "The Lord Is With You," has a little Jazz flavor; "That's How God Does," has an Urban feel to it; "Coming Back," a heartfelt song of God's forgiveness; "We Win," a nice R&B influenced selection targeted, I'm sure, to the younger listener; "Lord Of All," a beautiful masterpiece with Jazz influence where Belle does unbelievable things with her voice, and "Been So Good," featuring Shirley Caesar, is a rocking Praise & Worship offering.
"I always thought before, using music was to inspire people. Now I want to change people's lives," she concluded.
For more information about Regina Belle and her sophomore Gospel project, "Higher," log on onto www.ReginaBelle.org.
The 37th Annual Gracie Awards Gala attracts the elite females in media to Beverly Hills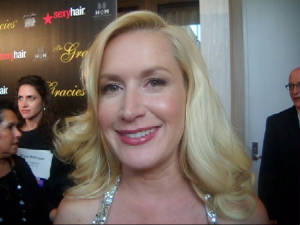 "There are so many amazing women here," said Shaun Robinson (CNN's "Access Hollywood") about the 37th Annual Gracie Awards Gala held at the Beverly Hilton Hotel.
Hosted by Angela Kinsey (NBC's "The Office") the Gracie Awards Gala attracted the elite females in media to come to honor and be honored. Hannah Mclalwain (Oxygen's "Glee Project") and Vicci Martinez (NBC's "The Voice") was the entertainment for the evening.
"I think that celebrating positive influences (is what Gracie is about)," said Erin Fuller, President of the Alliance for Women in Media Foundation (AWMF) who presented the award gala. "When you see other people and certain important project (being honored)...it's really exciting."
I covered the red carpet arrivals for the 37th Annual Gracie Awards Gala and had the pleasure of talking briefly to women I admire and watch almost every day. Just to name a few there was Sarah Shabi of USA's "Fairly Legal"; Ariel Winter of ABC's "Modern Family"; Elizabeth Cohen of CNN; Angela Kinsey of NBC's "The Office", and Hannah Mclalwain of Oxygen's "The Glee Projects."
The Gracie Awards is presented by AWMF, the philanthropic arm of the Alliance for Women in Media that supports education programs, charitable activities, public service campaigns and scholarships to benefit the public, the electronic media and allied fields. The Gracie Awards were established in 1975 to honor programming and individuals of the highest caliber in all facets of radio, television, cable and web-based media.
The 37th Annual Gracie Awards Gala was made possible by Arbitron, Beasley Broadcasting Group; CBS News; CNN, Disney/ABC Family Group; E! Networks; ESPN, Ford Motor Company Fund; Katz Media Group; National Association of Broadcasters; Oxygen, Premiere Networks; RLTV, and House of Mandela. Find our more on the AWMF and the full list of award winners at www.TheGracies.org.
BET Awards '12, the premiere awards show of the year, attracting 7.4 million viewers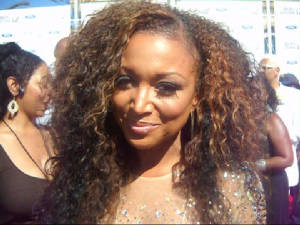 The BET Awards '12, I must say, has become the premiere awards show of the year, attracting over 7.4 million viewers. Though the red carpet was hot enough to make the ground melt (literally) the music, the celebrities, the gowns, the suits, other outfits, the weekend long festivities, the performances and professional staff gave me one of my most memorable assignments so far this year.
It was crazy but I had the pleasure of talking briefly to many of my favorite performers: Michelle Williams, Faith and Nicci Gilbert, Yolanda Adams, Letoya Luckett, Chante Moore, Jessica Reedy, the cast of The Soul Man (John Beasley,, Jazz Raycole and Wesley Jonathan) and Luke James. Many were already inside the venue, the Los Angeles Shrine Auditorium, to prepare for performances or get out the heat. Rushing by me I saw Rick Ross, MCLyte (the event's announcer), 2 Chainz, Swizz Beatz and Mindless Behavior.
Backstage, the atmosphere was even classier than last year (if at all possible). Headed by Stephen Hill (President) Debra Lee (CEO) BET's staff - and its media department - did an excellent job coordinating it all. While backstage - before my camera's batteries died - I was able to take pictures of winners Kevin Hart (Best Actor) and Miguel (Best Collaboration) who doing photos and quick Q and A sessions.
This celebration of talent is the most varied Urban awards event to come out of this century. If this is an example of what I can expect from this network in the coming years, I may have to keep it lock on BET.
Maze featuring Frankie Beverly received the Lifetime Achievement Award and Rev. Al Sharpton received the Humanitarian Award. Of the nominees winners include Beyonce' for Best Female R&B Artist; Chris Brown, Best Male R&B Artist; Jay-Z and Kanye West won two awards Best Group and Video of the Year; Wale featuring Miguel, Best Collaboration; Drake, Best Male Hip-Hop Artist; Nicki Minaj, Best Female Hip-Hop Artist; Beyonce' and Alan Ferguson, Video Director of the Year for "Party"; Big Sean, Best New Artist; Yolanda Adams, Best Gospel; Viola Davis, Best Actress; Kevin Hart, Best Actor; Diggy, YoungStars Award; The Help, Best Movie; Serena Williams, Subway Sportswoman of the Year; Kevin Durant, Subway Sportsman of the Year; Mindless Behavior's "Hello", Coca-Cola Viewers Choice Award; Common, Centrie Award; Sarkodie (Ghana) and Wizkid (Nigeria) tied for Best International Act (Africa), and Wretch 32, Best International Act (UK).
The BET Awards '12 will be re-airing (check your local listing for day and time). You can log onto www.BET.com for more information and a complete list of winners.
(Eunice Moseley is a syndicated entertainment columnist, www.ThePulseofEntertainment.com. NEWS: Attend the "Uplifting Minds II" entertainment conference Sat., Oct. 20, 2012 from 1 - 7pm at the Celebrity Centre in Hollywood, CA. - admission is free! www.UpliftingMinds2.com.)