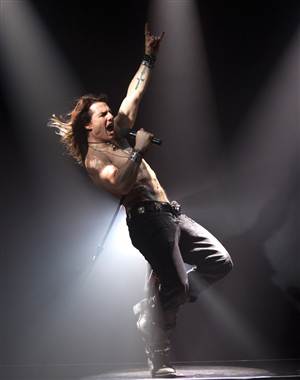 Rock of Ages, Warner Bros.' new musical film is rocking awesome, arrives in theaters and IMAX June 15, 2012

Warner Bros.' Rock of Ages starring Tom Cruise, Alec Baldwin, Russell Brand, Julianne Hough, Catherine Zeta-Jones, Diego Boneta, Malin Akerman, Mary J Blige and Paul Giamatti is rocking awesome. From the beginning to the end it is nothing but a party woven with that age old story boy-meets-girl - while they're searching for fame. Adapted from the Chris D'Arienzo Broadway musical of the same name, Rock of Ages is directed by Adam Shankman ("Hairspray"), and arrives in theaters and IMAX June 15, 2012.
Justin Theroux, D'Arienzo and Allan Loeb are screenwriters on the film based on D'Arienzo's Rock of Ages musical. The film centers round the boy-meets-girl romance of Sherry (Hough), a small town girl and Drew (Boneta), a city boy both pursuing their Hollywood dream. Another romance is between the superstar "rocker" Stacee Jaxx (Cruise) who suddenly sees through his drunken haze, of adoring beautiful women, to see the love of a head-strong journalist Constance Sack (Akerman).
"We had a couple weeks to figure out how to do a love scene on a hockey table and make it fun," said Malin Akerman. "The tongue in the ear wasn't in the script I did that (to Tom). We just kept laughing. I was really excited because I got to act with Tom Cruise. He has powerful vocals, he even broke a mic."
Rock of Ages include hits from some of the best rock bands in the 80's - Def Leppard, Foreigner, Journey, Poison, REO Speedwagon, and Twisted Sister - which are performed in the film by an outstanding cast. Tom Cruise vocals were so impressive it made me wonder, at first, if it was really him singing, but according to the director it was him. Even Alec Baldwin had his turn at working his vocals.
Multi-platinum selling, nine-time Grammy Award winning Mary J Blige did an excellent job with her acting in Rock of Ages as Justice, the owner of a strip club. Catherine Zeta-Jones blew me away with her dancing and singing skills in several scenes in the film.
"I visited strip clubs with my husband," Mary J Blige said about her preparation for the role and when asked about her experience on set of Rock the Ages Mary said. "It was the best times in my life and career... Tom Cruise came to the table read dressed as Stacee Jaxx!"
D'Arienzo and Skankman serve as co-executive producers on the New Lines Cinema presentation, Corner Store Entertainment production, in association with Material Pictures, Offspring Entertainment, Adam Shankman film. Rated PG-13 Rock of Ages arrives in theaters and IMAX June 15, 2012. Log onto Rock of Ages website for more information on the film or the cast log at www.RockofAgesMovie.com.
Russ Parr's The Undershepherd receives ABFF nomination, winners announces in Miami June 20-23, 2012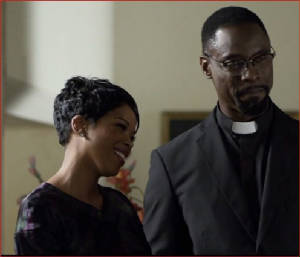 The 16th Annual American Black Film Festival (ABFF) will announce the Narrative Features and Grand Jury award winners June 20-23, 2012 in South Beach Miami. Isaiah Washington, Common, S. Epatha Merkerson, Kimberly Elise and Malinda Williams are among the list of nominees for the Grand Jury award.
This years' Grand Jury President is actor Mekhi Phifer who will be at the closing day festival to present the awards. The Narrative Feature film nominees are Better Mus' Come, about the political warring in the 1970s in Jamaica; The Dark Party, is about two best friends going on a blind date party; The Last Fall, about a NFL journeyman dealing with the end of his career; Luv, is about an orphaned boy facing the truth about a relative; Elza, is about a woman going home to meet a father she has never met, and The Undershepherd, about two ministers opposing views effecting a community.
"One of the reasons I wanted to do the film I can relate with the character," said Malinda Williams, who stars in The Undershepherd with Isaiah Washington, Louis Gossett Jr., Vannesa Bell Calloway, Elise Neal, Clifton Powell, Keith David, Robinne Lee and John Wesley. "She was a woman trying to keep up appearances of being the first lady of a powerful ministry."
Established in 1997 the ABFF's core mission is to promote cultural diversity with the motion picture industry through its film showcases and special contest.
For more information on the nominees of the ABFF log onto www.ABFF.com.
Disney Channel's Original Film Let It Shine is bursting with talent, premiers June 15, 2012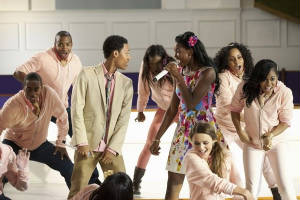 "I'm an actor to the very core of me," said Tyler James Williams ("Everybody Hates Chris") about his starring role as Cyrus DeBarge in the Disney Channel Original Movie Let It Shine, which premiers June 15, 2012 at 8 p.m. ET/PT. He adds, "I do music on the side line to keep creative."
Let It Shine is about a preachers' son, Cyrus, who is a gifted rapper who is full of self-doubt and a father set against Hip-Hop music. Let It Shine also stars Coco Jones as Pop star Roxanne Andrews; Courtney B. Vance as Pastor Jacob DeBarge, father of Cyrus; Dawnn Lewis as Gail DeBarge - Cyrus mother; Trevor Jackson as Kris McDuffy a dancer and best friend to Cyrus; Brandon M. Smith as rapper Lord of Da Bling - a 'hater' of Cyrus; Alex Desert as Levit - Cyrus employer; and Algee Smith as rapper Da Boss.
"We have this rap battle going on... its high energy," said Algee about his role in the movie. "It was fun!"
Fun is just what you will get if you watch the Disney Channel Original Movie and many great messages for adult as well as young adult. The music will leave you wondering whether the actor's weren't really actual rappers, singers and dancers.
"I'm an actor, rapping," Algee informed me.
What a good actor they are all then. Let It Shine doesn't disappoint those looking for a little drama.
At the movie premiere in Los Angeles many Disney Channel actors came out in support of the Let It Shine premiere, such as the casts of "A.N.T. Farm," "Dog With A Blog," Good Luck Charlie," "Jessie," "Kickin' It," "Lab Rats," "Pair of Kings," "Shake It Up," and "Sofia The First."
Disney Channel's Original Movie, Let It Shine, will premier Friday, June 15th 8 p.m. ET/PT. Find out more about Let It Shine at www.disney.com. (Check local listing for re-airing)
(NEWS: Attend free, the "Uplifting Minds II" entertainment conference Sat., June 23rd 12 - 5pm at the Celebrity Center in Hollywood, CA. Public welcome - admission is free! www.UpliftingMinds2.com.)