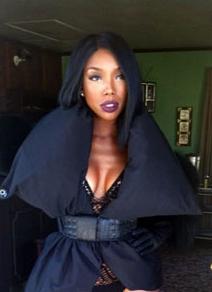 Grammy Award winning Brandy returns to 'Drop Dead Diva' on Lifetime July 8, 2012
Brandy Norwood is back with her feet on the gas pedal with appearances - since 2010 - that include a reality show with her brother Ray J on VH1, "Brandy and Ray J: A Family Business;" ABC's "Dancing With The Stars"; CW's "90210"; BET's "The Game," a recurring role as Chardonnay; her recurring role as Elisa Shayne on "Drop Dead Diva" on the Lifetime Channel, and Tyler Perry's "The Marriage Counselor" due out summer, 2012. On July 8, 2012 her last episode for this season on "Drop Dead Diva" will air at 9 p.m.
The comedic drama is about a wannabe model that dies suddenly, but her soul is now in the body of a brilliant, plus size, recently deceased attorney - Jane. Brandy's character Elisa is a former girlfriend of Jay Parker, a soul also returned in another body. Elisa is an attorney at the firm also who fled town with her son after it became public that Parker (played by Josh Stamberg) is the father.
"I related to her in so many ways," said Grammy winning Brandy about her character, Elisa Shayne. "I had my daughter at 23. I've struggled...I have all that to pull from."
In the episode with Brandy she gets to work with tennis pro Serena Williams who also makes a guest appearance as an attorney. Elisa is still a bit in love with Jay, but doesn't want to get her heart broken again by him (because he cheated on her in the past).
When asked what advice Brandy would give her character Elisa she said, "I'd tell her to keep doing what she is doing, fight for what's right. Don't let fear hold you back. I try not to have regrets. I face my fears always. I never let my fears hold me back. I would feel guilty. Like with 'Dancing with the Stars,' I didn't know how great I would be, but I tried to face it."
Well, we will see if Elisa faces her fear on July 8, 2012 when Lifetime airs "Drop Dead Diva" at 9:00 p.m.
Brandy started in entertainment on the 1993 ABC sitcom "Thea," and then in 1996 she had her own sitcom on UPN, "Moesha." That same year she signed a recording contract with Atlantic Records and released her debut self-titled album that garnered a Grammy Award for "The Boy Is Mine," a duet with Monica. In 1997 she appeared in Rodgers and Hammerstein's' television movie Cinderella and their 1999 film Double Platinum. In 1998 she starred in the film I Still Know What You Did Last Summer and released her second album "Never Say Never." In 2008 she released "Human" on Epic Records.
Norwood is ranked by RIAA as the best selling female artist in American history with 100 awards, 15 million sold in the U.S. and 50 million world-wide. Learn more about Lifetime's "Drop Dead Diva" at www.AENetworks.com or about Brandy at her official website www.4EverBrandy.com.
Fox Searchlight Pictures' Beasts of the Southern Wild is an epic tale of survival in the Bayou through the eyes of a child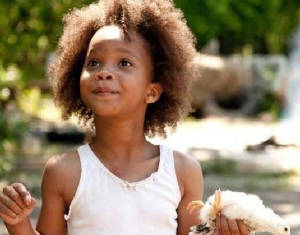 Six year-old Quvenzhane Wallis narrates and stars as Hushpuppy in the Fox Searchlight Picture Beasts of the Wild, just released to theaters. Dwight Henry, who stars as Wink in the Rated-PG film about the way of life for a community of defiant South Louisiana bayou residence, is Hushpuppy's father. Beasts of the Wild is directed by Benh Zeitlin and written by Lucy Alibar and Benh Zaitlin. It is based on the stage play "Juicy and Delicious," written by Lucy.
I was totally impressed by the acting skills from Quvenzhane, which made it seem more like a documentary, that it left me wondering if this community's struggles were a really historical event. Henry also gave a stellar performance. That's why it is hard to believe they casted Henry from a nearby bakery and Wallis from a Honduras Elementary School - after auditioning 4,000 children in New Orleans since 2009.
Running out of time the little community is sinking by rising water caused by a man-made damn. Faced with, not only being abandoned by her mother, the failing health of her father Hushpuppy learns as best she can how to survive. Her imagination and misguided way of life taught to her by her father is what helps her survive the water, the storms, the lack of food and a life where she is practically raising herself.
Winner of a Sundance award, Beasts of the Southern Wild - as seen through the eyes of a six year-old - brings imagination, suspense, laughter and tear-provoking moments. A must see for the family Beasts of the Southern Wild is presented in association with Cinereach and is a Cinereach and Court 13 Production, in association with Journeyman Pictures. Learned more about the film at and the rest of the cast at www.BeastsoftheSouthernWild.com.
Chain of restaurants, 9021PHO, partners with the Los Angeles Children's Hospital to auction artwork of children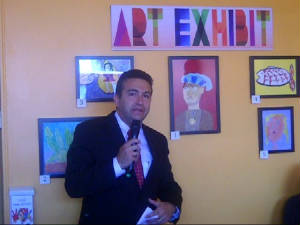 "Our new partnership with the Children's Hospital of Los Angeles is to raise money for kids," said Greg Aghamanoukian, president of 9021PHO's chain of restaurants by Executive Chef /Owner Kimmy Tang. "We're a young company...and ambitious. The next five years our plan is to build 15 more restaurants based on the reputation of Chef Kimmy Tang.
The delicious Asian Fusion restaurant in Beverly Hills was the site for the opening of the partnership where they had a revolving door of wonderfully made items from the 9021PHO menu: Michelia and Vegan Spring Rolls, Steamed Shrimp Dumplings, Crispy Mock Chicken and Catfish, and Grilled Beef wrapped in Vine Leaf.
"Every restaurant...will have a wall of art put together by kids during their stay in the hospital," said Greg during his opening ceremony address. "We will have 5 or 6 in each restaurant. Customers that come in will get a 'Bid Sheet' with the art selection. They place a bid amount, sill the envelope and place it in the box. At the end of the month the highest bid gets the artwork and we give 100% to the hospital."
The 9021PHO chain, that also caters, has a location in Westlake. You can learn more about Chef Kimmy Tang, the art work, the menu and the 9021PHO chain at www.9021PHO.com.