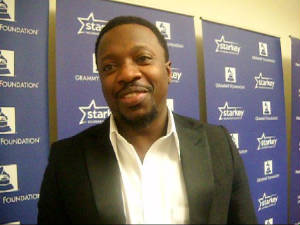 Grammy Foundation hosts the Third Annual 'Grammy in the Schools Live Concert,' Anthony Hamilton and Esperanza Spalding performed

"We fund the arts year after year," said Neil Portnow, president of the Grammy Foundation which recently hosted their 3rd Annual Grammy in the School Live Concert at the University of Southern California. "Kids are at risk of not having the opportunity to be exposed to music, dance, art, theater, all things one learns about in life."
The concert had performances by Grammy Award winning Anthony Hamilton, and Esperanza Spalding, and Grammy nominated Terri Lyne Carrington. The concert was hosted by Pat Prescott (94.7 the WAVE). The "Grammy in the Schools" program consists of the Grammy Camp, Grammy Camp - Jazz Session and Grammy Signature Schools.
"We're fighting to get (the arts) back in schools," said Hamilton. "You have to let kids experience themselves so that they open up and want to learn. You're not allowing them to open up and be who they are. Music is part of everything we do."
"The Grammy Foundation raises funds to contribute to these programs," said Grammy nominated Esperanza Spalding. "A program to help educate by music...the organization is a place to come and be a part of - that's crucial."
Also performing that night was the members of the Grammy Camp - Jazz Session and student alumni from the Grammy Camp and Grammy Signature Schools. The "Grammy in the Schools" program was sponsored by Best Buy, Converse, Starkey Hearing Foundation and the Ford Motor Company Fund. Deadline for the 2012 Grammy Camp is March 31, 2012.
For more information on the Grammy Foundation, the Grammy Camp(s) log onto www.GrammyintheSchools.com or www.Grammy.com.
BMI's 'How I Wrote That Song' panel with Rev. Run, RedOne, RZA, Joel and Benji Madden and DJ Khaled bring 'industry know-how' to West Hollywood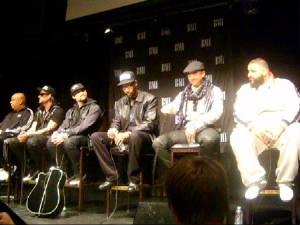 BMI hosted their "How I Write That Song' panel in West Hollywood recently at the Key Club to a packed house. On the panel were RedOne, Rev. Run, RZA, Joel and Benji Madden and DJ Khaled. The panel discussion was on the process of writing, producing and performing songs.
BMI Vice President Catherine Brewton (Writer/Public relations) was moderator of the panel. Historically the panel has featured such outstanding songwriters, producers and performers as Will.i.Am, T-Pain, NAS, Common, Keri Helton, Cee Lo Green and Claude Kelly.
Rev. Run's experience has made him iconic as a member of the Hip-Hop group Run D.M.C. He has sold over 10 million records worldwide. Run D.M.C. was inducted into the Rock & Roll Hall of Fame. His reality show, "Run's House," became one of the most widely viewed shows on cable.
DJ Khaled is a notable deejay in Miami on 99 JAMZ with K-Foxx. The radio show is currently number one in South Florida. He developed his own sound that has him producing for artists such as Trick Daddy, Pitbull and Young Jeezy. In 2008 he launched his own label under Def Jam Records and is now President of Def Jam South. Under his tenure he has released albums for Rick Ross, Young Jeezy, and Ludacris. As an artist DJ Khaled is currently signed to Young Money Cash Money.
Red One is a multi-Grammy Award winning producer and songwriter. He has earned 35 international hit singles in the last three years. His projects include Lady Gaga's "Poker Face," Enrique Inglesias on "I Like It," featuring Pitbull and Jennifer Lopez. RZA, a founding member of the Wu-Tang Clan, is known worldwide as a very skillful producer, director, author, rapper and actor. As a producer his projects include Wu-Tang Clan's "Enter the Wu-Tang: 36 Chambers," As a composer he scored for such films as Kill Bill and as an author he is a New York Times Bestseller for "The Wu-Tang Manual" and "The Tao of Wu."
Joel and Benji Madden are members of the multi-platinum Rock band Good Charlotte. Their 2002 release "The Young and the Hopeless" pushed them into stardom with multi-platinum sells. Together they have sold over 9 million albums worldwide.
For more information on the BMI "How I Wrote That Song" panel or more on BMI log onto www.BMI.com.
Amazing 16 year-old, Jordan Coleman, wins $10,000 and makes film, Say It Loud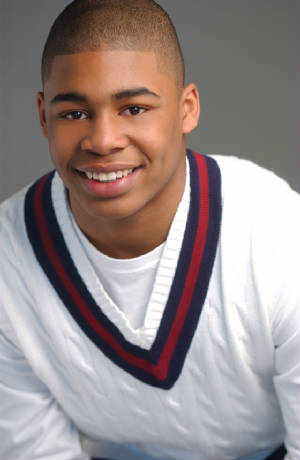 "My first focus was on education for African-American males," said Jordan Coleman, 16 year-old screenwriter/producer/director. 'They're not focused on school. My goal with the film is to tell how important education is. My mother always told me education was the key to success."
Before winning $10,000 on America's Best Dance Crew Champions for Charity Show Coleman was the voice of Tyrone the Moose on Nickelodeon's Emmy Award winning animation series "The Backyardigans" - for three years.
He was recently named one of the 25 Most Influential People in Our Children's Lives by Children's Health Magazine. In 2011 Jordan won the HBO Best Feature Film competition at Martha's Vineyard African-American Film Festival for his film Payin' The Price - a cautionary tale about teen dating violence. Coleman was also featured on CNN's "Young People Who Rock" series.
Jordan Coleman is currently working on a script for his next film Just In Case, which deals with 'sexting.'
"I wants to get the point across that 'sexting' is not ok and can be potentially damaging," Jordan said in closing the interview.