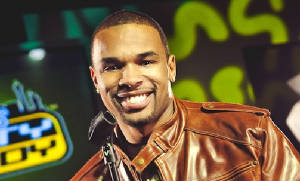 Comedian Jay Reid joins Bill Bellamy on the 'The Ladies Night Out Tour,' arrives in Baltimore March 8-11, 2012


Comedian/actor Jay Reid brought his comedic style to BET on "Coming to the Stage," and gained national recognition. He didn't win but that appearance led to a string of bookings at such clubs as The Laugh Factory, The Hollywood Improv, and The Comedy Store.

"It was my first big comedy performance," Jay Reid said about competing on BET's "Coming to the Stage." "I was doing comedy for a year, maybe a year and a half when I was picked to do the show...it was a blessing. It came to a point...bookings stopped; it forced me to get (back) into comedy clubs to perfect my craft."

Next Reid performed on Bill Bellamy's comedy competition, "Who Got Jokes?" on TV One, and this time he won. "When you don't win you work harder," he pointed out.

That win led to his TV One comedy special, "L.M.A.O." He later released two comedy albums, "J. Reid: Comedy Mixtape Volume 1" and "J. Reid: Comedy Mixtape Volume 2." He is currently co-host of "Straight Talk" with Las Vegas Commissioner Lawrence Weekly on 88.1 KCEP.

This year Jay Reid will appear on Showtime in a Bill Bellamy comedy special, "Ladies Night Out." Currently Reid is the opening act on the Bellamy "Ladies Night Out Tour," which arrives in Baltimore March 8 - 11, 2012 at the Comedy Factory.

As an actor Reid was featured in the blockbuster movie "21" starring Kevin Spacey. "I have a great team," Jay said about his successes. "They got me on '21'."
'Gospel Goes to Hollywood' with performances by CeCe Winans and Donnie McClurkin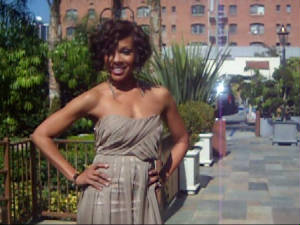 Wendy Raquel Robinson (BET's "The Game"), comedian Jonathan Slocumb and Rebecca Crews (BET's "The Family Crews") hosted the first star-studded "Gospel Goes to Hollywood Awards Luncheon" held recently at the Taglyan Cultural Complex in Hollywood. The red carpeted event was produced by Tomeka Holyfield of The HELPPPP Agency and Gary Taglyan of the Taglyan Cultural Complex.
The awards luncheon featured a special tribute to Whitney Houston and performances by CeCe Winans, Donnie McClurkin and saxophonist Angela Christie. The event was attended by an incredible list of Hollywood celebrities such as Loretta Devine, actor/director Bill Duke, Kimberly Elise, Sheryl Lee Ralphs, J.C. Jones, Florence LaRue (The Fifth Dimension), Kim Russell ("Basketball Wives"), comedian/actor Jay Reid, and Yvette Nicole Brown (NBC's "Community") - to name a few. The awards luncheon also honored Loretta Devine, producer Curtis King, the Braxton's and Bill Duke. Proceeds went to benefit The Helping Hands Foundation.
For more information about the foundation and it's "Gospel Goes to Hollywood Awards Luncheon" log onto www.GospelGoesToHollywood.com, www.TheHelpingHandsFoundation.us or www.TheHelppppAgency.com.
Maxwell Dickerson's 'Art, Liberation & Sound' Exhibition launched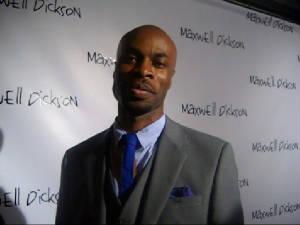 I was invited to cover the launch of the Maxwell Dickerson "Art, Liberation & Sound" Exhibition at the Blackstone Gallery in Los Angeles. The launch was hosted by model Nicole Murphy.
Maxwell Dickerson is a brand of the most progressive and creative canvas art print that provides original contemporary art. The Maxwell Dickerson staff creates designs, prints and manufacturers everything in-house.
"We want visitors to see how the piece speaks to them," said Bart Cooper of Maxwell Dickerson. "I have a variety of pieces...that I hope will capture the childhood, capture the youth or capture the essence (of the viewer). The overall purpose is the piece that is going to be raffled off called "Music Utopia." It symbolizes the power of women, the power of music."
The Maxwell Dickerson Exhibition at The Blackstone Gallery offered a performance by Universal Harp's Phillip King. It was presented by The Notice Network, The Fashion Officer PR, Ekquality Style Hause, The KAM Group, World Networks and the Blackstone Gallery.
For information on the Maxwell Dickerson exhibit log onto their website at www.MaxwellDickerson.com.