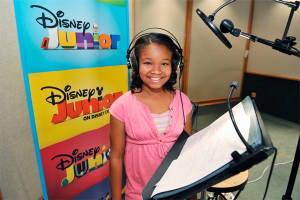 Disney premieres new animated series, 'DOC McStuffins,' starring Kiara Muhammad as DOC



Disney Junior premieres new animated television series, "DOC McStuffins," for kids ages 2 - 7 on March 23, 2012 starring the voices of Kiara Muhammad as DOC; Loretta Devine as Hallie (stuffed hippopotamus); Lara Jill Miller as Lambie (the stuffed lamb); Jess Harnell as Chilly (the stuffed snowman); Robert Rist as Stuffy (the stuffed dragon); Jaden Betts as Donny McStuffins; Kim Brooks as Mom McStuffins, and Gary Anthony Williams as Dad McStuffins. The series features heartwarming stories that teach kids great lessons on self care, caring for others and chasing away any worries for kids over visiting the doctor.

"I was nervous at first," Kiara said about her character having to also sing. "It was about six people listening. This is my first voice over and I'm really happy it's a series."

"DOC McStuffins" also is woven with lots of different songs that connect with the lessons of each series. The premiere also includes the launch of an interactive clinic on a "supersite" at DisneyJunior.com.

The animated series was created and executive-produced by Chris Nee ("Little Bill"), directed by Emmy Award winning Norton Virgien ("Rugrats") and is a production of Academy Award nominated Brown Bag Films, in association with Disney Channel.

"Its computer generated, called CG," creator Chris Nee said about the series. "I felt it could bring character to the toys when they came to life. Didn't want the kids to think animation, but real... All the shows include a message."

"We wanted to teach lessons, but not hit them over the head with it," said Andrea Tompkins, M.A. educational consultant on the series."

"DOC McStuffins" will premiere on the Disney Channel, as well as Disney Junior. On Friday March 23rd it will be simulcast on Disney Channels' mobile providers Sprint TV, MobiTV and Disney Channel mobile VOD. The full series will be available on iTunes and Xbox Live starting March 24th.
Ruben Studdard, the Velvet Teddy Bear, is back with a new album, 'Letters From Birmingham'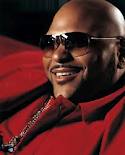 "I wanted it to play out like a movie. All the songs had to fit into the movie we were making," said platinum selling/Grammy Award nominated singer/songwriter Ruben Studdard about the theme of his newest album release, "Letters From Birmingham."
Released on Shanachie Entertainment "Letters From Birmingham" shows the vocal range of Studdard. The 2003 American Idol winner, crowned the Velvet Teddy Bear by celebrity judge Gladys Knight, got the idea for the project when he saw Martin Luther King, Jr.'s 'Letters from Birmingham' in a displayed at the Atlanta airport.
"I got the idea to send the album from Birmingham. The concept is like you're watching a movie, listening to the letters," said Ruben about the project. "We wanted to show a range of emotions."
"Letters From Birmingham" certainly does that, every emotion you can think of is on the album. The project features guest appearances by Chrisette Michele and K Michelle, and even includes some songwriting by Studdard as well.
My favorite songs on the album include "Wear Me," "Twisted Love," "Love Skies," "Today (Hallelujah!)," a beautiful wedding song and I loved the violin support; "Pure Imagination," a remake of Gene Wilder's original song that is so sweetly done it brought tears to my eyes, and "Rock Wit'cha," featuring K Michelle, another remake of a Kenneth Edmonds and Daryl Simmons song originally sung by Bobby Brown, that he slows down unlike the original version.
Ruben is also a NAACP Image Award winner, and a BET Awards and American Music Award nominee. Studdard also has a foundation, The Ruben Studdard Foundation for the Advancement of Children in the Music Arts, where he strives to promote the essential role of arts in education.
For more on Ruben Studdard and his "Letters From Birmingham" project log onto www.RubbenStuddard.com