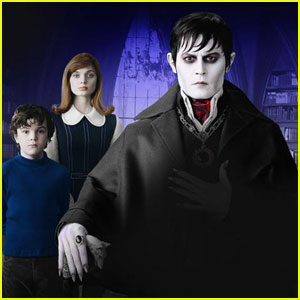 Warner Bros' Dark Shadows is a successful blend of horror and comedy, arrives in theaters May 11, 2012


"We were talking about how we should do a vampire movie with a vampire that looks like a vampire," said Oscar nominated Johnny Depp (Pirates if the Caribbean) about the remake of the classic comedic/horror television series "Dark Shadows." Depp, who stars in the Rated PG film with Oscar nominated Michelle Pfeiffer (Batman Returns), Eva Green and Helena B. Carter, was in on early discussions of the project with Academy Award winning director Tim Burton and Oscar winning producer Richard Zanuck (Driving Miss Daisy). "Dark Shadows was what we thought of (that had a vampire that looks like a vampire)...I grew up a fan of the Shadows."

Presented by Warner Bros. Pictures in association with Village Roadshow Pictures, Dark Shadows had Johnny Depp as producer, working along-side Richard. The feature film brings back to life the characters Elizabeth Collins (Pfeiffer) - matriarch of the Collins family; her very distant and mysterious relative Barnabas Collins (Depp) - cursed to live his life as a vampire; former love of Barnabas Angelique Bouchard (Eva Green); the Collins' live-in Psychiatrist Dr. Julia Hoffman (Helena B. Carter), and the beautiful live-in nanny Victoria Winters (Bella Heathcore) - who is the mirror image of Barnabas' one true love, Josette.

The modern day twist to the classic tale is that Barnabas awakes from being buried alive for two centuries as a vampire in the year 1972 - his reaction to the modern day inventions, such as McDonalds, automobiles and the television - brings the comic relief.

"He is a well schooled gentleman," Johnny Depp said about his character Barnabas. "He comes back in a new time...it's about how he reacts."

How Barnabas reacts to the new modern world brings a light-mood when the films' horror moments make you reach out to hold "someone" for protection. Dark Shadows, starring Johnny Depp, Michelle Pfeiffer, Eva Green and Helena B. Carter, is a successful blend of horror and comedy. Its stellar cast also includes Jonny Lee Miller as Elizabeth's stealing brother Roger Collins; Chloe G. Moretz as rebellious daughter Carolyn Stoddard; Gully McGrath, the bright 10 year-old nephew David Collins, and Jackie Earle Haley as the Collinwood Estate caretaker Willie Loomis.

Dark Shadows' producers also include Oscar winning Graham King (The Departed), Christi Dembrowski and David Kennedy. The screenplay was written by Seth Grahame-Smith and story line by John August and Grahame-Smith. Also available in IMAX theaters, Dark Shadows is an Infinitum Nihil/GK Films/Zanuck Company production and a Tim Burton film.
Pure Flix's Me Again, starring Della Reese, is an inspiring journey to finding ones' self - now on DVD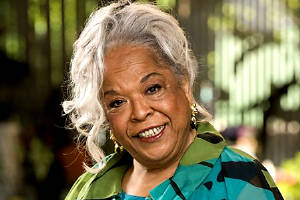 Pure Flix Entertainment released to DVD the inspiring drama of one man's journey to finding himself. The feature film stars Emmy Award nominated Della Reese as elderly woman Muriel, who is the motivating and guiding force for Pastor Rich Chaplin's (David A.R. White) journey to finding out what's important in his life. Me Again also stars Andrea Logan White (as Chloe, the top fashion model), Ali Landry (as April, Rich's wife), and Bruce McGill (as Big Earl, the angel).
"She's the focal-point," said Della about her character Muriel. "When he's trying to find his real self - who he is - she knows him and what he wants."
White also directs (with Jeffrey Peterson) and produces the faith-based film - a Latigo Film, David A.R. White and Jeffrey Peterson production. Other producers include Anna Zielinski, Michael Scott, Russell Wolfe, and Elizabeth Travis. The screenplay was written by Tommy Blaze, who also appears in the film.
"What we conceive as trouble is a way to the real us," said Reese, who is a pastor, about the film's 'lesson'. "We have to go through stuff...you say, 'Why me?'...it's to learn...life is a lesson."
Rich, in his disappointment in his life, wishes for a different one - and his wish is given to him.
Pure Flix is currently the leader in quality, faith-based films which addresses real-life issues. Me Again is also available on Blu-ray.
"You know when you go through a situation...you make the hurtle and clear it...you know that process," Della pointed out.
Dove Family-Approved, Me Again - though filled with life-lessons - gives a light-hearted look at Rich's journey to finding himself. Recommended for all ages Me Again's movie trailer and more information can be found at www.PureFlix.com/MeAgain.