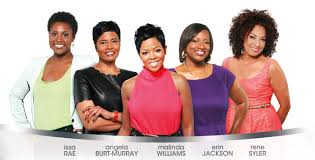 Magic Johnson's ASPiRE launches talk show 'Exhale' with five notable hosts
Magic Johnson's ASPiRE Network launched "Exhale" talk show May 7, 2014 with five notable African-American female hosts that include Angela Burt-Murray, comedian Erin Jackson, Issa Rae, Rene Syler (CBS' "The Early Show"), and actress Malinda Williams. Guests on the talk show includes actress Niecy Nash ("The Soul Man"); reality television's Judge Greg Mathis; legendary boxer Laila Ali, and actress Jenifer Lewis (Baggage Claim, Think Like A Man).

"I received an email from Lynn (Whitfield)," said Issa when asked how she was chosen as one of the five hosts of the talk show. "They heard about me through my web-series. It has been the most for-filling experiences of my life."

Issa's web-series "The Misadventures of Awkward Black Girl" help garner her over 20 million views, and over 160,000 subscribers on Youtube. She has developed web content for Pharrell Williams and Tracey Edmonds.

"I actually be friend a young woman on Twitter," said two-time NAACP Image Award nominee Malinda Williams (Daddy's Little Girl, First Sunday) about how she was placed on the show as a host. "One day she sent a text that the producers were casting for a new host. It was a down time for me...so she gave me the information."

"I got an email from my manager," said stand-up comedian Erin Jackson (NBC's "Last Comic Standing") about how she landed the job as host of "Exhale." "He said the network called. I didn't have to audition. I said, 'Damn that don't happen in Hollywood!'"

'I heard about the launch...I was trying to find speaking points to make sure we're represented," said Angela Burt-Murray, former editor-in-chief of Essence magazine and co-founder and editorial director of Cocoa Media Group. "What surprised me was how easily we all became friends. The moment we met. I'm not sure if it was planned by Lynn."

The ASPiRE Network was launched June 27, 2012, and 65% of it is owned by Magic and 33% is owned by InterMedia Partners in New York. The headquarters for the network is in Atlanta. It was the pressure of Maxine Waters in congress during a hearing on minority owned networks that moved Comcast, which wanted to acquire a minority interest in NBCUniversal, to distribute for four minority owned networks of which ASPiRE was one. ASPiRE is also aired on Time Warner Cable, Dish Network, and Direct TV.

The slogan for ASPiRE is "Our Past. Our Now. Our Next. That's ASPiRE," and its focus in on positive uplifting images of African-Americans. You can log onto www.Aspire.tv for more information on "Exhale" and other programming's.
Il Divo launches new album, 'Il Divo - A Musical Affair: The Greatest Songs of Broadway Live,' and U.S. tour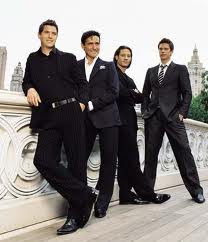 "It's a mix. To choose musical theater pieces it was difficult," said Carlos Maui one of four members of the multi-platinum selling international group about their latest album release "Il Divo - A Musical Affair: The Greatest Songs of Broadway Live." "This is our seventh album and the most difficult. The music pieces were written for one voice."
Carlos is Spanish with a baritone voice, and the other members include Sebastian Izambard from France with Pop sounding vocals, David Miller an American with a tenor voice, and Urs Buhler from Sweden with a tenor voice. They were put together and signed to a record deal by Simon Cowell for his Syco Music label distributed by Columbia Records. Il Divo has sold over 8 million records, and garnered over 29 awards.
'They never told me it was a group," Carlos admitted when telling me his discovery story. "I was solo. I was always doing musical theaters. My ego of a solo artist wouldn't let me do it. My ex-wife told me maybe I was bored, and needed to do something new. In a few weeks (of signing) he was flying us to the studio...he said be friends. I haven't regretted a day."
Il Divo has performed around the world, and has performed for crowds as large as 40,000. The tour started in March 28, 2014 and ends June 7th in Providence, RI. It arrives in my hometown of Baltimore June 4th at the Modell Performing Arts Center at The Lyric. You can log onto www.IlDivo.com for more information.
(Syndicated Columnist: Eunice Moseley, has an estimated weekly readership of over ¼ million with The Pulse of Entertainment. She is also a Public Relations/Business consult at Freelance Associates, and Promotions Director (at-large) for The Baltimore Times. Her Events: "Uplifting Minds II" free entertainment conference arrives in Hollywood, CA Saturday, October 25, 2014 at the Celebrity Center, and comes back to Baltimore Sat. April 18th at Security Square Mall. www.UpliftingMinds2.com, www.ThePulseofEntertainment.com.)