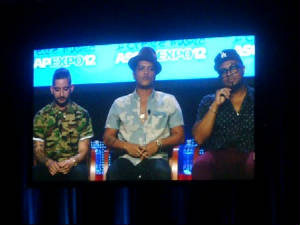 Rock & Roll Hall of Famer Eddie The ASCAP 'I Create Music' Expo's Stargate and Smeezingtons Master Sessions were a big success

Recently ASCAP held its 2012 "I Create Music" Expo in Hollywood offering Master Sessions that included panels of industry heavy-hitters questioned by a moderator, as well as the audience. As you enter the three day event you see tons of exhibitors. I had a chance to sit through the Master Session of two production teams - Stargate (Mikkel Eriksen and Tor Hermansen) and The Smeezingtons (Bruno Mars, Ari Levine and Philip Lawrence).

Stargate, who just launched a record label with Jay-Z, credits include Kate Perry's "Fireworks" and Wiz Khalifa's "Black and Yellow." The Smeezingtons credits include Bruno Mars' "Grenade," and Snoop Dogg and Wiz Khalifa's "Young, Wild & Free," which features Bruno.

"We were all nervous," said Mars about working with Cee-Lo on the hit single "F*ck You." "Cee-Lo's been an inspiration to me. I sang the first verse for him... and he said, 'Man I love it." He wanted to change it to 'fu*ck you and that girl too'."

The Stargate team talked about working with Wiz Khalifa on the "Black and Yellow" single.
"Khalifa had a mix-tape out...we could relate to," said Tor Hermansen about why they wanted to work with the rapper.

Tor and partner Mikkel Ericksen met in Norway - their native country - and together they brought American Hip-Hop and Pop there to a starving market. Here in the U.S. they note working with Ne-Yo as their big break.

"We work as a team," Mikkel pointed out. "We know each others' strengths."
For more information on other ASCAP events log their website at
www.ASCAP.org
.
There's nothing strange about D'Angela Proctor, 'Sunday Best' and 'The Family Crews' producer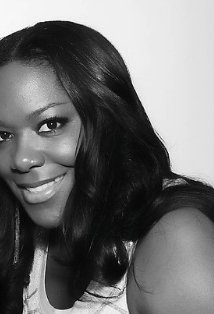 "I was practicing law and absolutely hated it," said D'Angela Proctor, co-founder and co-owner - along with Nia T. Hill, of Strange Fruit Media. The company recently produced Chaka Khan's tribute to Trayvon Martin (www.FearKillsLoveHeals.org). "What helped me to escape were romance movies and books."
Presented with an opportunity to produce BET's Teen Summit, Proctor didn't hesitate. From there she produced everything from music videos, commercials, television series, to documentaries and films. Her credits as a producer include Babyface's "Grown & Sexy," Seal's "Live From Bermuda," "Angie Stone Live," Mint Condition's "Life in Luxury Brown," and Anthony Hamilton's "Coming From Where I'm From."
"You have to continually be out there," Proctor pointed. "It's built on relationships."
D'Angel's film credits include The Seat Filler, starring Kelly Rowland, Duane Martin and DeRay Davis; Truth Be Told starring Blair Underwood and Regina King; Hustle and Heat starring Vivica A. Fox, Meagan Good and Duane Martin; Book of Love starring Treach, Robin Givens and Salli Richardson, and Sacred starring Nas, Elise Neal and Isaiah Washington.
Strange Fruit Media credits include BET's "Sunday Best" and "The Family Crews," Dreamgirls' "One Night Only," and Tyler Perry's "Family Reunion."
The production company has revolutionized how a production company should be operated and its success allows them to finance independent and commercial films. The partners created Momentum Entertainment, a distribution and marketing company for their projects.