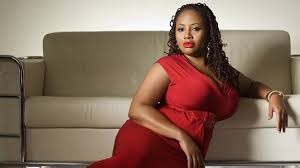 Lalah Hathaway records live album, 'Lalah Hathaway Live,' at the historic Troubadour in Hollywood
Two-time Grammy Award winning Lalah Hathaway recently recorded her performance at the historic Troubadour in West Hollywood for the Fall, 2015 album release of "Lalah Hathaway LIVE!." Her seventh album "Lalah Hathaway LIVE!" is recorded in the same venue where her father Donnie Hathaway recorded for his live album in 1972.
"He's been gone for 36 years," Lalah said when asked if her father was aware of her outstanding vocals before his untimely death. "...I'm still discovering my voice."
When asked why a live album Lalah said, "The live arena is where I shine. I feel comfortable there. There's no pressure."
A graduate of Berklee College of Music Lalah, who is referred to as the "first daughter of Soul," is noted as a Soul/Jazz singer. A Chicago native currently on the Stax imprint Hathaway released her debut album in 1990 on Virgin/EMI Records.
"I've listened to live albums all my life," Hathaway said on the subject of her upcoming live album. "I was listening to 'Donnie Hathaway Live' and wanted to create that moment."
A winner of a Billboard and BET Award Lalah Hathaway is a featured vocalist on Kirk Whalums "The Gospel According to Jazz Chapter 3" DVD.
You can log onto www.LalahHathaway.com for more information on her upcoming "Lalah Hathaway LIVE!" project.
Talent Manager Cordell Capone seeks to spread the knowledge with 'Conversation with Cordell Capone' featuring Naturi Naughton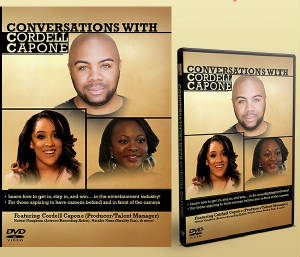 "It's about how to keep a job, the Hollywood game and making relationships," Talent Manager Cordell Capone said about the release of his DVD, "Conversations with Cordell Capone" features Naturi Naughton (Starz "Power"); his client Natalie Nunn (Oxygen's "Bad Girls Club"); writer/producer Stacey Evans Morgan ("Living Single," "The Parkers," and "Love That Girl"), and talent agent Debbie Haeusler (Innovative Artists Talent & Literary Agency).
"When I reached out to them I was expecting a different result because of their accolades," Cordell said about the talent featured in his "Conversations with Cordell Capone" DVD. "They said sure I'm there. I was shocked that these people wanted to participate on a project for little old me - even with a personal relationship."
Capone said the concept came up because he is often asked questions about how to get into the "Hollywood business" and he would try to answer all of them in detail. He even developed an email list to send out casting notices that he came across while working in the industry as a talent manager (Nunn) and casting producer (Wal-Mart).
"My entire career I always talked to people that asked, 'how can I get there?' I would respond by email, then on social media because it became overwhelming," he said.
Another reason for producing the "Conversations with Cordell Capone," with Jane Katherine-Watson, was Cordell witnessing many workshops throughout the years not giving the people the information that they need to actually make it in Hollywood.
"They entice people to go to their workshops and never really tell them how to get a job," Capone pointed out. "They just want to get the money. I want to keep the integrity."
"Conversations with Cordell Capone" is distributed independently via his website www.CordellCapone.com.

(Syndicated Columnist: Eunice Moseley, has an estimated weekly readership of over ¼ million with The Pulse of Entertainment. She is also a Public Relations Strategist and Business Management Consultant at Freelance Associates, and is Promotions Director (at-large) for The Baltimore Times.www.ThePulseofEntertainment.com. EVENT: Sat October 24, 2015the "Uplifting Minds II" Free Entertainment Conference at the Celebrity Centre in Hollywood, CA. Sat April 16, 2016 the "Uplifting Minds II" Free Entertainment Conference at Security Square Mall. www.UpliftingMinds2.com.)