Calm heads prevail in The 33, a Warner Bros. presentation, in theatres November 13, 2015
Antonio Banderas (The Mask of Zorro) stars in the Warner Brothers' Pictures presentation of The 33, a true incident in 2010 of a Chilean mining disaster trapping 33 workers for over two months. Banderas (Desperado) plays miner Mario who emerges as the leader preserving lives by demanding that food be rationed out. The 33, which arrives in theaters November 13, 2015, shows what can happen when calm heads prevail. Golden Globe and Tony Award nominated Lou Diamond Phillips (Courageous Under Fire) is miner Luis the foreman, who warned management of the pending danger, who emerges also as a leader noted for helping rescuers map out their location.
Outside of the mines it was family that pushed the mining company, as well as the government of Chile, to take action and not give up on the miners as unreachable. Juliette Binoche plays Marie the sister if miner Dario whose passion and love for him helped her in pushing the government representative, Minister of Mining Laurence Golborne (Rodrigo Santoro), into not giving up on the search when it seemed impossible. The 69 day ordeal had the eyes of the world on it to witness in real time a miracle as all 33 miners emerged, frail, but alive.
As always Antonio and Lou gave stellar performances. The 33 also stars Mario Casas as miner Alex, Cote de Pablo, Jacob Vargas as miner Edison AKA Elvis; Marco Trevino as Jose' the miners' Pastor; Oscar Nunez as miner Yonni; Alejandro Goic as miner Franklin; Gabriel Byrneas as Andre Sougarret the engineer who mastermind the never done before rescue, and five-time Golden Globe nominated James Brolin (The West Wing) as a drilling engineer.
The 33 is directed by Patricia Riggen and written by Mikko Alanne, Craig Borten and Jose' Rivera. The Alcon Entertainment, Phoenix Pictures and 360 Films production is Rated PG-13.
A Peter White Christmas with Rick Braun and Mindi arrives at Rams Head in Baltimore December 4, 2015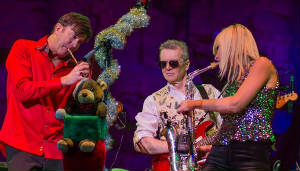 "I don't think we leave the stage," Award winning Jazz guitarist Peter White laughed about his upcoming Christmas concert with guests Jazz trumpet player Rick Braun and saxophonist/vocalist Mindi Abair. The concert is part of his "A Peter White Christmas" Tour which arrives at Rams Head on Stage Friday December 4, 2015 in Baltimore. "The whole show we're together. We wanted to do a show that's integrated - it's better for the audience...We come to Rams Head every year."
The "A Peter White Christmas" Tour started in 2003 and according to White he hasn't missed a year.
"I love Christmas! It was the first music I ever played," he said. "We use to go door to door as a musicalfamily...me on the recorder. It's a good start. I started playing the piano. After that dad brought me a guitar...It was pretty simple."
Peter White is a London native and winner of the Canadian Smooth Jazz Award, a three-time Oasis Contemporary Jazz Award and a four-time National Smooth Jazz Award winner. He has recorded 13 albums and is known for his classical guitar style. He has written/produced songs for such artists as Grover Washington, Jr. which includes "Midnight in Manhattan" and "Bright" that reached #1 on the Billboard Jazz Song Chart. White is currently signed to Heads Up/Concord Records.
Learn more about the "A Peter White Christmas" Tour schedule by logging onto www.PeterWhite.com or www.RamsHeadonStage.com.
(Syndicated Columnist: Eunice Moseley, has an estimated weekly readership of over ¼ million with The Pulse of Entertainment. She is also a Public Relations Strategist and Business Management Consultant at Freelance Associates, and is Promotions Director (at-large) for The Baltimore Times. www.ThePulseofEntertainment.com. EVENT: Sat April 16, 2016 the "Uplifting Minds II" Free Entertainment Conference arrives in Baltimore at Security Square Mall and Sat October 22, 2016 (TBC) the "Uplifting Minds II" Free Entertainment Conference at the Celebrity Centre in Hollywood, CA. www.UpliftingMinds2.com.)