CBS' 'The Queen Latifah Show' grabs #1 new talk show honor
By
Eunice Moseley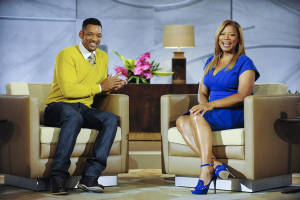 "It's fantastic," said Emmy/Academy Award nominee Queen Latifah about her talk show on CBS, "The Queen Latifah Show," grabbing the #1 new day-time talk show in America honor. "It's a testament to the need in day-time television. It's...fun, informative, there's craziness..."
"The Queen Latifah Show" is a variety talk show that showcase' her unbelievable range of talents as an entertainment legend who raps, sings, produces (record, television), acts, and models. The show is executive produced by five-time Emmy Award winner Corin Nelson ("Chelsea Lately," "Rosie O'Donnell Show") and produced by Queen Latifah's Flavor Unit, headed by her partner Shakim Compere (Beauty Shop, Brotherly Love); Will Smith's Overbrook Entertainment (I Am Legend) headed by Miguel Melendez (president) and co-owned with Ken Stovitz and James Lassiter - Lassiter manages Jada Pickett-Smith's Rock band Witched Wisdom with Melendez, and Sony Pictures Television. "The Queen Latifah Show" is syndicated and airs on CBS at 9am and on other networks across the country.
This month "The Queen Latifah Show" debuts its set designed by four-time Grammy winning Rock legend and designer Lenny Kravitz called "Big Sexy." Guests this month include LL Cool J, Kerry Washington, Vince Vaughn, Taye Diggs, Johnny Knoxville, Ray Romano, Whoopi Goldberg, James Blunt, Jewell and many more.
"He's been able to bring a mutual sense of style that I love, modern architecture," said Queen about Lenny's set design. "It's one of the most gorgeous sets on television. It's not your typical colors or styles. Its modern furniture...like my home...it's similar to my home. I've been a fan of his for many years and I'm honored to be his first set design for television."
Queen will also announce this month the million-dollar winner of the 46th Pillsbury Bake-Off Contest.
In Latifah's career she has garnered a Golden Globe Award; two Screen Actors Guild Awards; two NAACP Image Awards, and six Grammy nominations. Her company, Flavor Unit's credits include Joyful Noise starring Queen and Dolly Parton, and Ice Age, also starring Latifah.
Baltimore native, Bresha Webb, lands starring role in TV One's 'Love That Girl'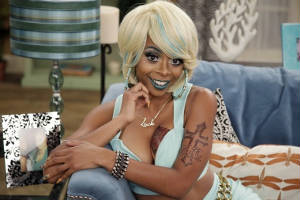 Since the age of four her father said she kept saying she wanted to be on television and now Baltimore native Bresha Webb is starring in TV One's Martin Lawrence and Bentley Kyle Evans' ("Martin," "Jamie Foxx Show") created and executive produced sitcom "Love That Girl." Into its fourth season "Love That Girl" airs on Fridays at 8pm.
"I auditioned like everyone else," said Bresha Webb when asked how she landed this major role. "Martin Lawrence wasn't there but his voice was there. I knew they wanted a Sheneneh character. I didn't look like her in real life...until I started talking. Martin is one of the creators of the ("Martin") show - he created Sheneneh."
"Love That Girl" was launched in 2010 with Tatyana Ali ("Fresh Prince of Bel Air") in the starring role as Tyana Jones, but due to scheduling conflicts Bresha was able to take the helm. TV One's fourth season of "Love That Girl" was launched October 11, 2013 and also stars Phil Morris, Reagan Gomez, Alphonso McAulley, Mark Adair-Rios, Peter Oldring, and Huggy Lowdown as himself.
Webb feels as though the audience will relate to her character Imunique because she is well rounded, unlike Sheneneh in "Martin". She believes the viewers will get to see the humanity part of the character.
"She's not just a crazy person," Bresha said about Imunique. "I went in (shooting) for the funny...hitting the punch lines. Now... I'm able to develop her as an actress, give her different levels. It was one way coming in...it changed...I changed too, became well rounded as an actress."
Webb inspires to be an Academy Award winner and with her image on Billboards on Sunset Blvd. already for starring in this TV One sit-com, I see nothing stopping her.
Bresha Webb's credits also include "Private Practice," "ER" and "Lincoln Heights." Learn more about her and the show at www.TVOne.tv/Love-That-Girl.
(Syndicated Columnist: Eunice Moseley, has an estimated weekly readership of over ¼ million with The Pulse of Entertainment - she is also a Public Relations/Business Management consultant. www.FreelanceAssociatesInc.com, www.ThePulseofEntertainment.com, www.UpliftingMinds2.com).