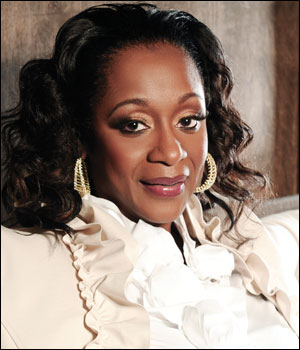 TV One 'Life After' continues with the spotlight on Regina Belle November 19, 2012

By
Eunice Moseley


"I'm glad they did not focus entirely on my brain tumor, there's more to my life than what happened in 2009," said Grammy Award winning Regina Belle about her episode on TV One's fourth season of "Life After," which airs Monday, November 19, 2012 at 9 p.m. (ET).

The Regina Belle "Life After" episode will highlight her climb to worldwide fame singing Disney's "A Whole New World" from the Aladdin soundtrack; her opera performances; her transition from R&B to Gospel, and her triumph over a life threatening brain tumor.

"I'm proud of the episode, it's not a show of downfalls, it's a good reflection of who I am," Regina points out. "I said, 'Wow, I didn't know I did all that!"

Belle, who is married to ex-NBA basketball star John Battle, won a Grammy in 1994 for that "A Whole New World" ballad she sang with Peabo Bryson. She has collected five Grammy Award nominations; one for the single "Make It Like It Was" in 1991. That year she also received a nomination for an American Music Award and in 1993 a nomination for an MTV Movie Award for "A Whole New World."

"There are some things in life that connects all of us," Regina Belle said in closing. "I'm an 'overcomer', not cause of me, but because of my faith in God."
Learn more about the other TV One "Life After" shows which include highlights on Marion Jones, the Olympic medalist on the 26th, Tiffany Pollard aka New York from the VH1 "Flavor of Love" reality show on December 3rd, and Dionne Warwick, a five-time Grammy Award winner on the 10th at
www.TVOne.tv
.
Disney Channel's 'Sofia the First' movie premiere was fit for a princess, airs November 19 and 22, 2012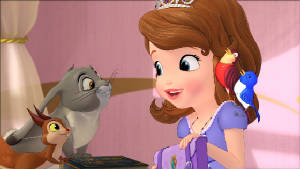 I covered the movie premiere for the Disney Channel presentation of "Sofia the First: Once Upon a Princess," which airs on the Disney Channel November 18, 2012 and on Disney Jr. on November 22nd. The lavender carpeted event brought out the littlest of Hollywood stars you can imagine with parents in tow, such as tiny-little Isabella Cramp (ABC's "The Neighbors") and loads of adult stars with their little ones in tow, such as Lou Diamond Phillips ("Longmire") and Angela Bassett ("E.R.").
The animation made for television stars the voices of Ariel Winter (ABC's 'Modern Family'), Sara Ramirez (ABC's 'Grey's Anatomy") and Wayne Brady ("Let's Make A Deal"). It's about an average girl (Winter) whose life suddenly transitions when her mother (Ramirez) Queen Miranda marries a king (Travis Willingham) and she suddenly becomes a princess. What that means to Sofia is discovered in the song filled enchanting tale.
"I play Clover the bunny," Wayne Brady said of his character. "He so sweet but soon as you try to touch him there's a change...it's to mask the fact that he is a softy."
'I play the King," Travis Willingham said, very kingly, and when I asked about his tone in the film he said, "He has a kind of kingly tone...but when he talks to his family he just rolling."
Directed by Jamie Mitchell and written by Craig Gerber "Sofia the First" also stars the voices of Darcey Byrnes as Amber; Jennifer Hales as Cinderella, Elsie Fisher as the Huntsman's daughter; Jess Harnell as Cedric; Tress MacNeille as Merryweather; Ashley Eckstein as Mia the Bluebird; Coco Grayson as Princess Hildegard; Tim Gunn as Baileywick; Harley Graham as Princess Clio; Russi Taylor as Fauna; Meghan Strange as Robin; Zach Callison as Prince James, and Barbara Dirickson as Flora.
For more information on "Sofia the First" or to see the trailer log onto www.DisneyChannel.com or www.Disney.Go.com/SogiatheFirst.
James Balog's Chasing the Ice, a breath-taking look into global warming, in theaters November 16, 2012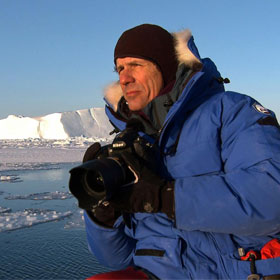 Diamond Docs, in association with Exposure Production presents National Geographic Photographer James Balog's documentary on his seven years of collecting 'evidence' of global warming in "Chasing the Ice." The documentary arrives in theaters November 16, 2012.
"We never intended it to last this long. First it was three years, then five. It's on going, I just came back" Balog points out. "I want the viewers to know about the impact of climate change and to be inspired."
When asked about the dangers of such a project James said, "It absolutely took us to the edge. Some situations are not in the film. There were hidden dangers."
In "Chasing the Ice" Balog and crew cross the Arctic capturing breath-taking glacier changes, such as ancient mountains of ice disappearing. Watch as James risk his life in pursuit of the greatest story ever told, of the disappearing glaciers.
James has 40 years experience as a still photographer. He directed the time lapse and created the circumstances for the film makers. The Rated PG-13 film was directed by Jeff Orlowski and also stars Svavar Jonatansson and Adam LeWinter.
"The earth will always survive," concludes James Balog, who also published a picture book "Ice Portraits: Vanishing Glacier Ice." "We don't need to save it, the question is what will be the condition."
For more on the Diamond Doc presentation of "Chasing the Ice" log onto www.ChasingIce.com.
A chat with the ladies of Paramount's Flight, starring Denzel Washington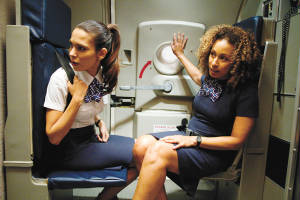 "I'm hearing from so many people of the howling at the screen," said Tamara Tunie ("Law and Order: SUV") about the Paramount presentation of Flight, starring Denzel Washington. "That's the brilliant of the screenplay it draws you into it rooting for Whitaker, played by Denzel Washington, even with his faults they want him to succeed."
Denzel's character Whip Whitaker is a commercial pilot with an alcohol, women and drug problem that saves a plane of 102 people, and two crew members, crash landing a plane - while under the influence. The heroic art is lost in a sea of accusations that his 'influence' state caused the crash. Tamara plays one of three airline stewards on the plan and the only crew survivor, aside from the co-pilot.
"I was blessed to be a part of the film and work with Denzel," said Garcelle Beauvais ("The Jamie Foxx Show"), who plays Deana the ex-wife of Washington's character Whip. "I loved the script and I knew Denzel would bring it. You don't know...where the movie is going to go."
In the end the film addresses the lost of his family (and son), because of his addiction.
"Imagine how terrified it must be involved in a plane crash," Tunie points out. "I trained with Delta Airlines they have a course for airline stewardess at a Flight Attendant School in Atlanta....that really helped. I also have a friend who is still a flight attendant that was involved in a plane crash. She said she thought, 'Who will raise my son.'"
Tamara told me she wants the viewers to walk away from the film with a bit more respect for the jobs of the flight crew, "Realize the responsibility of the flight crew is not just about greeting you at the door and serving you ginger ale, it's about having the responsibility for souls on the plane," she said.
Beauvais, who will be co-starring with Oscar winning Jamie Foxx in the action film White House Down, said the film shows the human side of the airline crew.
"It shows you how much this addiction cost him," she said. "There was also redemption. He had a chance to redeem himself."
Flight, Rated R, is in theaters now and for more on the cast or to see the trailer log onto www.Paramount.com/Flight.

(Columnist: Eunice Moseley is a PR/media & promotions consultant, and as well as a syndicated entertainment columnist for over 20 years - www.ThePulseofEntertainment.com and www.FreelanceAssociatesInc.com.)