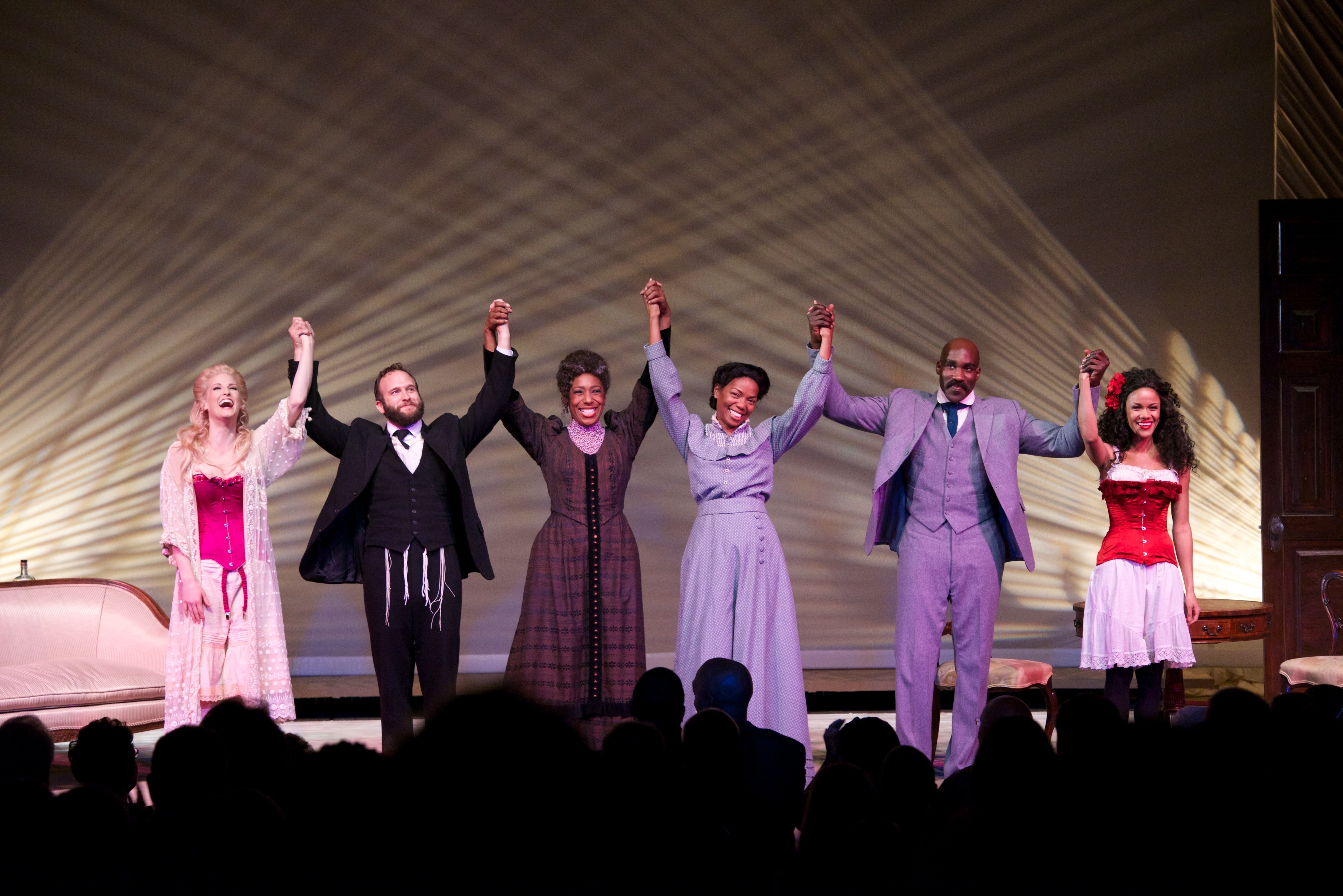 Stellar performances in The Pasadena Playhouse presentation of Intimate Apparel, runs until December 2, 2012

Sheldon Epps directs The Pasadena Playhouse presentation of Intimate Apparel, written by Pulitzer Prize winning Lynn Nottage (Ruined), the stage-play stars Vanessa Williams, Dawn Lewis, Angel Reda, Adams J. Smith and David St. Louis. All gave stellar performances in the production that takes place in 1905 in New York following a seamstress' success as a lingerie sewer and her love journey of discovery.
Image Award winning Vanessa Williams ("Soul Food," Imagine That) is the seamstress Esther who falls in love with George, played by David St. Louis (Ruined), a Caribbean suitor who sends her romantic letters. Esther lives at a boarding home with Mrs. Dickson, played by Grammy Award winning Dawnn Lewis (Let It Shine), a somewhat over protective landlord. Her favorite rich socialite client is Mrs. Van Buren played by Angel Reda ("Wicked") and her best friend is a lady-of-the-night named Mayme played by Kristy Johnson ("House"). A forbidden 'affectionate' relationship blossoms between her and a Hasidic garment shopkeeper named Mr. Marks, played by Emmy Award winning Adam J. Smith ("Without a Trace") - owner of a local shop that has the finest satin and silk materials to be found.
The Pasadena Playhouse presentation of Intimate Apparel, a winner of the 2004 New York Drama Critics Circle Award, will run until December 2, 2012 in Pasadena, California. You can get more information at www.pasadenaplayhouse.org.
Pixar Animation Studios' Brave, the #1 animated film this year, is now on DVD and Blu-ray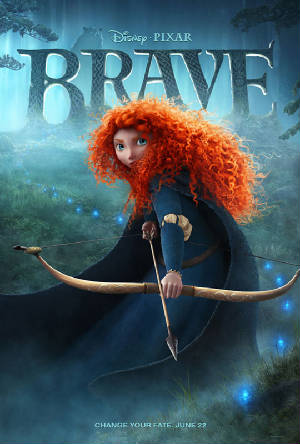 The 13th animated feature film of Pixar Animation Studios, Brave, is now on DVD and Blu-Ray. Distributed by Walt Disney Pictures Brave is directed by Mark Andrews and Brenda Chapman, and is produced by Katherine Sarafian, of Pixar Animation Studios.
"It began when the director made a pitch," said Katherine Sarafian about the Rated PG animated film. "It's the first we made that has a female at the center."
The film is about a Scottish, strong-willed, red headed princess named Merinda - voiced by Kelly MacDonald who defies custom - and her parents King Fergus (Billy Connolly) and Queen Elinor (Emma Thompson) - on an arranged marriage by holding out for love.
This animated fantasy adventure is of the best quality at Pixar and in its first weekend grossed, in the U.S., over $66,320,000. As of November 18, 2012 Brave has grossed $236, 619,922.
"We did it with a new software. We wanted to pursue a new look," said Katherine when questioned about the different quality/look of this film. "It takes place in Scotland. In Scotland...it has these landscapes... you always have something growing on something in Scotland. There is lots of history...we had to make it all look real. I've never been to Scotland before they filmed and it's a different beast, and has transformed through the years...and the weather changes constantly."
Katherine Sarafian, while at Pixar, has worked on such projects as Lifted, The Incredibles, and Monster, Inc. 3D. Brave also stars the voice of Julie Waters who plays the witch.
For more information on Brave, now on DVD and Blu-ray, log onto www.Disney.G.com.
'Music Majors: The Rance Allen Group Documentary' two-disc CD/DVD set is now in stores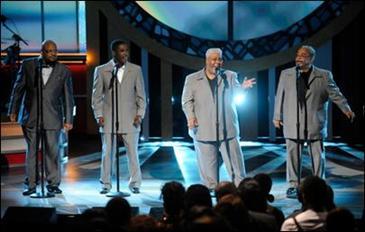 "After you been singing for as long as we have you want to, at some point, document to see your start and your progression," said Bishop Rance Allen about his group's new CD/DVD release that includes a new album "Amazing Grace" (Tyscot Music) and the "Music Majors: The Rance Allen Group Documentary."
The Grammy Award nominated singer is joined in the group by his brothers Tom (Thomas) on drums and Steve on guitar. The documentary covers the 40 years the group has been in the music business. They formed in 1969 and are credited for being one of the most influential Contemporary Gospel groups of all time.
The "Music Majors..." documentary is the untold story of the group who recently won a Stellar Award as "Best Traditional Group/Duo of the Year" and "Quartet of the Year" for their last album "The Live Experience."
"We're from Detroit...so we heard Motown music," Allen said about their venture into Contemporary Gospel. "In viewing your life you have to say, 'That's God.' That's a lot of what we seen while in the struggle."
He goes on to explain the reaction of their secular sound mixed with the Gospel, "People who knew us in the church thought they had to save us."
We know now they didn't need saving. Their way was a new era of communicating the Gospel of God and they did it so well that most of the noted Contemporary Gospel artists today credit The Rance Allen Group as a big influence.
"When you are the - somewhat - originator, and I don't want to take all the credit, but when you are quoted as being an originator it doesn't mean instant success. It means that other people take it, use it and be recognized for it."
The Bishop went on to name a few Gospel artists that have credited his group as an influence: John P. Kee, Smokie Norful, Kirk Franklin, Yolanda Adams and Donnie McClurkin.
"God is allowing me to move in my later years," Rance points out. "I'm so busy girl, I have no complaints.
The Rance Allen Group is planning "The Impressions Tour" in 2013, but for now they are promoting their CD/DVD set of "Amazing Grace" and "Music Majors: The Rance Allen Documentary." For more information on the new Rance Allen Group project log onto www.Tyscot.com.
(Columnist: Eunice Moseley is a PR/media & promotions consultant, and as well as a syndicated entertainment columnist for over 20 years - www.ThePulseofEntertainment.com.)