Warner Bros' Interstellar, where reality meets creativity, in theaters November 7, 2014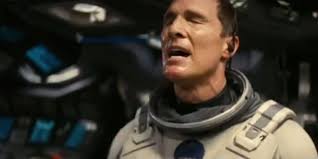 Warner Bros. Pictures and Paramount Pictures present Interstellar starring Oscar winners Matthew McConaughey (Dallas Buyers Club) and Anne Hathaway (Les Miserables) - it arrives in theaters November 7, 2014. Interstellar is a science fiction film where reality meets creativity. The realistic visuals of space, the galaxies, the black hole, and space worm-holes were breath-takingly real.

The Rated PG-13 movie focuses on a dying earth at a time when the only chance of survival is to find a new planet. A former pilot and engineer, Cooper (McConaughey), has been enlisted to lead a team to follow up on 12 explorers from earth. The explorers were sent to 12 different galaxies through worm-holes looking for an inhabitable planet.

The problem, the time difference, they have to travel through a space worm-hole where two weeks to them is two years on earth. Of course things go wrong and each mistake means more time for them, and more years for earth. It's a rush against the clock - will anyone be alive? Cooper agrees to help save the world even though he has to leave his teenage son, Tom (Timothee Chalamet) and young daughter Murph (Mackenzie Foy).

Murph takes the news hard and doesn't say goodbye to her father. This becomes the passion that fuels her to - through time and space - help her father. It also fuels Cooper in his passion to return home to her - through time and space - communicate with her. Coopers' team consists of Dr. Amelia Brand (Hathaway), scientist Romilly (David Gyasi), Doyle (Wes Bentley), and two military machines CASE and TARS.

Interstellar is directed by Academy Award winning Christopher Nolan (The Dark Knight, Inception). It also stars Academy Award winner Matt Damon (Bourne franchise), Oscar nominated Jessica Chastain (Zero Dark Thirty), Oscar winner Ellen Burstyn (Alice Doesn't Live Here Anymore), Oscar nominated John Lithgow (Terms of Endearment), Oscar winner Michael Caine (Inception), Casey Affleck (Tower Heist), Topher Grace (Spiderman 3), and Tony Award winner Bill Irwin (Who's Afraid of Virginia Woolf). The script was written by Jonathan Nolan and Christopher Nolan.

Producers include Emma Thomas, Christopher Nolan and Lynda Obst, with Jordan Goldberg, Jake Myers, Kip Thorne and Thomas Tull as executive producers. The score was composed by Oscar winner Hans Zimmer (The Lion King). Interstellar is presented in association with Legendary Pictures, a Syncopy/Lynda Obst Productions production - a Christopher Nolan film.
You can log onto
www.Interstellar.com
for the movie trailer or more information on the November 7, 2014 movie release.
London actor David Gyasi stars in Warner Bros' Interstellar with Oscar winners Matthew McConaughey and Anne Hathaway

"These guys are the superstars," said English actor David Gyasi (The Dark Knight) about his co-stars in the Warner Bros. and Paramount Pictures presentation of Interstellar with Oscar Award winners Matthew McConaughey (The Wolf of Wall Street) and Anne Hathaway (The Dark Knight Rises). "It was invigorating to be around them."
Gyasi plays Romilly one of a four-man crew enlisted to see which of 12 space explorers found a suitable planet for a dying earth. The problem is space-time and earth-time is different, earth time moves much faster.
"He is very different from me and how I look," said David about his scientist role (Romilly) in Interstellar, the Christopher Nolan directed science fiction film. "He invested so much into one thing (science)...the having all his eggs in one basket."
The concept of the Rated PG-13 IMAX film is about space and what it offers - black holes, time travel, worm-holes, and the ability of reaching through time and space into the past.
"There are people out there that pray and worship....if you do the science of it...this could be the science of that," said David when ask if he believes in the movie's concept of reaching through time and space. "This movie puts it under the umbrella of science."
Gyasi credits also include a role in Red Tails. Interstellar, starring David Gyasi, Matthew McConaughey and Anne Hathaway, arrives in theaters November 7, 2014.

(Syndicated Columnist: Eunice Moseley, has an estimated weekly readership of over ¼ million with The Pulse of Entertainment. She is also a Public Relations/Business consult at Freelance Associates, and Promotions Director (at-large) for The Baltimore Times. Her Event/"Uplifting Minds II": The 16th annual "Uplifting Minds II" free entertainment conference arrives in Baltimore Sat. April 18, 2015 at Security Square Mall. www.UpliftingMinds2.com, www.ThePulseofEntertainment.com.)