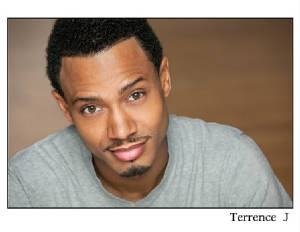 Terrence J 'wish list' continues with his move from BET to E! News

By
Eunice Moseley


Terrence J (Jenkins) was once a homeless college graduate going-for-broke when he auditioned and was hired to host BET's "106 & Park," but on November 12, 2012 he completes another item on his 'wish list' with his move to "E! News." Jenkins' will be co-hosting with "E! News' Veteran Giuliana Rancic.

"I actually wrote down how and what I wanted to accomplish," said Terrence J about his career. "I was homeless at 23 when I auditioned for '106 & Park.' I never got what I wanted but... it's full of accomplishments. Every day is a step towards (what I want)..."

Terrence J is also an actor whose credits are already impressive with co-starring roles in the Steve Harvey film Think Like a Man, in Burlesque and the T.D. Jakes movie Sparkle. The North Carolina native says that the "E! News" assignment is the pentacle of his successes thus far. He credits his academic achievements in preparing him for the worldwide exposure he received via his co-hosting gig at BET on "106 & Park."

"That family connection, that means so much to me, it fuels me," he said when I told him how proud I was of his achievements. "I try to stay humble and not get into trouble. You build...every time you get experiences, you get better."

The actor/television co-host said he intends to be the best co-host on "E! News" he can be while also having fun. Episodes will include interviews with comedian/actor Kevin Hart and Chris Brown on his new foundation Symphonic Love.

"E! News," a division of the E! Network, debuted in 1991 and provides breaking celebrity news, film and music reviews, and Hollywood gossip. The electronic entertainment magazine is edited by Ryan Seacrest (its' former host) and Giuliana, its' current host - the face of "E! News" - since 2002. There are at least 12 correspondents and Jason Kennedy has also been Rancic's co-host this year.
"E! News" airs weekends at 7 p.m. (ET) and encores at 11:30 p.m. (ET). For more information on "E! News" log onto their website at www.eonline.com/shows.
The 2012 Hollywood Black Film Festival premieres the Tri Destined Studio film Note to Self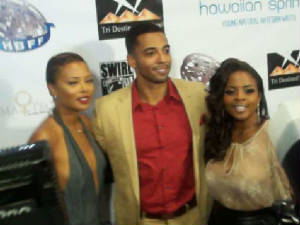 The 2012 Hollywood Black Film Festival (HBFF) was recently held with an opening night that included the premiere of the Tri Destined Studio film Note to Self. Aside from the film's screening, the HBFF also offered panel discussions and tons of networking opportunities.
The premiere of Note to Self - which stars Brian McKnight, Christian Keys ("Let's Stay Together"), LeToya Luckett (Preacher's Kid), Eva Marcille ("America's Top Model"), Brely Evans (Sparkles), Valarie Pettiford (Jumping the Broom), Jason Weaver (Drumline), Clifton Powell (Ray) and Richard T. Jones (Why Did I Get Married) - was star studded red carpeted event with just the cast, but others came out in support as well, such as comedienne/actress Annie McKnight (The Soloist), Yara Shahidi ("The First Family") and actor Wesley Jonathan ("The Soul Man").
Directed by Trey Haley, Note to Self had the audience laughing and cheering because of its great script and stellar acting. Produced by ND Brown, Eric Tomosunas, Veronica Nichols, and Keith Neal, and executive produced by Christina Keyes and Brett Dismuke, Note to Self is currently on DVD.
Founded in 1999 the Hollywood Black Film Festival aims to enhance the careers of emerging and established North American filmmakers through public exhibition, competition programs and industry panels. Learn more information by logging onto www.HBFF.org.
The 15th Annual First Ladies High Tea brings Hollywood out with Mary Mary, Cedric, and Yolanda Adams participating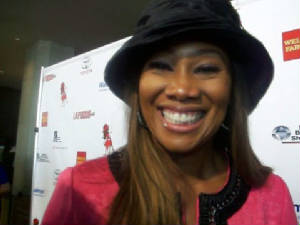 Being witness to the many first ladies of the church at the 15th Annual First Ladies High Tea, held recently at the Beverly Hilton Hotel, inspired me in my role a woman. Hearing the stories and challenges of the first ladies of the church and those that witness all they do, I am sure, inspired all attending, which included Cedric the Entertainer who opened the event, Yolanda Adams who inspired us with a fashion show of her new clothing line, and Mary Mary who inspired us with their voices.
"I've been in the ministry for 40 years," said Rev. Beverly Crawford - who co-hosted, as well as served as one of the honored first ladies - about the duties of the first lady of the church. "When you are called God gives you the grace to do it Yolanda Adams added, "I think the biggest challenge for the first lady is time management. If you think about it they have to do the same thing on Sunday, Wednesday and Thursday as the pastors do, then they also have children (to care for)."
The Yolanda Adams Fashion show took me to a Paris runway. The styles, material and moves of the models were worthy, or surpassed, the high-fashion runway shows I have covered so far. I would pay admission to just see that fashion show again, that's how good it was.
It was great to get started with funny man and actor Cedric the Entertainment ("The Soul Man") who was accompanied by his adorable son and beautiful wife.
"The pastor is this kind of focal-point and she is his support," Cedric said about first ladies of the church compared to the first lady of the church in his TV Land original sitcom "The Soul Man." "That role ends up being the most powerful role - that's what we want the audience to get from the show ("The Soul Man")."
Aside from Rev. Beverly Crawford (Bible Enrichment Fellowship International), other first lady honorees include Tisa Hill (Mt. Zion Missionary Baptist Church), Togetta Ulmer (Faithful Central Bible Church), and Evelyn Perkins (True Friendship Baptist Church).
The First Ladies High Tea serves to inspire women to join forces and create a movement of service towards each other, the communities in which they live and to God. Past honorees include former California First Lady Maria Shriver; former LA County Supervisor Yvonne Burke; Nancy Wilson, TV One founder Cathy Hughes; actor/author Hill Harper, and the Honorable Kamala Harris, attorney general of California.

(Columnist: Eunice Moseley is a PR/media & promotions consultant, and as well as a syndicated entertainment columnist for over 20 years - www.ThePulseofEntertainment.com.)