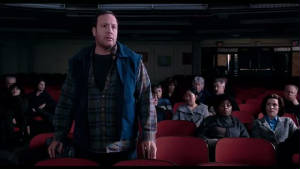 Columbia Picture's Here Comes The Boom, an inspiring tale of triumph, stars Kevin James, Salma Hayek and Henry Winkler

By
Eunice Moseley

"It's about overcoming," said Kevin James about the Columbia Pictures' release of Here Comes The Boom, which he stars in, as well as co-wrote and co-produced. "I really believe we can become stuck in our lives."

Here Comes The Boom, which arrives in theaters October 12, 2012, is an inspiring comedic/romantic tale of triumph, triumph over what others say you can't do but have a passion for. Kevin James (Mall Cop, Zoo Keeper) stars as Scott Voss, a former college wrestler now a biology teacher in a failing high school. He finds himself standing up for the job of the music teacher played by Henry Winkler ("Happy Days," "Royal Pain"). Everyone thinks Scott has gone crazy when he decides to raise the money needed to keep the music teacher's job by fighting in Mixed Martial Arts (MAA) competitions - with a surprising end.

"It was really fun, funny and relaxing, but at the same time too, it very seriously makes sure it has a message," said Academy Award nominated actress Salma Hayek (Savages, Puss in Boots), who also stars in the film, about her experiences on set. "What I love, as a mother, it's hard to find a film that the (whole) family wants to see. This film has something for everyone. It's about the community. We complain and look to government, but what can we do... what you do 'is' important."

Salma is so right, Here Comes The Boom has the comedy for all ages, the high school scenes for teens; the mixed martial arts for the men (or sports loving women); a wide range of inspiring music for the music lovers, and the romance between the characters of Kevin and Salma for the sentimental adult viewers like me.
Kevin really seemed to display real skills in wrestling, that's how good his acting is in this film. I walked away seeing him - as an actor - in a "whole" new light.

"Kevin is made out of rubber...so athletic...you wouldn't think so. He's a tough guy I didn't pull him apart," Hayek laughed while describing her physical scenes with him. "I was not going to do any damage...He did his own stunts and he did good."

Salma's character, Bella, was the only one in his corner in the beginning when everyone thought he lost his mind with the plan to save "music," but in the end they were all believers.

"If anyone could do that in real life, he (Kevin) could," Salma pointed out.

"We did that (the build-up) by design," Kevin said of the progression on the MMA fights in the film. "The fights got bigger and bigger overall. He overcame. Good over evil."

A Hey Eddie/Broken Road/Happy Madison production, Here Comes The Boom was directed by Frank Coraci, written by James and Allan Loeb, and produced by Kevin and Todd Garner. Executive producers are Adam Sandler, Jack Giarraputo, Jeff Sussman and Marty P. Ewing. The Rated PG film arrives in theaters October 12, 2012.
For the movie trailer or more on Here Comes The Boom, starring Kevin James, Salma Hayek and Henry Winkler, log onto
www.Boom-Movie.com
.
The soulful Gospel vocalist Deanna Ransom is back with a new album release, 'Never Say Never...Again.'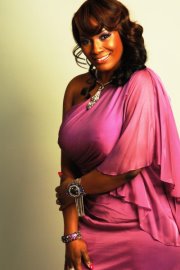 I was totally impressed with the vocals of Gospel artist Deanna Ransom on her newest album release "Never Say Never...Again" (NuVybe Records). Reminiscent to me of Faith Evans with a touch of Jazz influence, Deanna Ransom offers an excellent Praise and Worship project with production by Grammy Award winning producer Herb Middleton. The 13 selections on the CD offer a range that showcases the style and power of her voice.
"It's a take from my very first album 'Never Say Never,'" said Deanna Ransom about the concept for the project. "I reunited with the producer on that project. Right before Herb and I reconnected the Lord was talking to me about restoration (of relationships). The enemy puts in wedges."
The result of the reunion is a powerful and inspirational piece. My favorite cuts on the album include "On Our Side," which brought tears to my eyes - a lovely love song; "Hallelujah," has an Island/Caribbean feel to it; "Never Say Never," a powerful Praise and Worship selection; "I Am Healed," a great testimony, and "Rise Sistah," featuring Melba Moore and J. Wright Middleton, for its spoken word and inspiration anthem theme.
Ransom is a winner of the 2011 Rhythm of Gospel Award for "Song of the Year" for "Mercy and Kindness" off of a previous album release and the 2010 Black Essence Award for "Female Gospel Artist." In addition, she was the 2010 Holy Hip-Hop Rhythm & Praise nominee for "Album of the Year," "Artist of the Year" and "Song of the Year" for "I Hear You."
"It's the season of major change," Deanna points out. "People need to connect with my heart - with me. (The album) that's just me, I love all different types of music...I use for God. We have to believe in the Word, He is going to work it out for His good."
Also on "Never Say Never...Again" is John "The Rap-tist" Gallagher featured on the "God of Promise" and "It's Working" selections. For more information on Deanna Ransom and her newest album release, "Never Say Never...Again" log onto www.DeannaRanson.com.
(Columnist: Eunice Moseley is a PR/media & promotions consultant, and as well as a syndicated entertainment columnist for over 20 years - www.ThePulseofEntertainment.com. NEWS FLASH: Meet EURweb.com publisher Lee Bailey, Praise 98FM's Lady Charmaine (also program director), Pierre Neilly (Booswet Records), and Trey Haley director and co-owner of Tri Destined Films at the DJ Roc (KJLH) hosted "Uplifting Minds II" entertainment conference, presented by Boosweet Records Saturday, October 20, 2012. The conference is sponsored in part by www.EURweb.com and Praise 98FM. Held at the Celebrity Centre in Hollywood, CA, the one-day ULMII conference offers three intense seminars, an 'established artist showcase,' and a national talent competition showcase - admission is free! www.UpliftingMinds2.com)