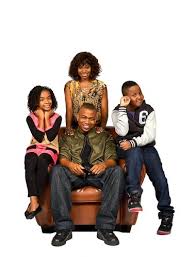 Bounce TV premiers original sitcom 'Family Time' with Omar Gooding and Angell Conwell, airs Tuesdays 10/9c

"Not that much, a couple more vacations and more flossing," laughs Omar Gooding ("Single Ladies") when asked what he'd do if he won $500,000 million in a lottery, which is the storyline of the Bounce TV original sitcom "Family Time." "Family Time" also stars Angell Conwell (The Wash). Los Angeles native Gooding and Conwell (Soul Plan) are the Stallworth couple who wins $500,000 in a lottery. It airs on Tuesdays at 10/9c.

"I'd flip it in some way shape or form - give some to grandma," said Angell about what she would do with the money. "Family Time" is created, produced and written by Bentley Kyle Evans ("Martin," "The Jamie Foxx Show"). "There's nothing like stability and peace of mind, and a home."

This is the second season of the sitcom that also stars Bentley Kyle Evans Jr. as Devin Stallworth; Janjareen Thomas (Johnson Family Vacation) as Rachel, and Jayla Calhoun as Ebony Stallworth. Omar ("Smart Guy") is Anthony Stallworth and Angell ("Young and the Restless") is Lisa, a working class family that hits the lottery.
Bounce TV was founded by former mayor of Atlanta/UN Ambassador Andrew Young and Martin Luther King III in 2011, and it is now in 87 markets.

"We go through pitfalls, you never know what will pop up," said Gooding about what one would experience as a $500,000 lottery winner.

"You have to deal with IRS," Angell added.
Gospel band Sensere puts a fresh sound into Inspirational music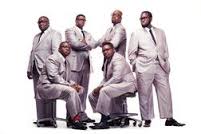 Sensere is a Gospel band that has a fresh sound of Jazz flavored Inspirational music and they are carving their place in the Gospel music industry one step at a time with performances on TBN's "700 Club," Grammy Award winner Dr. Bobby Jones' BET "Bobby Jones Gospel," as well as touring with Patti LaBelle and Mary Mary.
Sony and Warner Bros veteran executive Eddie Pugh discovered the group in South Florida. The band was formed by musician/singer James "J Dubb" Wright III - lead guitar player, drummer, bass player and keyboardist.
"I'm the background singer, I write the songs and produce," said J Dubb about his role in the band that has three singers in tow. "I put the whole thing together. I grew up on music like Earth, Wind and Fire and The Temptations, and it inspired me to start a band. I didn't see anything like that in Gospel."
Sensere (Sensere Music/Wright Sound Enter/Gods Turn Records) are well dressed singers and band members with matching moves giving you that EWF and Temptation era feel. The other members include Brian (vocal), Terrell (vocals), Dewayne (vocal), Marcelin (guitar and sax), and Darryl (trumpet).
"My wife is also a choreographer, dancer teacher," Wright III said about the moves. "She choreographs on the side, but in no way shape or form are we dancers. The horn set really moves. Darryl was in a marching band, the guitar player they choreograph their moves."
"I have a strong quartet background," James pointed out in explaining the style of the band. "It's not something I thought of doing it just came out...the sound. I wanted a record to appeal to everybody. The youth love is."
You can listen to Sensere's music or learn more about this very gifted band by logging onto www.SensereMusic.com.
The NAACP 2014 7th Annual Beverly Hills - Hollywood Theatre Festival honors plays and playwrights

I was invited to the red carpet arrivals of the NAACP 2014 7th Annual Beverly Hills-Hollywood Theatre Festival honoring plays and playwrights by playwright and friend LaRita Shelby (known on stage as Jazzy Rita). Shelby's play is titled "Expresso Café"
"The NAACP is the most loved and renowned civil rights organization and in their effort to bring quality in the work world...it's absolutely marvelous that they are also bringing diversity in the performing and creative arts," said LaRita Shelby, MS (Jazz singer, actress, journalist, and author) about the event.
These playwrights had the honor of having veteran actors perform in their 10 minute plays. Lou Beatty Jr. was in "Lady Patriot," Roger Guenveur Smith in "Frederick Douglass," Ted Lange in "Lady Patriot," and Phil Morris in "Soldiers Play."
"Exposure, exposure, exposure," said Phil Morris ("Love That Girl") about what the event does for the independent plays that were showcased. "We need the same opportunities as everybody else."
The NAACP Beverly-Hill - Hollywood Theatre Festival was founded by Tia Boyd and it's her way of saluting black theater.
(Syndicated Columnist: Eunice Moseley, has an estimated weekly readership of over ¼ million with The Pulse of Entertainment. She is also a Public Relations/Business consult at Freelance Associates, and Promotions Director (at-large) for The Baltimore Times. Her Event: "Uplifting Minds II" free entertainment conference comes back to Baltimore Sat. April 18, 2015 at Security Square Mall. www.UpliftingMinds2.com , www.ThePulseofEntertainment.com.)