ABC's 'Trophy Wife' draws over 4 million premiere viewers, three more scripts ordered
By Eunice Moseley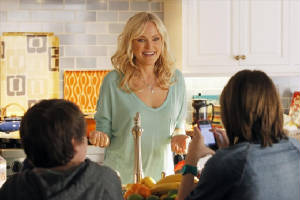 "It's the complete opposite of a 'trophy wife," laughs Malin Akerman, who plays Kate the "trophy wife" on ABC's new comedy series "Trophy Wife," with Bradley Whitford (her husband) and Michaela Watkins. "I'm part of a family that is mixed with steps - sister, brother, mom - my husband has been married several times."

The premiere last month attracted 4.2 million, according to TheDisneyBlog.com, with CinemaBlend.com reporting 4.3 million. Last week the network reported the new series is still bringing in 4.3 million viewers and has ordered three new scripts (without guarantee of pickup) at this point. That is a good sign for the comedy series executive produced by Emily Halpen, Sarah Haskins and Lee Eisenberg.

"She is 20 years younger than her husband," said Lee about "Trophy Wife". "The title is meant to be ironic...it's been the most fun ... to make her fall on her face and not look like it."

"Trophy Wife" is a creation of Sarah and Emily that is loosely based on Sarah's life.

"This show seems to fit well with ABC...I feel it's the right home for it," said Emily about the series.

"Trophy Wife" also stars Marcia Gay Harden, Bailee Madison, Ryan Scott Lee, Natalie Morales and Albert Tsai. ABC's "Trophy Wife" airs on Tuesdays at 9:30pmET.

Bounce TV rolls out the red carpet for Bentley Kyle Evans' two new comedy series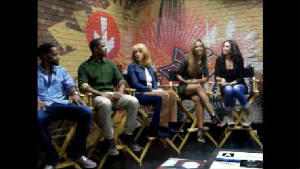 I was invited to an "exclusive sneak peek" at Bounce TV's two new original programming creations of Bentley Kyle Evans. Evans is the creator and producer of such hit comedic series as "Martin Lawrence," "The Jamie Foxx Show" and "Love That Girl." His Bounce TV creations premiered on Bounce TV last week - "BRKDWN" and "My Crazy Roommate."
During a sit-down interview with the cast of "My Crazy Roommate" I realized that each of their personalities fit perfect with their characters. The "My Crazy Roommate" cast included Laila Odom as roommate Brooke and Brittany Richards as roommate Chloe. Gregg Wayans is Sloan and Hari Williams is Future, friends of the polar opposite roommates.
"It's loosely based on my life," said Bentley. "I would be a little bit of both."
Sloane's character is a friend of the roommates with a sought of attraction for one of them which never really 'seem' to develop. Future is a friend, with spoken-word skills, that works with one of the roommates.
Executive VP of Programming at Bounce TV, Billy Hall, was there to support the launch of the series promising to not let it die in the rating war but to nurture it. The premiere of Bounce TV's "My Crazy Roommate", according to BWWTVWorld.com, gave the two year old network's highest viewing audience in its history.
Bounce TV's "My Crazy Roommate" airs on Tuesdays at 10:00 pm.

Vicki Yohe wants you to know worshipping is free with new album release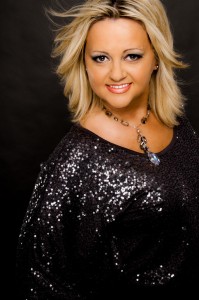 Such an emotional and on fire singer Vicki Yohe is a powerful vocalist in the Gospel industry. In talking with her about her newest album release "Free Worshipper: A Praise and Worship Experience" (Shanachie) she was so in love with the power (and high) that you get when you give God the burdens.
This album is a testament of that power that makes you feel uplifted to the utmost. The first single "I Know a Name" is a sweet song of appreciation for that love and it's one of my favorite selections on the album. Yohe even broke out and started singing the single to me with as much passion as if she was on stage before 1,000s.
"Free Worshipper" was record live at Faithworld Church in Orlando, Florida with a five-piece band and produced by Kendall Duffie and Ayron Lewis.
Vicki's first label was Giant Records in 1994 where she released three projects: "The Mercy Seat," "Under the Blood," "Something About My Praise". In 2002 she signed to CeCe Winan's Puresprings Gospel and her project's single, "Because of Who You Are," garnered a Dove Award and her 2005 release "He's Been Faithful" was nominated for a Stellar Award. Vicki released two albums on Aluminum Records - "Christmas Present" and "Beyond the Stone".
Currently on Shanachie Entertainment Yohe released a live project in 2009, "Reveal Your Glory," "I'm At Peace" in 2011 and this year her current release "Free Worshipper."
Also a minister, who at age 19 was music director at her family church in Baton Rouge, LA, Vicki Yohe's voice will keep you in "glass ½ full" status. My favorites, aside from the single, is "Four Words," featuring the vocals of Clint Brown, for its powerful and emotional appreciation the love and sacrifice Jesus gave; "God is Good," a great Contemporary Gospel heart-felt testimony; "Waves of Glory," a powerful Praise & Worship song with an awesome choir as the backdrop, with a sweet lead guitar support at the beginning, and "God Loves the Broken," a masterpiece which belongs on the soundtrack to a dramatic film, I also love the violin support.
Learn more about Vicki Yohe and her latest Shanachie release "Free Worshipper" at www.Shanachie.com or www.VickiYohe.com.

(Syndicated Columnist: Eunice Moseley, has an estimated weekly readership of over ¼ million with The Pulse of Entertainment - she is also a Public Relations/Business Management consultant. www.FreelanceAssociatesInc.com, www.ThePulseofEntertainment.com, www.UpliftingMinds2.com).