Sandra Bullock brings documentary to life with Our Brand is Crisis, also starring Anthony Mackie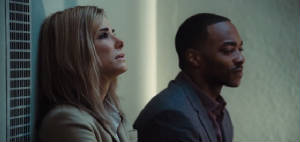 Two time Academy Award nominated and Golden Globe winner Sandra Bullock (Speed) stars in and executive produces the Warner Bros Picture presentation Our Brand is Crisis, based on a 2005 documentary by Rachel Boynton. The documentary follows an American political strategist who planned the 2002 campaign, and won, of a Bolivian candidate who was unlikely to win. The comedy/drama also stars Anthony Mackie (Captain America: The Winter Soldier) who works for the firm that hired Jane Bodine (Bullock) to help the unpopular politician win an election in Bolivia.
Sandra's comedic talents hit all the marks and Mackie proved again that he is lead actor material. The Bolivian politician Pedro Gallo (Gonzalo Sanchez de Lozada) played by Joaquin de Almeida ("24," Fast Five) hires James Carville's consulting firm Greenberg Carville Shrum in Washington, DC. The firm hired retired political consultant Jane Bodine, who lost her last three campaigns to opposition political campaign consultant Pat Candy played by Academy, Emmy and Golden Globe winner Billy Bob Thornton. Bodine successfully used Pedro's unpopular characteristics and made them popular winning the election.
Our Brand is Crisis also stars Scoot McNairy, Ann Dowd, and Zoe Kazan. George Clooney serves as producer along with Grant Heslove and Smokehouse Pictures, in association with Participant Media and 360 Films. Our Brand is Crisis is directed by David Green.
City of Brotherly Love's Pieces of a Dream celebrates 40 years with new album, 'All In'
"Its our grown folk's album…we finally got there," laughed Pieces of a Dream co-founding member James Lloyd (keyboards) about what we can expect on their new album, "All In," released in celebration of 40 years in the music business. "It will not just be mellow, not just up-tempo, but everything in between…pushing the boundaries."
Natives of the City of Brotherly Love (Philadelphia) the R&B, Fusion and Jazz band of musicians, Pieces of a Dream, were founded by Lloyd, Cedric Napoleon (bass) and Curtis Harmon (drums) in 1976 as teens. Through the years they have released 16 albums and just released their 17th on Shanachie Entertainment.
"I don't think I had anything in mind," said Curtis about what they wanted for the album. "I wrote songs so far a part in time. We want our music to stand the test of time."
That they have done because after 40 years they are still popular enough to still be on tour because of the demand for their music. Watch for my review of the "All In" album in the coming weeks and in the mean time check out Pieces of a Dream's "All In" project by logging ontowww.PiecesofaDream.com.
(Syndicated Columnist: Eunice Moseley, has an estimated weekly readership of over ¼ million with The Pulse of Entertainment. She is also a Public Relations Strategist and Business Management Consultant at Freelance Associates, and is Promotions Director (at-large) for The Baltimore Times. www.ThePulseofEntertainment.com. EVENT: Sat April 16, 2016 the "Uplifting Minds II" Free Entertainment Conference arrives in Baltimore at Security Square Mall and Sat October 22, 2016 (TBC) the "Uplifting Minds II" Free Entertainment Conference at the Celebrity Centre in Hollywood, CA. www.UpliftingMinds2.com.)