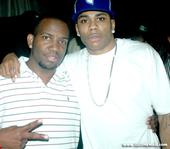 Introducing a hot new music producer, MASE
By Priscilla Chatman (as told to by Elainne Halbersberg)

Mase is a hot new producer with a flair for creating beats and writing songs. Laser-focused, with a no-compromise attitude and a talent for business, he is quickly making headway as a force to be reckoned with in the world of hit records. "Music has always been a part of my life," he says. "I never really thought I would do music for a living, but everywhere that I have been, I was around music."

Mase was born in Libreville Gabon, Africa and attended school in France. After graduation, he moved to the United States, where he obtained a bachelor's degree in international relations. His true calling, however, is making music, and so he combined his multicultural background and studio knowledge to launch Miami-based DMS Entertainment, signing rising stars and solo artists CaMille and Alexandra to his new label.

Mase recently discussed his love of music, what it takes to be a good producer, and his goals for DMS:

Q: Growing up in Gabon, when were you first exposed to music?

A: I have been exposed to music since I was little. I was always attracted by the beat first, not by the lyric. It's something that makes me move; something in you that you cannot explain - drums, sounds, all of that. When I listen to a song, I listen to the beat first. I grew up on a lot of African music, Michael Jackson of course, Madonna and Prince. I learned about rap from a friend of mine in Gabon. He was from Norway and played hip-hop music for me. I didn't speak English, so it was amazing to me to hear Snoop flowing on the beat. "Deep Cover" that he did with Dre - the beat blew me away, the way he rapped on it. We were kids in a French country and I was in high school learning English. The only language I knew was French. I did not know what they were saying in rap, and when I learned English I realized that I did not really know what the songs were talking about!

Q: When did you move to France, and what brought you there?

A: I went to France to go to high school, and then I went back to Gabon, back to France and then to the U.S. My older sister was going to University in France. My parents, younger sister and I lived in a little town in Gabon, and when the protesting began in this underdeveloped country, our parents thought that we should move and get a better education. They sent us to live with our sister while they remained in Gabon and came to visit us in France every two or three months. When I went back to Gabon, I was hanging out with friends and staying out late, so my parents sent me back to France, to a school where I lived and could only go out on the weekends. That's where I finished my diploma, and then I moved to the U.S.

I moved to San Diego, California, and it was the worst trip ever, because I left Paris, flew to London, then to Phoenix and to San Diego. The trip took 15 hours and I did not speak English. I was supposed to come to Miami first, but the school closed and the options were Los Angeles, New York, Boston and San Diego. I picked San Diego because I did not want to go to Los Angeles. I spent eight months in San Diego, learned English, and moved to Miami to study at a community college, then university. I got my degree in international relations. At the same time, I was doing music, and I decided to do what I love.
Q: How did being in the U.S. expand your musical tastes and knowledge?
A: In California I was around a lot of people who love music. I went to concerts and knew what I wanted to do. I have always listened to different genres of music; my first CD was by Nirvana. I still like rock music, but what I love most is hip-hop, R&B and some pop. If I hear a good song, it doesn't matter the genre. In my music you get the feel of rock, African, American and European. My sound is really different because I've lived in a lot of different places.
Q: In addition to being a producer, are you also a musician or songwriter?
A:I write songs, but I would not say I'm a songwriter, because that is not what I do all the time. I can write and give concepts, which was hard to do at the beginning because I did not know much English! Sometimes I make a track and have lyrics for a song. Three years ago my best friend - my dad - died and I made a beat with a song in my head for him. The song is called "We Miss You" and it is on iTunes. It took me a long time to get in the studio and do it. One day I was waiting for an artist, and I decided to work on the song. I wanted to give it to another artist, but I decided to do it myself. I wrote the whole song and I was pretty surprised that a lot of people like it. I speak of the feeling of my dad passing away, the feelings from then until now. It's not a happy song or a club song, but it's a song that everybody will relate to because we all lose people.
Q: Where did you learn your production skills?
A: By listening. I've been in the studio with a lot of artists, and the more you do, the more you learn what you want and what you don't want. You get into the studio, start recording and you know what each song needs. At first, I was trying to get on a lot of projects; I was going to clubs and talking to people, and I had a partner. We worked with artists and did a lot of songs, but nothing happened. We were young, we didn't know the business and we didn't have the same vision, so we couldn't move forward. I kept on producing. I met a lot of artists and I did tracks for them. We had our production setups at home and we worked out of a warehouse. Now I have my own label, and I am in the process of finishing a studio in my house. Right now, I am renting different facilities.
Q: Let's talk about CaMille and Alexandra.
A: A friend of mine brought CaMille to me. She is from Guyana. I didn't like the direction she had, so I worked with her and switched things around. I produced most of her album. She's a great songwriter, and we worked with other writers as well. We created something that is pop and R&B. She can do a lot of things with her voice. More pop, R&B, a little of everything is what makes CaMille. We did a video for "Superman Lover," which I produced. It is getting a good response. Her single is on iTunes. Someone I worked with brought Alexandra to me. I didn't like her material. It didn't represent her; it was not the vision I have for her. The first time I met her, I told her, "I like your voice, but I don't like what you're doing." She agreed. We worked on her album and I produced a couple of songs. She's pop/rock/R&B with an edge. I produced her new single, "Atten Hut," (available on iTunes) with Dimarco, and it's a really great song. It's getting a lot of response.
Q: What do you look for in the artists you sign?
A: Talent, something different, somebody who wants to work, somebody who can work and be down to earth. No divas. Somebody who knows talent and is willing to put their talent to work. The first question I ask is, "Do you believe in God?" because that is very important to me.
Q: What's next for you?
A: Right now, it's getting my two artists' projects out there. I want to do a lot of things - clothing, movies, businesses between the U.S. and Africa. I want a charity to help children in the U.S. and Africa. My goal is to be an example for the younger generation and to inspire children to do their best. If I am able to do that with my life, at the end of the day I will be happy.
For more information on MASE, please visit the following sites
www.dmsentertainment.com
and
www.twitter.com/masedms
.
(Photo: Producer Mase an Nelly)