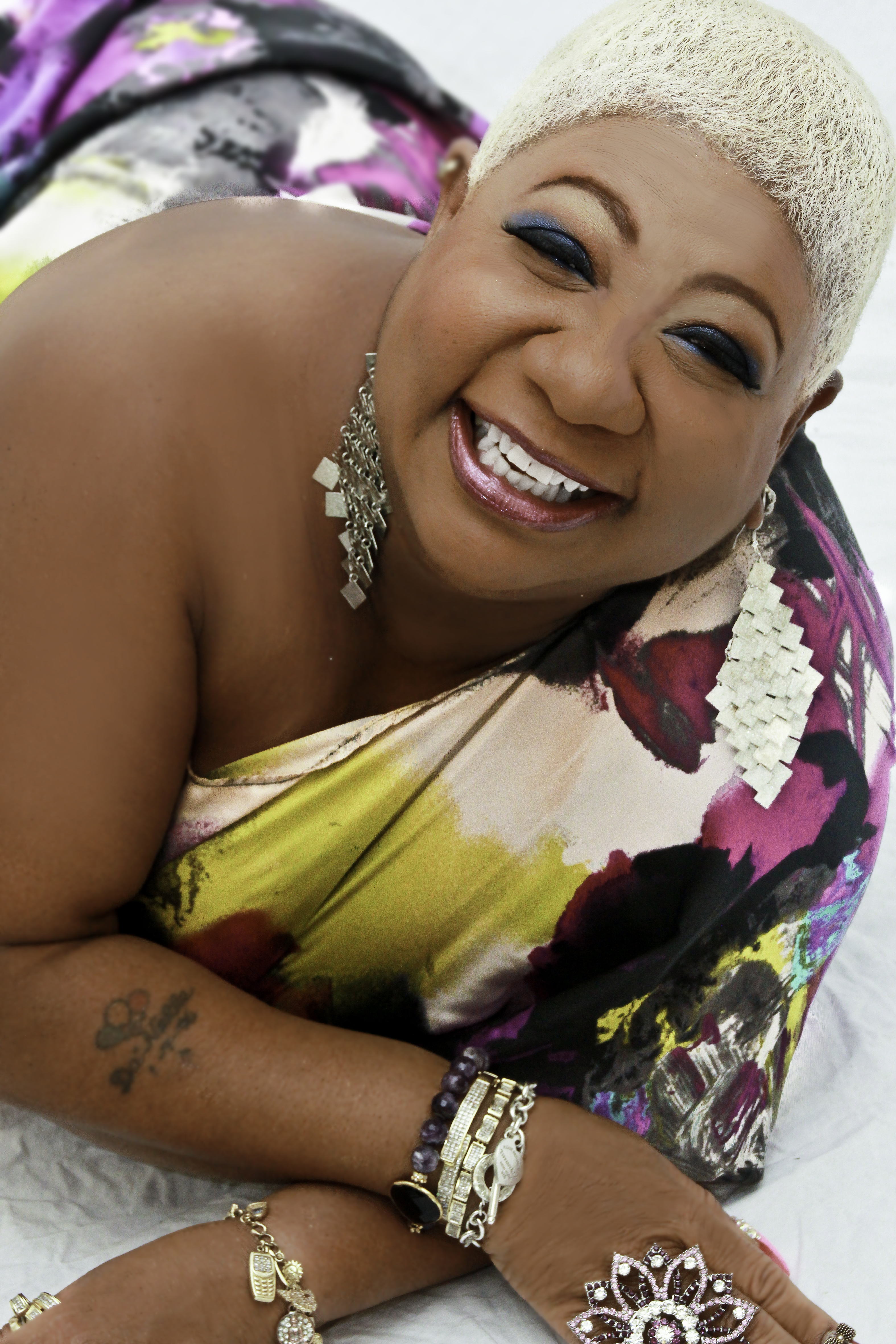 Comedienne Luenell's role continues in Hotel Transylvania 2, receives inducted into Hall of Fame
"I get confused with the money status. Icon and living legend are words used in reference to me but I'm not on that financial level," said Luenell, the Queen of Comedy, about her achievements on stage as a comedienne and in major motion pictures as an actress. "But if that's what they feel."
I witnessed Luenell's climb to the top of the Hollywood ladder of success as a journalist covering the red carpets of Hollywood since 1986, early 2000 for her. That's how I became close friends with her late publicist Eugenia Wright. During that time she was always warm, kind and patient with us starving media. Luenell has always been at ease with her journey too with a confidence like she knew without a doubt she would become an iconic figure in the entertainment world.
"I had never had a publicist before, never been on the red carpet before she set my feet on the path," Luenell said of her former publicist. "The late great Eugenia...I 'just' got another publicist."
Luenell was born in Arkansas, raised in Oakland California and lives in Los Angeles. On October 17, 2015 Arkansas inducts her into the Black Hall of Fame. On September 25th her role as the voice of the Shrunken Head continues in the Sony animation Transylvania 2 starring Adam Sandler.
"On the 17th of October I am being inducted in the Little Rock Arkansas Hall of Fame," she said proudly. "...alongside Lenny Williams and Maya Angelo."
KSBT Cable in Oakland was her start in entertainment as a guest on "Soul Beat Talk Show." Then she toured for two years with Katt Williams and appeared in his "Katt Williams American Hustle" DVD. In 2006 she co-starred in Borat: Cultural Learning. That starring role opened the gate to tons of other opportunities that included television appearances on such shows as "The Middle," and major motion picture roles in such films as Taken 2 with Liam Neeson, Hotel Transylvania (1 & 2) with Adam Sandler, That's My Boy with Adam Sandler, and comedic stand-ups for "Snoop Dogg's Bad Girls of Comedy" on Showtime, BET's "Comicview," "Jamie Foxx's Laffapalooza," and "Martin Lawrence's First Amendment Stand Up."
"I don't think I want the Kevin Hart money...Biggie said 'More money, more problems.' I just want a six bedroom house and some cars," Luenell said sincerely. "I see a lot of things I want to do - charity wise...that need to be addressed. It hurts me to see people with money not doing anything to address them."
Luenell's charity work includes her continuous support of The Kierrah Foundation, which works with girls that age out of the social services system, and campaigns for the causes of breast cancer and HIV/AIDS. On October 17th she will be honored for her contributions to the entertainment world with the Arkansas Black Hall of Fame indictment.
"I am very proud of that and a little shocked and surprised at being inducted alongside dignified people, not that I am not dignified," she laughed. "I've been in Los Angeles for 15 years now. Some (in Oakland where she was raised) don't know I been gone. I was raised mostly in the bay area. People have always been loyal and on my side, but the promoters have been dismissive with me. They have a New Year's Eve Comedy Explosion every year and they haven't asked one time. This is business!"
Knowing that she was passionate about the lack of support from her hometown promoters I gave her my two-cent into why they are and she said, "Paul Mooney told me once, and I didn't understand it then but I do now, 'Familiar breeds contempt,' and damn if it isn't true."
You can log onto Luenell's website to stay in touch with what she is doing at www.HeyLuenell.com or follow her on Twitter and Facebook.
Ten year-old actor Anthony Michael Hobbs mentors as part of NFLer Joel Gamble's mentoring program on September 18, 2015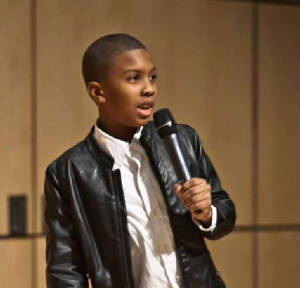 "I am a mentor to my friends by helping them with their homework or helping out if they have a situation or cheering them up if they're feeling down, that is how I am a mentor," said 10 year-old Baltimore actor Anthony Michael Hobbs (Emmy nominated PBS' "The Abolitionists") about his experience mentoring as a guest speaker at the Berkshire Elementary School in Baltimore, Maryland as part of former NFL player Joel Gamble's Foundation's mentoring program. Hobbs will speak on Friday, September 18, 2015. "I am a mentor to my friends because I also teach them and help them proceed in life and help them grow as a person."
This mentoring project is part of Joel Gamble's (Cleveland Browns and Tennessee Titans) Foundation's Career Scholars Program. The program consist of students who could benefit from the mentorship of successful career minded men and woman.
The Joel Gamble Foundation is a 501 (c) 3 non-profit which seeks to increase the number of college ready student athletes. The foundation has several components in order for student athletics to become successful: college acceptance/success, academic success, and athletic success.
In addition to acting Anthony is also a film producer/director. His first short film, One Nation, has screened at five film festivals. His acting credits include performances in the Emmy nominated PBS special "The American Experience: The Abolitionist" where he played a young Frederick Douglas and starring in the DreamWorks documentary "How to Train Your Dragon: Dragons and Dinosaurs."
"A mentor is someone that teaches...helps them proceed on into their career," concluded the very wise young man. Now I know why he was asked to speak.
Learn more about Anthony Michael Hobbs at www.AnthonyMichael.com.
(Syndicated Columnist: Eunice Moseley, has an estimated weekly readership of over ¼ million with The Pulse of Entertainment. She is also a Public Relations Strategist and Business Management Consultant at Freelance Associates, and is Promotions Director (at-large) for The Baltimore Times.www.ThePulseofEntertainment.com. EVENT: Sat October 24, 2015the "Uplifting Minds II" Free Entertainment Conference at the Celebrity Centre in Hollywood, CA host by KDAY 93.5FM.EVENT: Sat April 16, 2016 the "Uplifting Minds II" Free Entertainment Conference arrives in Baltimore at Security Square Mall. www.UpliftingMinds2.com.)