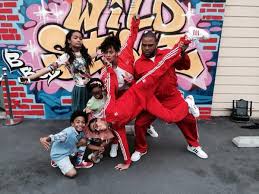 ABC's 'Black-ish starring Anthony Anderson and Tracee Ellis Ross premiers September 24, 2014
By
Eunice Moseley

"In this day and age it's normal...to define myself as mixed. Before, I was identified with Black," said Tracee Ellis Ross ("Girlfriends") when I asked about any "black-ish" issues in their own lives. Ross plays Rainbow Johnson a racially mixed woman in ABC's "Black-ish," also starring Anthony Anderson ("Law & Order") as Andre "Dre" Johnson who is from the hood married to a woman half white and black - as Tracee is - raising their kids in a predominately white neighborhood. "Black-ish" is executive produced by Larry Wilmore ("The Bernie Mac Show"), Kenya Barris ("The Game"), and Laurence Fishburne (The Matrix) - who also stars in the sitcom as Pops Johnson. "It's fun to play a mixed girl. It's the first time for me. I'm always playing a black woman."
"Black-ish" premiers Wednesday, September 24, 2014 at 9:30/8:30c. It also stars Yara Shahidi, Marcus Scribner, Miles Brown, and Marsai Martin. Aside from Fishburne "Black-ish" is also executive produced by Brian Dobbins, Helen Sugland, Tom Russo Paul Young, and Peter Principato.

"Ultimately it is about a family," pointed out Kenya Barris when I asked about the meaning of the series title.

"...And I tell people it's a universal story," Laurence Fishburne added.

Tracee continued with her explanation of ABC's "Black-ish" sitcom by saying, "Its three generations in a household. There are four perspectives. You get to see all these issues...it's about how you raise a family."
ABC's "Black-ish" is a Cinema Gypsy (Fishburne) and Principato-Young Entertainment production. You can log onto
www.ABC.Go.com/shows/blackish
for more information.
Liam Neeson is the ultimate hero in Universal Picture's A Walk Among The Tombstones, in theaters September 19, 2014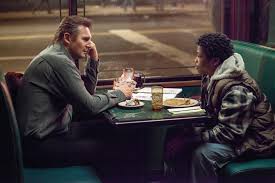 Academy Award and three-time Golden Globe nominee Liam Neeson is the ultimate hero of the people, be it in the Taken franchise, Batman Begins, or Clash of the Titans, but in Universal Pictures' A Walk Among The Tombstones he gives you the impression that you too can be a hero. The backdrop is New York City and he plays ex-NYPD cop Matt Scudder working as an unlicensed private investigator. The action-packed suspense drama is based on the best-selling series of mystery novels by Lawrence Block, A Walk Among The Tombstones, and it arrives in theaters September 19, 2014.
Matt, dealing with the battle of staying alcohol free, is asked to help a heroin trafficker Kenny Kristo, played by Dan Stevens ("Downton Abbey), track down two men who kidnapped and brutally killed his wife. Initially he refuses because of the business the man is involved in, but with the computer skills help of a young homeless boy TJ, played by rapper/actor Brian "Astro" Bradley (Earth to Echo, Person of Interest), he learns this is not the first time these men have kidnapped and murder loved ones of persons of interest to the Drug Enforcement Agency (DEA). So the hunt is on.
TJ's persistence in following the investigator, when he was told not to, wins him the job of the PI's "associate." TJ does an outstanding performance worthy of an award. Matt advises is client to warn all other drug dealers and traffickers they may be on the list. As a result he gets pulled into the kidnapping case of one such dealer when his daughter is kidnapped. Now the two sinister murders have to deal with the hard-nose ex-NYPD cop and what happens next will have you cheering and clapping throughout the rest of the film.
Written and directed by Scott Frank, A Walk Among The Tombstones is produced by Danny DeVito, Michael Shamberg, Stacey Sher, Tobin Armburst, and Brian Oliver. Executive producers are Kerry Orent, Adi Shankar, Tracy Krohn, John Hyde, Nigel Sinclair, and Guy East. A Crosscreek Picture, Exclusive Media, Endgame Entertainment, Double Feature Films, and Jersey Films production, A Walk Among The Tombstones also stars Boyd Holbrook, David Harbour, Sebastian Roche, Maurice Compte', Adam David Thompson, and Eric Nelson.
You can log onto www.AWalkAmongTheTombstones.net for more information or to watch the trailer.
Essence Atkins stars in UP Network's original movie 'My Other Mother,' airing Sunday, September 21, 2014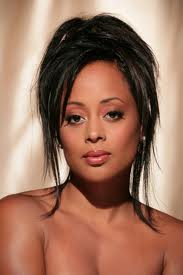 "I was in Trinidad filming 'Girlfriends Getaway' when I got a phone call offering me this project. Lynn Whitfield was already attached. Then I read the script," said Image Award winning actress Essence Atkins (UPN's "Half & Half") when I asked why she took the role of Candace "Candy" Meyers in the Uplifting Entertainment Network (UP) original movie "My Other Mother," which airs Sunday, September 21, 2014 at 7 p.m. EST/6 p.m. PST. "I had to talk with my husband (Jaime Mendez) to be gone some more. He was supportive...he said yes...we have a two year old."
"My Other Mother" is written by Keronda McKnight and is the fifth film produced by UP as part of its "UP Faith & Family Screenplay Competition." It is about Candy who is an anchor woman on a top-rated national magazine show. She travels to a devoted fan's funeral that she learns is her estranged biological father. While there she meets her uncle (GregAlan Williams), his wife (Angie Stone), two step-brothers, and her birth mother Mary Jo, played by Emmy Award winning Lynn Whitfield (The Josephine Baker Story). Candy and Mary Jo are a lot alike and relating is a challenge. They struggle to know each other and it chances them both in UP's "My Other Mother."
"This is my third time working with Lynn," Essence said when asked about working with the veteran actress. "She is the reason I said yes. I worked with her in 'Act Like You Love Me' and 'Are We There Yet.' I love working with her. She thinks about all those details (of the character). Lynn has incredible work ethics."
Also starring in the film is Image Award winning Jasmine Guy ("A Different World") as Candy's adoptive mother Evelyn, and Kendrick Cross (Iron Man 3) as her long-time manager.
"I don't want to dictate what viewers take from the film," Atkins said when asked what she hopes the viewers will learn from the film. "I hope they enjoy the movie and harvest what they need from it. We made art...for entertainment."
"My Other Mother" is produced by Swirl Films (35 & Ticking, The Under Shepherd).
(Syndicated Columnist: Eunice Moseley, has an estimated weekly readership of over ¼ million with The Pulse of Entertainment. She is also a Public Relations/Business consult at Freelance Associates, and Promotions Director (at-large) for The Baltimore Times. Her Event: "Uplifting Minds II" free entertainment conference arrives in Hollywood, CA Saturday, October 25, 2014 at the Celebrity Center with appearances by EURweb.com publisher Lee Bailey, actress Ellia English (Disney's "Good Luck Charlie"), singer/songwriter Gramma Funk ("I See You Baby"), and celebrity photographer Koi Sojer. ULMII comes back to Baltimore Sat. April 18, 2015 at Security Square Mall. www.UpliftingMinds2.com, www.ThePulseofEntertainment.com.)