Laz Alonzo is Detective Soto in NBC's comedy/drama 'Mysteries of Laura'
"The business is a marathon not a sprint and television has treated me very well,' said actor Laz Alonzo (Fast & Furious I & VI) about his career as an actor. When asked about his new role as Detective Soto, co-starring along side Emmy and SAG Award winner Debra Messing ("Girlfriends"), in the NBC comedy/drama "Mysteries of Laura" he said, "I love the show, love the cast, love NBC. I grew up watching NBC."
"Mysteries of Laura" recently premiered its second season which airs every Wednesday at 8 p.m. The premiere season generated an average 8 million viewers and the second season of 13 episodes just might surpass that because of its focus.
"This season is much more romantic, sexy, more sexiness," the Howard University graduate said about the show's theme. "Last season we went after bad guys, this season the show is more on the romantic side. There will be an office romance."
Alonzo's works on set with Golden Globe nominated Debra Messing's as the two play homicide detectives investigating crime.
"It's a drama because the cases we're solving are very real cases...taken right out of the news," he pointed out when asked about the comedy/drama mixture. "But a show led by Debra Messing...we find places to fit humor. They hooked us up with detectives. We saw how they stay sane on the job. They tease and joke with each other. Their job is to discover murderers. So that's where they find relief, by cracking jokes...to keep it light hearted."
Laz Alonzo is best known for his role in Avatar and the Fast & Furious installments I and VI. Other film credits include Jarhead starring Jake Gyllenhaal; This Christmas starring Chris Brown; Spike Lee's Miracle at St. Anna; Constantine, Battle of the Year starring Chris Brown; Stomp the Yard starring Ne-Yo and Chris Brown; and Just Wright starring Queen Latifah and Common. Television credits include "SouthLand," "Breakout Kings," "Bones," "CSI: Miami," "NCSI," "The Practice," and "Deception." He has hosted the BET Awards and appeared in music videos for Toni Braxton and Aaliyah.
"There is tons of stuff I haven't done...leading my own big budget action or thriller that's on my bucket list of things to do," Alonzo said about his acting achievements. "I want to get back into film, a big action project."
Learn more about the series "Mysteries of Laura" by logging onto www.nbc.com/the-mysteries-of-laura.
'Black-ish' returns with more jokes for a second season on ABC, airs Wednesdays at 9:30 p.m.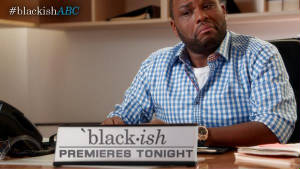 The premiere season of ABC's comedy series "Black-ish" averaged 7 million viewers and this second season which recently premiered and airs Wednesdays at 9:30 p. m. Anthony Anderson and creator/executive producer Kenya Barris hope to do more with an increase in African-American viewers. They said African-American viewers make up only 20% of those who tune in to watch the ABC hit show.
After what I felt was a failed joke during the interview on deceased loved ones and funerals by Emmy nominated Anthony Anderson, who stars in the comedy series, only because my mother had passed away a little over a week before, it made me wonder if the lack of African-Americans viewers are due to the jokes on the show. The jokes might be funny to other races or religions but might hit too close to home for the African-American community. So I asked him about how they choose jokes on the show and he said, "I never go out to hurt someone but if it's funny to me and the room laughs we go with it. It's about how characters deal with situations. Our humor comes from situations. Like Pops' character you know he's 'gonna' come up with the punch-lines."
"Black-ish" also stars BET and NAACP Image Award winner Tracee Ellis Ross ("Girlfriends) as his mixed race wife; Laurence Fishburne ("CSI: Crime Scene Investigation") as his father, and his four children are played by Yara Shahdi (Imagine That), Marcus Scribner, Miles Brown and Marsai Martin. Veteran NAACP Image Award nominated actress Jenifer Lewis ("Strong Medicine," "The Fresh Prince of Bel-Air") plays the always complaining mother-in-law. The show follows a middle class family trying to keep their "blackness" in a culturally mixed neighborhood and working environment.
Anderson narrates the show which is also executive produced by him, Brian Dobbins, Helen Sugland, Jonathan Groff, Larry Wilmore, Paul Young, Emmy and Tony Award winner Laurence Fishburne (The Matrix), Peter Principato and Tom Russo. Learn more about ABC's hit comedy series "Black-ish" by logging onto www.ABC.Go.com/shows/blackish.
(Syndicated Columnist: Eunice Moseley, has an estimated weekly readership of over ¼ million with The Pulse of Entertainment. She is also a Public Relations Strategist and Business Management Consultant at Freelance Associates, and is Promotions Director (at-large) for The Baltimore Times. www.ThePulseofEntertainment.com. EVENTS: Sat April 16, 2016 the "Uplifting Minds II" Free Entertainment Conference arrives in Baltimore at Security Square Mall. Sat October 22, 2016 (TBC) the "Uplifting Minds II" Free Entertainment Conference at the Celebrity Centre in Hollywood, CA. www.UpliftingMinds2.com.)