"We're really happy to be back with these characters," said Kris Pearn director of the Rated PG Sony Pictures Animation presentation of Cloudy with a Chance of Meatball 2, in 3D, starring the voices of Bill Hader, Anna Faris, Benjamin Bratt, Andy Samberg and Terry Crews. "Took three years...I was on the story for 4 ½ years."
"There was a year of development," Cody Cameron added. Cody shares directorial duties with Kris. "We storyboard on this one. The characters are the most important...I hope people are entertained... laugh."
"What's so neat about the directors ...they are really in touch with their inner child," said Benjamin Bratt ("Law & Order") who voices the cameraman Manny. "The challenge (of voice over) is that the performance is different...it's a totally different process. On this it's just you and the director."
The theater was full of laughing faces as foods of all kinds come to life in Cloudy 2, due to an invention of Flint Lockwood (Hader) the guy with the big ideas and big inventions. He enlist the help of Sam Sparks (Faris) the weather girl; reluctantly enlist his father Tim (James Caan); Brent (Andy Samberg), a chicken suit wearing foam board arrow worker friend; Earl Devereaux (Crews) a former police now a coffee house worker, and his best friend Steve the Monkey (Neil Patrick Harris) to help him find and destroy his invention to stop the living food creations from taking over the world.
"It was hard. I was taking over for the iconic Mr. T," said Terry Crews about replacing Mr. T as the voice of Earl. "Oh man, how do you do that? But they said, 'No we want Terry Crews. The best you can be.'"
He did an excellent job because I walked away remembering the lines of his character and the Monkey. It is certainly worth taking the whole family to see Cloudy with a Chance of Meatballs 2; it will surely be a time of much laughter.
Kristan Schall and Will Forte are also voices in Cloudy 2. For more information or to see the movie trailer log unto
www.Cloudy-Movie.com
.
Hilarious self-discovery film, Baggage Claim, arrives in theaters September 27, 2013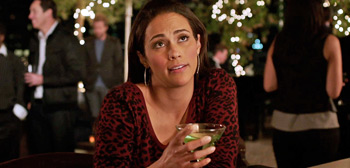 Film creator David E. Talbert does it again with the release of his second feature film Baggage Claim, a hilarious self-discovery film starring Paula Patton, Derek Luke, Jill Scott, Adam Brody, Jenifer Lewis, Boris Kodjoe, Trey Songz, Taye Diggs, Djimon Hounsou, LaLa Anthony and Tia Mowry. Baggage Claim is a Fox Searchlight Pictures presentation Rated PG and arriving in theaters September 27, 2013.
Baggage Claim is based on Talbert's novel of the same name and is directed, produced and written by him - a native of my home town of Baltimore so I guess its fitting the backdrop of the film is in Baltimore. Steven J. Wolfe is co-producer. The romantic comedy has Montana "Mo" Moore (Patton); looking for a man she can marry in time to announce it at her youngest sister's wedding engagement party. She has 30 days and 30,000 air miles she can use to make it happen.
"I added four characters...TSA workers," David E. Talbert said about the large cast of popular actors. "It's more fun working with people I'm a fan of. I'm a fan of everybody."
"For me this is a huge elevation as a film maker. This is my signature movie," Talbert sincerely pointed out. "It has the most heart and soul in it. You have to let it live. The novel had its magic, the screenplay had its magic and the movie...had to let it have its magic. I step back and let the novel and screenplay is the spring-board.
David's first feature film was First Sunday in 2008 which starred Ice Cube, Tracy Morgan and Katt Williams. He has won 24 Image Awards, one for "Best Playwright," for his 13 legendary stage-plays.
Aside from making me laugh - hard - the whole time, Baggage Claim has some excellent acting thanks to lead lady Paula Patton (Mission Impossible: Ghost Protocol); Jill Scott, who was so funny and so good I had to look twice to make sure it was her; Trey Songz, smooth as always, had great comedic timing which I enjoyed, along with the comedic timing of Adam Brody (Mr. & Mrs. Smith).
The story line and script on this film is surely the signature style of David E. Talbert's productions. This is one of those movies I'd 'pay' to see again and again just so I can laugh the whole time. Bravo!
"I'm doing a couple more films with Fox Searchlight," David confessed. "I'm taking off theatrical for a little while and doing the film game..."
Baggage Claim is a 260 Degrees/Sneak Preview Entertainment production that also stars Rickey Smiley, Thomas Miles, Terrence J, Affion Crockett, Christina Milian, Lauren London, Ned Beatty, and Tremaine Neverson. You can find more information on the romantic comedy Baggage Claim or see the movie trailer by logging onto
www.FoxSearchlight.com/BaggageClaim
.