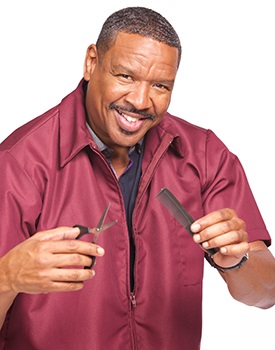 Dorien Wilson is 'In The Cut' on Bounce TV with Jackee' Harry, airs Tuesdays at 9pmEST
"It was Bentley who brought it to me," said Dorien Wilson, a NAACP Image Award winner, about how he ended up with the leading role of an original Bounce TV comedy series "In the Cut." "I worked with him on "The Martin Show' and the 'Jamie Foxx Show'...he good people and when you work with good people..."
"In the Cut" also stars Jackee' Harry, Ken Lawson and John Marshall Jones. Bounce TV was founded by Martin Luther King III and Ambassador Andrew Young. Bentley, whom Wilson refers to, is Bentley Kyle Evans ("Love That Girl") creator and director of "In The Cut" and the iconic comedy series "The Jamie Foxx Show" and "The Martin Show."
"In The Cut" follows Jay Weaver (Wilson), who runs "Jay's Chop Shop" barbershop, as he deals with a son he didn't know he had named Kenny Clark (Lawson), and co-owning a beauty salon a few doors down with ex-wife Nadine (Harry). Jay runs the barbershop with his side-kick Smitty (Marshall Jones).
"We kicked around some ideas," Dorien said when I asked if he contributed his experience to the show. "It's all his concept but the meeting place, the barbershop, was mine... it is important to the black community. It's where we grew up."
Wilson, a graduate of the prestigious Pacific Conservatory of Performing Arts in San Francisco, acting credits also include "Sister Sister," "The Steve Harvey Show," and "The Parkers." Recent projects include "Conflict of Interest" starring Tommy Ford and "Extremities" with Wendy Raquel Robinson. He's also a stage actor.
"In The Cut" airs on Tuesday at 9pmEST.
Debbie Allen's dance academy, DADA, offers free dance scholarship to the next 'Uplifting Minds II' dance winner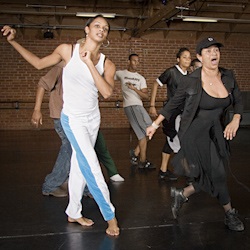 Debbie Allen Dance Academy has joined a long list of entertainment industry professionals donating a prize for the next "Uplifting Minds II" (ULMII) free national talent showcase competition (singing, songwriting and dance). "ULMII" returns to Hollywood at the Celebrity Centre (5930 Franklin Ave, 90028 - free parking) from 1 - 5 p.m.
The free one day entertainment conference offers an entertainment business panel discussion from 1 - 2:30 p.m. hosted by syndicated entertainment columnist and author Eunice Moseley, MS, M.B.A., and a national talent showcase competition hosted by KDAY 93.5 FM from 3 - 5 p.m.
Debbie Allen is a Golden Globe and Emmy Award winning dancer/actress ("Cat on a Hot Tin Roof," "West Side Story") and her dance academy is affectionately known as DADA. DADA will provide one of the dance winners with a two month dance scholarship in their pre-Academy program. The winner will get professional dance training for five days a week for two months starting January, 2016. DADA offers dance instructions in Tap, Hip-Hop, Contemporary, Jazz, Ballet and Flamenco.
The dance academy is a 501 (c) 3 organization founded by Allen in 2001 and its popularity in dancer performances and training is now renowned, provoking such entertainers as Grammy winner Chris Brown to stop by to check out the dancers. The DADA Board of Directors includes such entertainment industry giants as Suzanne DePasse, Quincy Jones, her sister Phylicia Rashad, and Denzel and Pauletta Washington. Karen McDonald is the Academy's director. Karen is skilled at Modern Dance and has taught in Los Angeles for over 25 years. McDonald has also taught at the prestigious California Institute of Art.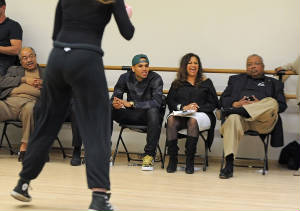 Debbie visited the "ULMII" event when it was housed at the Baldwin Hills Plaza from 2001 - 2004 to announce a show at her academy directed by Dave Scott (Step it Up2), and talked about what the academy had to offer to the dance competitors. That year, 2003, guest panelists included Grammy winner Brenda Russell and Rap living legend MC Lyte.
Held annually in Baltimore (April) and Los Angeles (October), "Uplifting Minds II" offers a platform to showcase young aspiring talent (singing, songwriting and dance) in a competitive environment that provokes the best performances. It also provides information about the business of entertainment. As a result the event is known for its panelists and wide range of developed and developing talents.
To qualify to be one of the ten acts to perform on Saturday October 24th at ULMI in Hollywood at the Celebrity Centre, hosted by KDAY 93.5 FM, log onto www.UpliftingMinds2.com or email Info@ThePulseofEntertainment.com. You can also call 562-424-3836 and ask for the ULMII event coordinator. www.DebbieAllenDanceAcademy.com.
(Syndicated Columnist: Eunice Moseley, has an estimated weekly readership of over ¼ million with The Pulse of Entertainment. She is also a Public Relations Strategist and Business Management Consultant at Freelance Associates, and is Promotions Director (at-large) for The Baltimore Times.www.ThePulseofEntertainment.com. EVENT: Sat October 24, 2015the "Uplifting Minds II" Free Entertainment Conference at the Celebrity Centre in Hollywood, CA host by KDAY 93.5FM.EVENT: Sat April 16, 2016 the "Uplifting Minds II" Free Entertainment Conference arrives in Baltimore at Security Square Mall. www.UpliftingMinds2.com.)