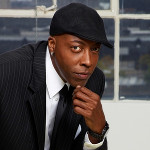 'The Arsenio Hall Show' premieres September 9, 2013 with guests to include Ice Cube, Chris Tucker and Nas
By Eunice Moseley


"The lines are more blurred now," said Arsenio Hall about the line-up for the come-back of "The Arsenio Hall Show," his new late-night syndicated talk show, which he is executive producer. "Jay Z and Eminem...would have been more my line-up. It will be a night of surprises...really fun, party (atmosphere). I can't return with no big surprises! When you come back...you have to have surprises."
Arsenio Halls' Eye Productions produces the show in association with Arsenio Hall Communications LTD and Octagon Entertainment Productions, and it is distributed by CBS Television. He shares executive duties with John Ferriter and Neal Kendall.
The Cleveland native says his show will be about comedy, music and celebrity guests.
"The entire first week is booked," Hall informed me. "The surprises...I'm keeping under-wraps."
What I can tell you is that Chris Tucker, Mark Harmon, Ice Cube, Earvin "Magic" Johnson, George Lopez and Angela Bassett will be guests on his couch. Musical guests include Nas, Earth, Wind & Fire and Emblem3. Also Kendrick Lamar, Nick Cannon, Dr. Phil and Country music's The Band Perry will be guests.
Arsenio Hall is also an actor whose credits include The Real Ghost Busters, "Celebrity Apprentice," Coming to America and "The Proud Family" movie.
"It's a lot less BS," Arsenio said about being executive producer on the show this time around. "The business has changed a lot; it's a lot more business. Hollywood really didn't... and now they are. I'm paying people out of my pocket."
Hall said, "if it doesn't make money, it doesn't make sense,"
"Salaries for actors have changed," he added. "The fats been trimmed."
On premiere night, Monday, September 9, 2013 the star guest will be Christ Tucker; September 10th guests is Ice Cube, Lisa Kudrow ("Scandel") and rapper Mac Miller; September 11th guests include Magic Johnson, George Lopez and Nas; September 12th Mark Harmon ("NCIS"), Penn & Teller and Earth, Wind & Fire, and on September 13th guests include Angela Bassett and Simon Cowell's group Emblem3.

Things Never Said, starring Omari Hardwick and Shanola Hampton, opens to theaters September 6, 2013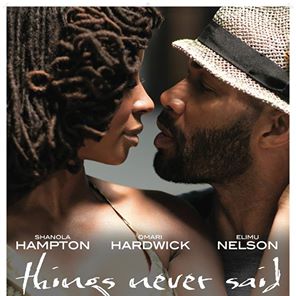 Screenwriter and director Charles Murray ("Castle," "Sons of Anarchy," Third Watch, NYPD Blue) brings to life Things Never Said a film based on the life of his mother which stars Shanola Hampton ("Shameless," "Criminal Minds"), Omari Hardwick (The A-Team, Kick Ass), Elimu Nelson ("House of Lies"), Tamala Jones ("Castle"), Dorian Missick (Six Degrees), Tom Wright ("Modern Family," "Rizzoli & Isles"), Charlayne Woodard ("Bones," "Law & Order: Special Victims Unit") and Michael Beach (Third Watch, "Southland"). The romantic drama is scheduled for release September 6, 2013 in Los Angeles, with national release to follow.
Kalindra (Hampton) is a spoken word poetess saddled with a non-supporting and angry husband, Ronnie (Nelson). Kal is seeking an outlet when she meets the supporting and handsome Curtis Jackson (Hardwick) - also a spoken word artist with a scarred past. As Kal helps Curtis with his relationship with his estranged daughter he helps her dig deeper and discover her voice.
"This role gives her (Shanola) an opportunity to be simple," said Omari about Shanola's character Kal "She teases me with the belief I can be love...tables are turned."
Things Never Said is executively produced by Nicole Elliott, Geofrey Hildrew, Steven LaBroi and Charles Murray. Rated R it is produced by Brian "Skinny B" Lewis. The film centers around Kal being haunted by dreams deferred, a dangerous marriage and a yearning to leave Los Angeles to perform in New York.
"The idea that beauty is not necessarily a black girl with dreadlocks," Shanola said is what she hopes the audience takes away from the movie. "I really had to tap into myself as an actor...get rawer. This is a real story of domestic violence. Even though the cast is all black, it wasn't a black film. Everyone can relate to it. It's a universal story."
To see the trailer or learn more about Things Never Said log onto www.ThingsNeverSaid.com.

Jazz singer Carol Duboc offers music therapy with a 'Smile,' her latest album release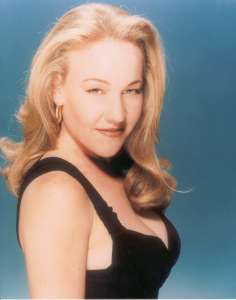 "I wrote 'Smile' the last of the songs I wrote for the album with Jeff. I knew that song was the glue that held things together," said Jazz vocalist Carol Duboc about the title song's release as the first single for her newest album release "Smile." The new release is co-produced by keyboardist Jeff Lorber.
"Smile" is released on the Gold Note Music imprint and features the assistance of Grammy Award nominated Brian Bromberg on acoustic bass; Jimmy Haslip on electric bass; three-time Grammy Award nominee Hubert Laws on flute; Vinnie Colaiuta on drums; Michael Thompson on guitar, Luis Conte on percussion and Tim Carmon on piano.
Jeff, who also plays guitar on the album, and Carol have a history of writing songs together that spans over a decade. Carol's debut as a Jazz vocalist was in 2001 with "With All That I Am" featuring Lorber, Gerald Albright and Patrice Rushen - it garnered five top radio adds.
As a songwriter she has penned songs for Patti LaBelle, Chante Moore, and Stephanie Mills.
"He and I have similar taste, we love Jazz fusion," said Carol about her music partner Jeff. "It's been some nice surprises (with the album release). I have distribution for my independent...its top 10 on Amazon MP3 sales."
I found myself enjoying her "Unpredictable," for its "smokey Jazz night-club" feel and I love the guitar support; "Atmosphere," a beautiful and sweet love song; "Parachute," a great Jazz number and I love the flute support by Hubert Laws; "Behind the Kiss, "Nobody Knows," another sweet love song, and "Mythological," a snap your finger type Jazz selection.
To learn more about Carol Duboc and her latest album release "Smile" log onto www.CarolDuboc.com.

(Event: Free Saturday Oct 19th the Los Angeles "Uplifting Minds II," presented by Carib Press news magazine, one-day entertainment conference (two intense seminars, talent and competition showcase) at the Celebrity Centre in Hollywood, sponsored in part by www.EURweb.com - www.UpliftingMinds2.com or FreeAssocInc3@aol.com. Syndicated Column: The Pulse of Entertainment is written weekly by Eunice Moseley, also a PR/Business Management consultant - www.ThePulseofEntertainment.com, www.FreelanceAssociatesInc.com.