| | |
| --- | --- |
| | |
The Pulse of Entertainment: Gospel Hit Maker Dana Sorey Garners Three GMA Dove Award Nominations and Jazz Trumpeter Rick Braun Sweetly 'Crossroads' on New Album, Featuring Richard Elliott, Philippe Saisse, Chris Davis, Peter White and Eric Valentine

Gospel hit making producer/songwriter

Dana Sorey

recently received three GMA Dove Award nominations for his work with Jason Nelson ("The Answer") and Maranda Curtis ("I'm All In"). This honor is added to his two Grammy nominations for his work with Grammy nominated Marvin Sapp and Tye Tribbett & GA, two Stellar Award nominations and a Dove Award win for his work with Anthony Brown & Group Therapy on "A Long Way From Sunday." The winners for the 2019 50th annual GMA Dove Awards will be announced at the tapping October 15, 2019 in Nashville, Tenn and the ceremony will be aired on Sunday October 20th on TBN.

"All of them, at the end of the day," Dana said when asked about collaborations that were special for him. "It's just a blessing to connect with the people - to get the opportunity to work with them. For now Gene is special for me. I've known him even as a background vocalist...eight years...seeing him go from the back to the front of the stage."

The three GMA Dove Award nominations of Dana Sorey were for...

Read the full September 17, 2019 column...>

"Philippe is a dear friend...I met him through Jeff Golub. He would play in my band. He wrote the title cut," said Trumpeter

Rick Braun

, a Soul Train Award nominee, when asked about featured musicians on his new album

"Crossroads."

The Shanachie project is produced by Braun and drummer Bud Harner. "He's also a producer and keyboardist. We have a long history of writing and producing together."

The "Crossroads" project has a sweet Jazz feel that's fresh. The 18th Rick Braun album also features, aside from Philippe Saisse ( keys), Richard Elliott (sax), Chris "Big Dog" Davis (keys), Peter White (guitarist), Eric Valentine (drummer), Nate Phillips (bass), Richie Garcia (percussionist), Greg Phillinganes, Michael Thompson (guitar), Gregg Bissonette (drummer), Richard Fremont (flute), Lenny Castyro (percussion) and Tony Pulizzi (guitarist). His son plays the piano on the "Around the Corner" selection, which was inspired by his daughter. The "Crossroads" album was ...

Read the full September 13, 2019 column...>

Deborah Winans Releases Contemporary Cover of Classic 'When I Rose' as New Single

(Los Angeles, CA) - Singer/actress Deborah Joy Winans ("Greenleaf") unveils "When I Rose," a Contemporary cover of the classic Mississippi Mass Choir hit, as her new single.

Winans performs the classic version showcasing her Contemporary vocals while keeping the same joyful spirit of gratitude. Deborah played the aunt of Cece Winans in the Lifetime bio-film Whitney and starred in the musical "Born for This: The Bebe Winans Story."

James Fortune's 'Dream Again' Album Debuts at #1 on Billboard's Top Gospel Album

(Nashville, Tenn) - Entertainment One celebrates Grammy nominated James Fortune's 10th album release "Dream Again" reaching #1 on Billboard's "Top Gospel Album Sales" and "Gospel Album Sales" Chart.

"Dream Again" features Fortune's innovative style of Urban Gospel, Hip-Hop, Soul preaching, complete with Fortune's spoken, sung, and shouted encouragement. "Dream Again" boasts the Billboard Gospel top-ten hit, "I Am" featuring Deborah Carolina and incredible collaborations "It's Gonna Happen" featuring Zacardi Cortez.

VIDEO CLIP OF THE WEEK

The 3rd annual "Imagination Lunchbox International Children's Film Festival" held recently at the Baltimore Shake & Bake Family Fun Center and Our Lady of Victory Catholic School returns to Baltimore at the Eubie Blake Cultural Center to screen again the short films made by kids and for kids from around hte world, including this years winners short films. ILICFF founder multi-award winning actor/filmmaker Anthony Michael Hobbs will host the event to be held from 3 - 5pm (Admission is free)! Watch coverage from the earlier screenings below!



"Journey to Love" by Eunice Moseley now Available at Barnes and Nobles.
SPOTLIGHT of THE WEEK
"UNCENSORED"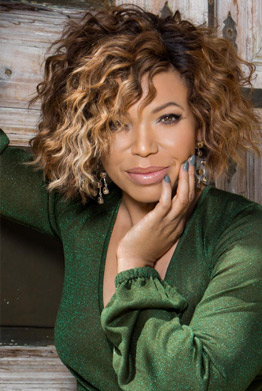 (Los Angles, CA) -
TV One's original auto-biographical series "Uncensored" resumes for its second season with premiere episodes debuting on Sunday, October 6, 2019 at 9 p.m. ET/8C. The edgy docu-series explores the private lives of some of today's most notable personalities including singer/actress Tisha Campbell, supermodel Tyra Banks, actress LisaRaye McCoy, comedian/actress Niecy Nash and former NBA star Lamar Odom.
The auto-biographical series delves into the lives of luminaries as they reveal secrets to their success, obstacles they faced and how they've navigated the perils of social media that helped but sometimes haunted their careers. Viewers will get a glimpse into the lives of celebrities as they personally reveal their own stories, in their own words.
"Uncensored" is produced for TV One by Eric Tomosunas (Executive Producer), Keith Neal (Executive Producer), Paul Hall (Showrunner), Jay Allen (Supervising Producer) and James Seppelfrick of Swirl Films. For TV One, Jason Ryan is Executive Producer in Charge of Production, Donyell McCullough is Senior Director of Talent & Casting and Brigitte McCray is Senior Vice President of Original Programming and Production.
# # #
Eunice Moseley


Create Your Badge