| | |
| --- | --- |
| | |
The Pulse of Entertainment: Israel Houghton's On The 'Road to Demaskus'/Jiosa's 'Move Your Body' is Fire


"We need to take the mask off our face...before God," said six-time Grammy Award winning Israel Houghton about the meaning behind the way "Damascus" is spelled in the title of his new album "Road to DeMaskUs" (RCA Inspiration).
It also refers to the Biblical tale of Apostle Paul's Spiritual change from Jewish man Saul to Christian Saint Paul - the main writer of the New Testament in the Bible. Israel Houghton's "Road to DeMaskUs" project features seven-time Stellar Award winner Travis Green, Billboard topping The Walls Group, Gospel/Reggae Chevelle Franklyn and Adrienne Houghton ("The Cheetah Girls").
"It's for everyone, believers and non-believers, all of us have protective mechanism," Israel pointed out.
Houghton, also a worship leader, said people wear masks and pretend everything is alright not allowing God to help them turn things around. "Road to DeMaskUs" was ...Read the full October 12, 2018 column...>

Jazz guitarist Denny Jiosa releases his eighth album, a Latin/Jazz Fusion project titled "Mueve Tu Cuerpo (Move Your Body)" (Sonic Canvas Records/BFD). "Mueve Tu Cuerpo" features Grammy Award nominated Phil Keaggy on guitar and drummer Chester Thompson (Frank Zappa),
"I have always had a love and passion for Latin music," Jiosa said about recording a Latin/Jazz project. "I love Santana...the rhythm and passion. I was attracted to it my whole life."
"Mueve Tu Cuerpo (Move Your Body)" features Latin singer/percussionist John Santos on the 8th selection of the album, a song titled "Freedom Tower" and GMA Dove Award winner Phil Keaggy on the 4th selection "Dance in Heaven."
"Phil Keaggy is big in Christian music and a fine ...Read the full October 12, 2018 column...>

Enrique Iglesias Performs to Sold Out Crowds Around the World, Arrives Next to UK, Bulgaria and France

(New York, NY) - Enrique Iglesias has sold more than 170 million albums worldwide, released ten studio albums plus two greatest hits compilations, and is a multi-platinum artist in almost every country around the world. He has headlined ten world tours. Enrique Iglesias has 31 #1 singles on the Billboard Latin Songs Chart and has multiple #1s across all the Billboard Charts totalling of 105. His tour arrives Oct 19, 2018 in London, UK, Oct 21 in Dublin, Ireland, Oct 23 in Glasgow, UK, Oct 26 in Manchester, UK, Oct 27 in Birmingham, UK, Nov 6 in Sofia, Bulgaria and Nov 11 in Paris, France.


Kevin Hart Inks First-Look Deal with Nickelodeon, the Number One Entertainment Brand for Kids

(Los Angeles, CA) - Nickelodeon has entered into an exclusive first-look deal with comedian, actor and television personality Kevin Hart (Night School, Jumanji, The Secret Life of Pets) and his production entity HartBeat Productions. Hugely popular among Nickelodeon's audience, Hart will develop and produce live-action, scripted kids' content for the network through HartBeat. HartBeat currently has a first-look deal with Universal Studios to produce feature films. Their first production together, Night School, had the highest grossing opening weekend for a comedy in 2018. Nickelodeon, now in its 39th year, is the number-one entertainment brand for kids.

VIDEO CLIP OF THE WEEK

The Pulse of Entertainment covered the red carpet arrivals at the 25th Lil Miss African American Scholarship Pageant and interviewed co-host Claudia Jordan ("Celebrity Apprentice," "Housewives of Atlanta") and pageant judges Roz Ryan ("The Rickey Smiley Show") and Ella Joyce ("My Wife and Kids"). Watch coverage below!
SPOTLIGHT of THE WEEK
"WILL DOWNING"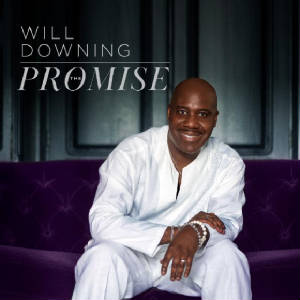 (New York, NY) - Will Downing, The Prince of Sophisticated Soul, experienced the power of God and prayer that turned everything around against all odds n late 2007, in the very prime of his life with auto-immune disease polymyositis. Twelve years later, Will Downing is a walking, singing testimony of the power of faith and prayer. He delivers on his promise to Godwith his new CD, "The Promise", an inspirational album-actually his first Gospel album -- to be released November 9, 2018 by Shanachie Entertainment.
Though
"The Promise",
will likely be categorized as aGgospel album or a Praise and Worship" album and while those elements are there, such categorization misses the larger intent. The album is Downing's heartfelt 10-song thank you letter to God for bringing him back from the edge of darkness into His marvelous light. Will Downing taps previously unrevealed aspects of his talent to step boldly outside of his "Prince of Sophisticated Soul" persona to pour raw unblinking emotion into a musical re-creation of his journey from hospital bed to wheelchair and ultimately back to the stage. In short, this is a Will Downing no one has heard before in his now 30-plus year career, as one who stared down his own mortality and emerged, through faith, on the other side, blessed to continue to do what he does best.
From the first notes of
"The Promise",
Will Downing takes us to church with the initial piano and organ chords of the opening track "Take It To The Cross." This toe-tappin', hand-clappin' kick-off sets the perfect tone with the message to take your burdens to the Lord. The opener is followed by the album's first single, "Look At Yourself (In The Mirror)," a thumping horn-driven reminder that while God is omni-present, He allows each of us to find him in our own way. The message is clear: you are the total sum of the choices you make in this life. To that end, be the change you want to see in your self, so that you can look at yourself in the mirror and be pleased. "I Hear A Voice" delivers the spiritual impact of the moment when Downing knew his prayers had been heard and his fight was not his own-that moment when God speaks to your heart and lets you know He's with you and will see you through, the turning point of Downing's "test."
A striking thing about
"The Promise"
is that musically even as Downing ventures into the gospel realm, he does so on his own terms, forging a music distinct from typical gospel sounds but maintaining the essence of his unique style. Perhaps the most deeply personal song on the album is "You Blessed My Life," a kind of gospel ballad. It's a slowed down and stripped down, full-blown love song with Will singing directly to God in humble gratitude for his entire life's journey-the ups as well as the downs. He delivers the song with unashamed, tearful sincerity that grows with every measure, a sincerity that is all-too-rare in popular music these days. "God Is So Amazing" truly embodies the miracle of Downing's recovery. This song originally appeared on the "After Tonight" release which was begun just before and continued just after the polymyositis diagnosis. A close listen to that release reveals a variety of colors in the strength and tone of Downing's signature baritone from one song to the next, especially on the original version of "God Is So Amazing," which was recorded in determined fashion from a hospital bed. The re-recording of this song for
"The Promise"
is sterling testament to the faith of a man who could praise God as much at the height of his illness as he did in full recovery.
"The Promise"
concludes in a nod to the classic Will Downing sound as he duets with Regina Belle, an R&B diva of great faith. And thus, with this moving new album, Will Downing fulfills his promise to God.
Born in Brooklyn, NY in 1963, after attending college in Virginia, Downing moved back to New York City finding work as a session singer. Signed to Island Records he broke through in 1988 with the album Will Downingon Island's 4th & Broadway label; his distinctive version of John Coltrane's "A Love Supreme" hit #4 on Billboard's Hot Dance Club Songs chart. There followed a string of best-selling albums that established Downing as one of those rare artists who could blend R&B with a jazz sensibility, all delivered with a gorgeous, rich baritone that stood out from amongst the popular singers of the day. The sheer quality and uniqueness of Downing's artistry meant that his albums sold hundreds of thousands of copies even if there was no radio hit. Indeed in 2000 he won a Grammy award in the Best Traditional R&B category for his album "All The Man You Need."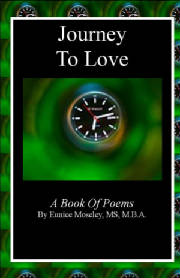 "Journey to Love" by Eunice Moseley now Available at Barnes and Nobles.