| | |
| --- | --- |
| | |
The Pulse of Entertainment: Chris Pine as the King of Scotland in 'Outlaw King' is Inspiring and Living Legends Like Radio One Atlanta's Hurricane are Honored in Hollywood

Born King but drafted by his country's English oppressor, then written off as dead and have his estate seized, Robert the Bruce King of Scotland becomes the "Outlaw King" determined to liberate his country. Chris Pine (Star Trek) is inspiring as Robert the Bruce in the Netflix presentation of "Outlaw King" premiering on Netflix and in selected theatres November 9, 2018.
The historical action drama begins with the end of a war where England, lead by King Edward I is excepting the unconditional surrender from all of the Kings of Scotland. This is followed by the Kings being drafted into the King of England's army and in Robert's case the ...Read the full November 9, 2018 column...>

The Living Legend Foundation held its 27th annual "Living Legends Awards Gala" recently in Hollywood where an array of entertainment industry "living legends" was honored. There was also an impressive turn out to support these living legends. I covered the red carpet arrivals and saw Grammy nominated Kenny Lattimore, Lenny Williams (formerly of Tower of Power) and Take 6 members. I had a chance to talk to Grammy nominated Eddie Lavert (O'Jays), there to support the honorees.

When I asked him about his longevity in this business he said, "Everybody's someone. That's the way you have to approach this business. Remember you didn't get there by yourself. It was people like Sylvia Rhone, it was people like yourself, people like the press who have brought records and told people about them. That's what this is about. That's why I'm here with these people."

The people he referred to were those being honored such as Cynthia Johnson (Columbia Records' Senior Vice President of...Read the full November 9, 2018 column...>

En Vogue to Headline 'Famously Hot New Year' in Columbia, S.C. on December 31, 2018

(Columbia, SC) - En Vogue, the iconic '90s vocal group and one of the top 5 highest-selling female American music groups in history, will perform a free, full-length concert at "Famously Hot New Year," South Carolina's largest free New Year's Eve celebration in downtown Columbia, S.C. on Dec. 31, 2018. The concert will be followed by a midnight countdown and the biggest NYE fireworks display in the state. New Orleans-inspired Jazz and brass group Soda City Brass Band will support, and Charleston, S.C.'s indie Hip-Hop group Little Stranger will open the show.


Sony Entertainment Television India (Sony TV) Launches their first official movie game with Aaryavarta Technologies for movie "Namaste England"

(Maharashtra) - Sony Entertainment Television India (Sony TV) Launches their first official movie game with Aaryavarta Technologies for movie "Namaste England.' Namaste England is a storytelling game representing Arjun Kapoor as Param who travel to meet his love Parineeti Chopra as Jasmeet.

A 3D Bus and Ship Simulator Game that takes you through various countries in different modes of transport. So begin your International Road Trip as well as Ocean Sailing adventure now. This game provides a realistic feel of driving a Bus, Jeep, Truck or even Sailing a Ship and a Boat across countries like India, Bangladesh, France, and England.

VIDEO CLIP OF THE WEEK

The Pulse of Entertainment covered the red carpet arrivals at the 27th "Living Legends Awards Gala" and intervieweed Grammy nominated Eddie LaVert (The OJays) pictured with his wife Raquel, Sylvia Rhone President of Epic Records, Dave "Hurricane" Smith Radio One Atlanta's VP of Programming and Operations) and more. Watch coverage below!
SPOTLIGHT of THE WEEK
"WILL DOWNING"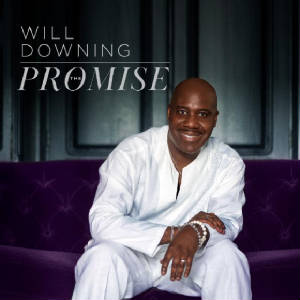 (New York, NY) - Will Downing, The Prince of Sophisticated Soul, experienced the power of God and prayer that turned everything around against all odds n late 2007, in the very prime of his life with auto-immune disease polymyositis. Twelve years later, Will Downing is a walking, singing testimony of the power of faith and prayer. He delivers on his promise to Godwith his new CD, "The Promise", an inspirational album-actually his first Gospel album -- to be released November 9, 2018 by Shanachie Entertainment.
Though
"The Promise",
will likely be categorized as aGgospel album or a Praise and Worship" album and while those elements are there, such categorization misses the larger intent. The album is Downing's heartfelt 10-song thank you letter to God for bringing him back from the edge of darkness into His marvelous light. Will Downing taps previously unrevealed aspects of his talent to step boldly outside of his "Prince of Sophisticated Soul" persona to pour raw unblinking emotion into a musical re-creation of his journey from hospital bed to wheelchair and ultimately back to the stage. In short, this is a Will Downing no one has heard before in his now 30-plus year career, as one who stared down his own mortality and emerged, through faith, on the other side, blessed to continue to do what he does best.
From the first notes of
"The Promise",
Will Downing takes us to church with the initial piano and organ chords of the opening track "Take It To The Cross." This toe-tappin', hand-clappin' kick-off sets the perfect tone with the message to take your burdens to the Lord. The opener is followed by the album's first single, "Look At Yourself (In The Mirror)," a thumping horn-driven reminder that while God is omni-present, He allows each of us to find him in our own way. The message is clear: you are the total sum of the choices you make in this life. To that end, be the change you want to see in your self, so that you can look at yourself in the mirror and be pleased. "I Hear A Voice" delivers the spiritual impact of the moment when Downing knew his prayers had been heard and his fight was not his own-that moment when God speaks to your heart and lets you know He's with you and will see you through, the turning point of Downing's "test."
A striking thing about
"The Promise"
is that musically even as Downing ventures into the gospel realm, he does so on his own terms, forging a music distinct from typical gospel sounds but maintaining the essence of his unique style. Perhaps the most deeply personal song on the album is "You Blessed My Life," a kind of gospel ballad. It's a slowed down and stripped down, full-blown love song with Will singing directly to God in humble gratitude for his entire life's journey-the ups as well as the downs. He delivers the song with unashamed, tearful sincerity that grows with every measure, a sincerity that is all-too-rare in popular music these days. "God Is So Amazing" truly embodies the miracle of Downing's recovery. This song originally appeared on the "After Tonight" release which was begun just before and continued just after the polymyositis diagnosis. A close listen to that release reveals a variety of colors in the strength and tone of Downing's signature baritone from one song to the next, especially on the original version of "God Is So Amazing," which was recorded in determined fashion from a hospital bed. The re-recording of this song for
"The Promise"
is sterling testament to the faith of a man who could praise God as much at the height of his illness as he did in full recovery.
"The Promise"
concludes in a nod to the classic Will Downing sound as he duets with Regina Belle, an R&B diva of great faith. And thus, with this moving new album, Will Downing fulfills his promise to God.
Born in Brooklyn, NY in 1963, after attending college in Virginia, Downing moved back to New York City finding work as a session singer. Signed to Island Records he broke through in 1988 with the album Will Downingon Island's 4th & Broadway label; his distinctive version of John Coltrane's "A Love Supreme" hit #4 on Billboard's Hot Dance Club Songs chart. There followed a string of best-selling albums that established Downing as one of those rare artists who could blend R&B with a jazz sensibility, all delivered with a gorgeous, rich baritone that stood out from amongst the popular singers of the day. The sheer quality and uniqueness of Downing's artistry meant that his albums sold hundreds of thousands of copies even if there was no radio hit. Indeed in 2000 he won a Grammy award in the Best Traditional R&B category for his album "All The Man You Need."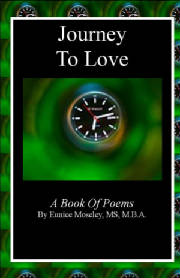 "Journey to Love" by Eunice Moseley now Available at Barnes and Nobles.