The Pulse of Entertainment: NBCUniversal Announces Surprises and New Programming in 2020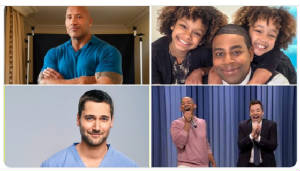 (January 24, 2020) - I attended the NBCUniversal Television Critics Association (TCA) Press Conference announcing surprises on returning programs this season and new programming to premiere next season. In a large hall in The Langham Huntington Hotel in Pasadena, California journalists gathered and were shown clips of some of the programming for review. We also had a chance to question cast members and executive producers of programming that have recently premiered on NBC.
"We have the 2020 Olympics in Tokyo," added Paul Telegdy, NBC Entertainment's Chairman. In 2024 'The New World' (a nature series)...we believe NBC programs...bring about change."
Returning shows include "The Kelly Clarkson Show," Ellen's "Greatest Night of Giveaways" and "Game of Games" game shows; "The Voice" with Nick Jonas replacing Adam Levine; Steve Harvey returns to host Ellen's "Little Big Shots" showcasing remarkable young people, and Jennifer Lopez' "World of Dance" returns with Neyo.
Of the scripted new programs for next season on NBC they include "The Kenon Show," a family comedy of "Saturday Night Live"'s Kenon Thompson; "New Amsterdam," a medical drama that stars Ryan Eggold (The Blacklist"); "The Young Rock," a sitcom based on the childhood life of Dwayne "The Rock" Johnson, and "That's My Jam" with Jimmy Fallon hosting, a celebrity game show.
"We pitched it to NBC and at the end all jaws dropped and hands raised and here we are (11 episodes)," said Dwayne about his show "The Young Rock." "You're going to find young Rock creating havoc in Hawaii...we are evicted off the island. Move to Nashville where I'm still creating havoc. Wrestling...at $40 a match helped shape me."
Everybody's favorite bubbly television personality Fran Dresher returns to the television screen with the new scripted comedy series "Indebted." "Indebted" is based on the life of the parents of Co-Executive Producer Dan Levy. The series follows him at the age where his kids are finally out of the house and suddenly his elderly parents surprise him by moving in.
"It's loosely based on their situation. The chemistry and electric relationships...it's nice to watch. My parents are funny. I asked what their retirement plan was...and my mom said we're coming to California to live with you."
"I'm glad my fans fell in love with my voice," said Fan about being asked to return to television to play Dan's Jewish mother.
"Indebted" also stars Steven Weber as his father, and Adam Polly and Abby Elliott as him and his wife. "Indebted," will premier on NBC February 6, 2020 at 9:30pm.
Another new scripted program for NBC is "Lincoln Rhyme: Hunt for the Bone Collector" based on the "best selling" novel the "The Bone Collector." It stars Russell Hornsby as a detective on the case who was paralyzed in the process. Now he must bring in an help, played by Arielle Kibble as a street cop asked to play detective and help Lincoln Rhyme - be him in the field as they work step by step in finding the serial-killer.
"We work with the NYPD," said Arielle. "We have them on the set with us."
"Lincoln Rhyme" premiered January 10th and airs on Fridays at 8 pm.
"Council of Dads" is a drama based on the biographical book by Bruce Feeler. It details how he enlisted other Dads to help him, as a single father, to raise five children. The dramatic series, "Council of Dads," premiers on NBC on March 31, 2020 at 9pm.
The crime drama "Briarpatch" starring Rosario Dawson ("Luke Cage") premieres February 6, 2020 at 10pm only on USA Network and NBC app.
More scripted programs that returned to NBC stations in January included the drama "Manifest," the comedy/drama "This Is Us," the musical drama/comedy "Zoey's Extraordinary Playlist," the sci-fi comedy "Resident Alien," and the unscripted "Biggest Looser."
www.NBCUniversal.com
SYNDICATED COLUMN: Eunice Moseley, has an estimated weekly readership of over ¼ million with The Pulse of Entertainment. She is also a Public Relations Strategist and Business Management Consultant at Freelance Associates, and is Promotions Director (at-large) for The Baltimore Times. www.ThePulseofEntertainment.com. EVENT: Eunice is founder of the annual "Uplifting Minds II" Entertainment Conference (ULMII), into its 20th year. Next event dates include Los Angeles Saturday, November 9, 2019 at the Los Angeles Convention Center (511) and Baltimore Saturday April 18, 2020, held in partnership with Security Square Mall and The Baltimore Times. The free conference offers an Entertainment Business Panel and a Talent Showcase and Competition (vocal, songwriting, dance and acting) with over $15,000 valued in prizes to selected artists. Log onto www.UpliftingMinds2.com for more information or to participate as a panelist or talent call 562-424-3836.
www.GoFundMe.com/Uplifting-Minds-II-Entertainment-Conference