The Pulse of Entertainment: Eight-Time Platinum Selling Group Switch Loves You More on New Single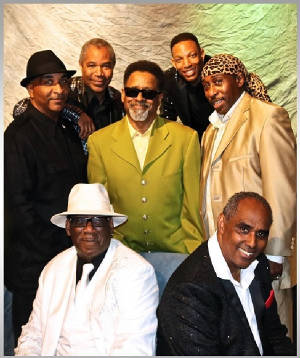 "We've been all over the place," said
Gregory Williams
co-founder of the eight-time platinum selling band
Switch
about where the group has been for the last 30 years. "We separated for a minute. We now have three original members with Michael (McGloiry) on guitar - he's on all the music. Bobby (DeBarge) passed in '96. Tommy (DeBarge) can't perform but he is on the new record."
The new record Williams is referring to is the group's recently released single "I Love You More." The song was written by one of the three new members Akili Nickson (percussion/lead vocals), who replaces Bobby. Deon Estus on bass/vocals and Tefer Hazy on drums are new members as well. Original members include Gregory (keyboards/vocals),
Phillip Ingram
(keyboards/lead vocals), also a co-founder and Eddie Fluellen (keyboards/vocals).
"Akili wrote the single and I put the music to it," Phillip Ingrams said. "I heard his demo. He sounded like Debarge, Switch - so we asked him to join the group. Akilil wrote another song for his wife."
The hit singles by Switch that have made them icons include "There'll Never Be" and "I Call Your Name" that carry that signature Debarge vocal sound that both Bobby and Tommy brought to the band. Both brothers left the group after a time to help manage their younger brothers in the infamous group DeBarge. Co-Founder James is the brother of living legend James Ingram.
"We're dropping singles for a minute...complying," Williams added. "We all record in our own homes. Then we take it to a bigger studio. Phillip has a full grown study in his home."
Switch started on Motown Records and ended on RCA Records. During that time the band released eight albums and 13 singles, not including "I Love You More." From 1977 to 1983 while at Motown they released five albums. Two of the albums went platinum and three went gold upon release. After the DeBarges left the group Switch signed onto RCA Records where they released an album in 1983. Soon after that release they disbanded. Gregory Williams self-published his autobiography titled "Switch, DeBarge, Motown and Me!" (Switch Entertainment Book Publishing). In 2017 TV One's "Unsung" series highlighted the group Switch - interviewing one of the founders and in 2019 they aired the TV One original film "The Bobby DeBarge Story."
"We got a lot of feedback, weird feedback," Gregory said about TV One's "The Bobby DeBarge Story."
"The reason why is because we had nothing to do with the movie," Ingrams adds. "There was no contact with us and Bobby's wife was not around for the first five albums or the DeBarges'. There was an unsung episode on Greg; you would think they would reach out to him."
Phillip continues, "We got a song on the new Shaft movie, so we got positive feedback from that."
Phillip continued telling me about all the covers of their songs and their songs appearances on soundtrack, "Personally I feel blessed. It keeps us alive, keeps our legacy alive. Of course we want to leave a mark...but we love the music period. This is a blessing - keeping our legacy alive."
Switch is currently performing their old hits as well as their new single.
"We been performing this year quit a bit - here in L. A.," Ingrams said. "We're performing September 14, 2019 in Atlanta."
www.SwitchEntertainmentWorld.com
SYNDICATED COLUMN: Eunice Moseley, has an estimated weekly readership of over ¼ million with The Pulse of Entertainment. She is also a Public Relations Strategist and Business Management Consultant at Freelance Associates, and is Promotions Director (at-large) for The Baltimore Times. www.ThePulseofEntertainment.com. EVENT: Eunice is founder of the annual "Uplifting Minds II" Entertainment Conference (ULMII), into its 20th year. Next event dates include Los Angeles Saturday, November 9, 2019 at the Los Angeles Convention Center (511) and Baltimore Saturday April 18, 2020, held in partnership with Security Square Mall and The Baltimore Times. The free conference offers an Entertainment Business Panel and a Talent Showcase and Competition (vocal, songwriting, dance and acting) with over $15,000 valued in prizes to selected artists. Log onto www.UpliftingMinds2.com for more information or to participate as a panelist or talent call 562-424-3836.
www.GoFundMe.com/Uplifting-Minds-II-Entertainment-Conference