NEWS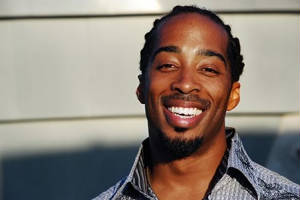 Renowed Poet Sekou Andrews Garners Grammy Award Nomination for Spoken Word Album 'Sekou Andrews and the String Theory'
(New York, NY) -
Sekou Andrews is the first Contemporary Spoken Word poet to receive a Grammy Award nomination for "Best Spoken Word Album" for his album "Sekou Andrews and the String Theory." The album was up against Michelle Obama's "Becoming" for the win.
It might seem impossible, at least until you consider that his album of poetry paired with a neo-classical orchestra from Europe, that his album beat out submissions by the likes of Oprah Winfrey, Deepak Chopra, Common, Stephen Colbert, Phylicia Rashad/Kobe Bryant, Chelsey Handler, Lin-Manuel Miranda, Bernie Sanders, Russel Brand, Chelsea Handler, Tay Diggs, Chuck D and 190 other submissions to get the nomination. Ironically Sekou performed for President and Michelle Obama in Oprah Winfrey's backyard, and attended the White House's first spoken word night at the White House.
Sekou's work with "The String Theory" offers a never-seen-before, genre-bending spin on classical music. He is among the best paid poets in America with Forbes calling him "the de facto Poet Laureate of corporate America". Sekou is also an elementary school teacher.
###