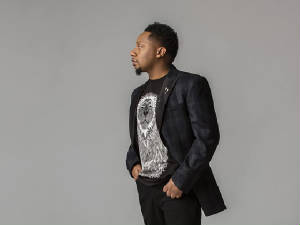 Deon Kipping's 'God Is Working' is Trending Top 30; He Launches Record Label The Underestimated Group, Signs Act The Huddle Worship and Releases Their Debut Single 'Waiting For Me'
(Atlanta, GA) - After a four-year recording hiatus, Billboard #1 recording artist, songwriter, producer, and cancer survivor Deon Kipping's "God Is Working" song is trending "Top 30 on BDS Gospel Airplay Chart." Released November 20, 2020, the song is produced and written by Kipping and Will Davis and is the follow-up to his last recording, his 2016 Billboard #1 album "Something To Talk About."
With Kipping now adds record label executive to his name with the launch his Urban mainstream and Inspirational record company, The Underestimated Group. His label signed The Huddle Worship, a diverse Christian music collective that's comprised of worshippers, songwriters, and musicians from different cultural backgrounds. Founded by Kipping, The Huddle Worship was birthed by him gathering them in a house for worship and writing sessions, which has led to their debut digital single "Waiting For Me."
As the record label's president, Kipping will be responsible for overseeing artist signings, the growth of the companies publishing assets, and development strategies. The Underestimated Group will provide its roster of artists music production, mastering, A&R, Grassroots and Digital Marketing, Content Creation/Monetization, Sync and Business Affairs and Strategic Partnerships, which includes national radio promotions fueled by premiere company By Any Means Necessary and publicity powered by Hardy PR led by highly respected and experienced music industry veterans, Jerome Hunt and Jason Hardy. Both bring complementary strengths and perspectives to The Underestimated Group and will work closely together along with Kipping and his long-time manager and business partner, music veteran Gerald Isaac of Gerald Isaac Music Group to further the label's mission.
Additionally, Kipping has joined Pastor Ron Carpenter, Gerald Haddon (music director), and Ashley Hayes (worship leader) as Worship Leader for Redemption East in Greenville, South Carolina. In 2017, he was diagnosed with stage 3 cancer. Several Gospel artists responded with prayer and support on their own social media pages, including Gospel superstar Kirk Franklin. Less than a year later, Deon Kipping took to his Instagram social page and declared that he was cancer-free.
A native of Bridgeport, CT, Kipping launched into the Gospel music industry in 2005 as a songwriter penning his first radio hit "Incredible God, Incredible Praise" for JJ Hairston & Youthful Praise, which led to an ASCAP Rhythm & Soul Award win for "Praise Him in Advance," which was recorded by Marvin Sapp and peaked at #2 on Billboard's Gospel Airplay chart. Thereafter Kipping continued composing countless billboard genre hits including "Immediately" for Tasha Cobbs Leonard, "Better" for The Showers, and "Let Your Power Fall" for James Fortune feat. Zacardi Cortez) to name a few. As an artist, he released his debut independent project Real Life, Real Worship in 2006, followed by his breakthrough release I Just Want to Hear You (Verity/RCA Inspiration) in 2012, which landed on the Billboard 200 chart and No. 6 on the Top Gospel Albums chart. In 2016, he released an EP titled A Place Called Victory. The EP served as a foreshadow to his next full-length album Something To Talk About (RCA Inspiration) that was released later that same year and garnered him his first Billboard No. 1 on the Top Gospel Albums chart.
(Source: Hardy PR)
# # #