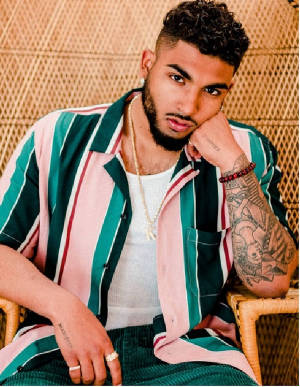 Hip-Hop Artist Kahlil Simplis Releases New ED '234'
(Los Angeles, CA) - Hip-Hop artist Kahlil Simplis, just released his latest EP, "234". The six track EP hosts rhythmic Hip-Hop sounds centered around the trials and tribulations of Simplis' journey. His highly anticipated project is a combination of soothing beats and lyrical raw emotions left on the tracks eludes to his upbringing, relationships, and the cultivation of his self-owned record label, Chosen Family Records.

The "234" project follows his hit singles, "Chosen" and "Luv It". The "234" title is a significant number in Simplis' life- representing starting over, transforming, and beginning new chapters in his life. The consecutive numbers serve a continuation towards personal goals, growth and ambitions.
Chosen Family Records is a Los Angeles based independent record label founded by Kahlil Simplis, Ace Lune, and Dylan Joseph in August 2018. Simplis and Lune are both artist's represented by Chosen Family Records. Their passion for the music industry and creative control enlisted the formation of the tight-knit label. They truly embody familial relationships and values based on integrity, respect, and superior results.
The company has since become a unique enterprise due to its evolution and exclusive sounds. They plan on continuing to grow the Chosen Family Records empire and dominate in the music world.
Los Angeles-based rapper, songwriter, and producer, Kahlil Simplis picked up his pen the age of 10 writing his on tunes inspired by music powerhouses such as Kanye West, Lil Wayne and Wu Tang Clan. After his basketball career ended abruptly due to multiple injuries in high school, Kahlil discovered the remedy to his pain lied within his music. He transformed his depression and anger into poetry, melodies, and passion which is intricately baked into his unique sound with an uplifting subject matter.
Kahlil's flare is defined by his hints of his Belizian and Egyptian heritage blended with a sophisticated atmospheric sound emphasizing stories of love, lust and luxury. With the success of his latest release, "CHOSEN" under his self-owned label, Chosen Family Records, he has just released his EP, "234" available on all streaming platforms.