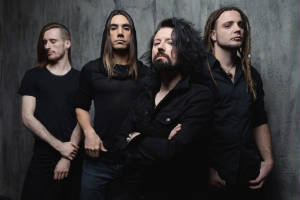 Neonfly Premieres New Music Video 'The Future' June 18, 2021

(New York, NY) - Neonfly have announced their worldwide signing with German powerhouse label Noble Demon, who will release the band's highly anticipated upcoming full length record, "The Future," on June 18, 2021. With two critically acclaimed albums under their belt, Neonfly have been storming festival main stages, and touring as the main support band for some of Rock's biggest names, including Alice Cooper, Dragonforce, Anvil, Gamma Ray & Magnum, since 2011. Their wildly dynamic live performances combining ferocious musicianship, a frenetically energetic front man, and a fire-breathing guitarist have earned them a growing reputation as a compelling musical and visual live draw.
Joining the already eclectic and growing artist roster of Noble Demon, featuring high class names such as Dawn Of Solace, Mercury Circle, Gomorra, Night Crowned and many more, guitarist Frederick Thunder offers.
In anticipation of the upcoming full-length release, Neonfly have forged a creative relationship with renowned Instagram star and fetish goddess, Dani Divine, who graces and defines the band's brand new single and music video: a cover of the 1970's Shocking Blue classic "Venus" accompanied by a tongue in cheek video homage to female empowerment. The Neonfly cover track was produced by Grammy award nominated producer Romesh Dodangoda (Bring Me The Horizon, Motörhead), with keyboards and orchestra produced by Miro Rodenberg (Avantasia, Kamelot) and the video features a stand-out performance from the divine Ms Divine who gives the band short shrift throughout. Furthermore, and even if you don't expect it, Dani not only shines with a breathtaking performance, but also makes her vocal debut in "Venus", which gives the whole song a very special and unforgettable touch (Source: O'Donnell Media Group)