The Pulse of Entertainment: Nickelodeon's 'Danger Force' Spin-Off Airs Saturdays at 8 p.m. ET/PT
Eunice Moseley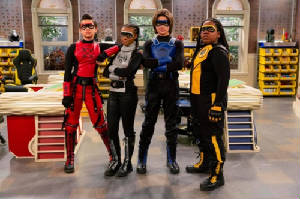 (March 27, 2020) - "We don't understand our powers. We're kids trying to figure it out," said Dana Heath. Dana is a 13 year-old actress who plays Mika, a super-hero in-training, in Nickelodeon's "Danger Force" - a spin-off of their hit comedy series "Henry Danger." The "Danger Force" series will premiere on Nickelodeon Saturday, March 28, 2020 at 8 p.m./ET/PT and will air every Saturday thereafter for a total of 13 weeks.

"That is super right," added Terrence Little Gardenhigh about the theme of the show. Terrence is a 12 year-old actor who plays Miles - another super-hero in-training. "The writers are good at making things funny. We're kids; we don't know how to use our powers. Mistakes are made."

Along with Mika and Miles, there are two other super-heroes in-training - Chapa, played by Havan Flores ("Henry Danger") and Bose, played by Luca Luhan ("Henry Danger"). They attend the Swellview Academy for the Gifted and on the show they are trying to balance their family life with their super-hero life - while keeping it all secret.

When I asked Dana and Terrence if there was uncontrollable laughter on the set of a Nickelodeon comedy show, Dana said, "You hit it. There are so many times we tried not to break and someone starts laughing."

"It happens all the time," Terrence added.

"There was a...part...Terrence made a face...I had the inability to get back in character," Dana gave an example, still laughing about it. "Miles' character is serious and I was trying to be."

"Danger Force" also stars Cooper Barnes as Ray and Michael D. Cohen as Schwoz who run the school for the gifted.
Dana and Terrence both acted on episodes of Nickelodeon's "Henry Danger." Terrence comes from Olympia, Washington and Dana from Miami Beach, Florida. Dana started out as a model at age four and gravitated to the theatre. Since then her acting has garnered her roles on Disney Channel's "Sydney to the Max" and Disney Junior's "Fancy Nancy." Terrence started at the age of eight doing commercials (Boys & Girls Club of America) and later obtained roles in Disney Channel's "Just Roll with It" and ABC's "Speechless."

"We auditioned," said Dana when I asked how they landed a leading role in the new Nickelodeon comedy series. "I didn't know what it was for. I said this person is like me. I had call backs, then guess who walked in - Terrence. I knew him and I knew we'd have a good brother sister chemistry. We had so much fun...and we did have the chemistry."

"It was a very long process," Terrence added. "It's been like 2 years...and I feel like we are brother and sister. We call each other bro and sis!"

What a delightful and inspiring show. "Danger Force" airs on Nickelodeon each Saturday at 8 p.m. ET/PT. www.Nick.com/shows/Danger-Force
SYNDICATED COLUMN: Eunice Moseley, has an estimated weekly readership of over ¼ million with The Pulse of Entertainment. She is also a Public Relations Strategist and Business Management Consultant at Freelance Associates, and is Promotions Director (at-large) for The Baltimore Times. www.ThePulseofEntertainment.com. EVENT: Eunice is founder of the annual "Uplifting Minds II" Entertainment Conference (ULMII), into its 20th year. Next event dates include Los Angeles Saturday, November 9, 2019 at the Los Angeles Convention Center (511) and Baltimore Saturday April 18, 2020, held in partnership with Security Square Mall and The Baltimore Times. The free conference offers an Entertainment Business Panel and a Talent Showcase and Competition (vocal, songwriting, dance and acting) with over $15,000 valued in prizes to selected artists. Log onto www.UpliftingMinds2.com for more information or to participate as a panelist or talent call 562-424-3836.
www.GoFundMe.com/Uplifting-Minds-II-Entertainment-Conference