The Pulse of Entertainment: Country/Rock's Whitney Miller Gets Emotional on 'Nobody' Single
By
Dr. Eunice Moseley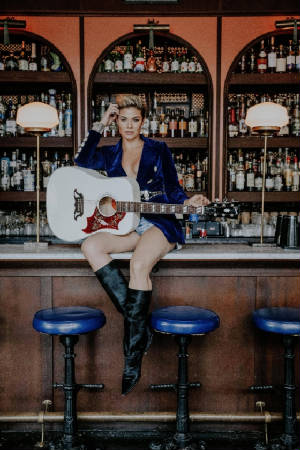 (May 26, 2023) - "It hit me so deep with the scares," Country singer/songwriter
Whitney Miller
told me about the lyrics to her new single
"Nobody."
"This single I didn't write myself...I didn't know if I could even cut this song...but I felt this song was for me."
Whitney heard the song at the Listening Room in Nashville and connected with the lyrics. She has outstanding vocals, performances, and is a talented songwriter that it's hard to believe she just started releasing music in 2022. Her sound is trademark Nashville and I love hearing her sing. The new single "Nobody" is about heartbreak and not only does Miller vocally delivers, but she has the lead guitar going crazy with emotions too.
When I mentioned the music to the single being so awesome, she talked about how she changed the original track to the song.
"I've been working on my vocals recently," she said when I mentioned how her vocals have reached another level. "(Vocal training) Is dropping me into the emotion, I'm becoming that character."
"I brought up old pictures of my Ex...starred at them," she laughed a little as we talked about her recording process for the emotional song.
In talking about her own pain from past relationships Whitney said, "It took me a very long time. I'm happy now, I'm at that place (where she can joke about it)."
Not new to entertainment, the Texas native is a former Miss USA (2012), Mixed Martial Arts (MMA) fighter and kickboxing commentator! Her focus now, Nashville and the Country/Rock music industries.
"We're working on the music video for this one. I want it to be a bit...raw," she told me when I commented that the last single that I interviewed her for had a very nice music video. "It's shot in black and white...tears were shared."
The media is excited about her, her media coverage is impressive. Now it's time for the world to get excited about her too with her debut coming soon. Miller said to expect a fun Country/Rock project with real life stories.
www.WhitneyMillerMusic.com
SYNDICATED COLUMN: Dr. Eunice Moseley
has an estimated weekly readership of over one million with
The Pulse of Entertainment
. She is also a Public Relations and Business Management Strategist and Consultant at Freelance Associates, and is Promotions Director (at-large) for T
he Baltimore Times
.
www.ThePulseofEntertainment.com
EVENTS: "Uplifting Minds II" Entertainment Conference
(ULMII), founded by Eunice in 1999, is into its 24th year. Next events are coming to
Baltimore
via Zoom
Saturday April 15, 2023,
presented by Security Square Mall and
The Baltimore Times
, and
Los Angeles
via Zoom
Saturday, November 11 2023
. The ULMII event is a free entertainment conference offering a
Professional Industry Panel Q&A Session
, a
Professional Talent Showcase
and
National Talent Competition
(vocal, songwriting, dance and acting) where aspiring artists have a chance to receive over $17,500 valued in prizes/product/services. Log onto
www.UpliftingMinds2.com
, a 501 c3, for more information or to RSVP for Zoom Access email
info@ThePulseofEntertainment.com
.