The Pulse of Entertainment: 'Some Kind of Wonderful' Songwriter John Ellison Re-Releases Classic Single on PopMi Music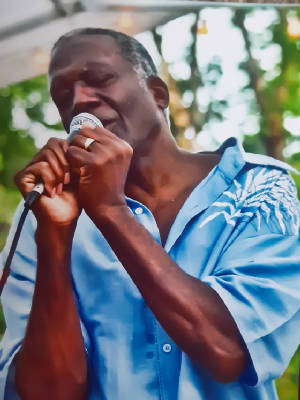 (September 8, 2023) - "It has been recorded by 73 artists...people don't know much about the guy who wrote it," said John Ellison when I asked why he re-released his classic hit "(She's) Some Kind of Wonderful" (PopMi Music).
John, a Canadian-American, told me that because his group Soul Brothers Six were African-Americans, at the time the single was released in 1967 (Atlantic 2406), he didn't get the public recognition for the hit song even though it reached 91 on Billboard's Top 100. It was the Rock band Grand Funk Railroad, who covered the single in the mid 1970's that received the recognition for the single's success, which reach #3 on Billboard's Top 10. The "Some Kind of Wonderful" single went on to be covered by over 70 artists, which includes Rod Steward, Joss Stone, and Huey Lewis & The News (which reached #7 on Billboard). Before Grand Funk Railroad released the single in the mid-70s, Fantastic Johnny C released it in 1968 and his cover reached Billboard's Top 100 Chart. The "(She's) Some Kind of Wonderful" single is now certified platinum.

"They (Grand Funk Railroad) became known as the originators of the song. Through the years the song has become a classic," Ellison continued about his lyrical creation. "My manager and I talked about this...he said, 'We need to do this song under your name."

John Ellison, a Soul, Gospel, Blues and Funk singer, has been on tour spreading the word that the third most played song in the world is something that he wrote. His new album is named after the hit single and will be released November 10, 2023. The project offers 12 John Ellison originals. His tour for the "Some Kind of Wonderful" project was launched in August. He has performed in Ohio, Michigan, Wisconsin, and Minnesota. He will soon arrive to perform his classic during the Radio Wave Festival (September 10th ) in Minnesota and the Rib Fest (September 16th) in West Virginia.

The BMI Special Citation of Achievement Award recipient garnered this honor because the single was performed over 4 million times by various artists. Ellison is also a musician that plays the lead guitar. He enlisted help on the new album from Lucien Matheeuwsen (bass), Peter Bergman (bass), Roger Heijster (drums, bass, lead guitar, keyboards, and programming), Wiktoria Bialic (drums), and Jay Horns (trumpeter, trombone, and sax). Heijster produced the album.

"I believe in a higher power. I have faith," John told me when we were talking about his career experiences. "God puts people in our lives...there's a reason why. My faith has carried me. I met a fellow in Italy...who said, 'It's part of God's plan.' I was 17 when I brought a one-way ticket to New York. I had $3.25 and nowhere to live."

Today he lives off of his God given talent as a musician and songwriter of the 3rd most played single in the world, which has been covered (released) by over 70 professional artists. West Virginia honored John Ellison with a Lifetime Achievement Award in 2021.

Ellison also has a brand of all-purpose seasoning called Some Kind of Wonderful, which is low in sodium, has no MSG or Gluten. www.JohnEllisonMusic.com www.WonderfulSeasoning.com
SYNDICATED COLUMN: Dr. Eunice Moseley has an estimated weekly readership of over one million with The Pulse of Entertainment. She is also a Public Relations and Business Management Strategist and Consultant at Freelance Associates, and is Promotions Director (at-large) for The Baltimore Times. www.ThePulseofEntertainment.com EVENTS: "Uplifting Minds II" Entertainment Conference (ULMII), founded by Eunice in 1999, is into its 24th year. Next events are coming to Baltimore via Zoom Saturday April 15, 2023, presented by Security Square Mall and The Baltimore Times, and Los Angeles via Zoom Saturday, November 11 2023. The ULMII event is a free entertainment conference offering a Professional Industry Panel Q&A Session, a Professional Talent Showcase and National Talent Competition (vocal, songwriting, dance and acting) where aspiring artists have a chance to receive over $17,500 valued in prizes/product/services. Log onto www.UpliftingMinds2.com, a 501 c3, for more information or to RSVP for Zoom Access email info@ThePulseofEntertainment.com.