The Pulse of Entertainment: Seth and Charlize is the Perfect Odd Couple in Lionsgate's Long Shot and Latino Rapper InnocentMind Turning Heads with his Blend of Hip-Hop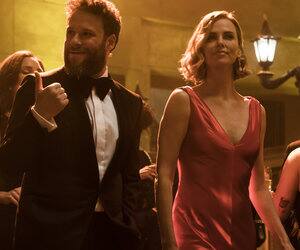 What a delightful film the Lionsgate presentation of Long Shot is starring Academy Award winning Charlize Theron (Hancock) and two-time Golden Globe nominated Seth Rogen ("Neighbors") - they make a perfect old couple. Charlize (The Huntsman: Winter's War) plays a high-profile politician Charlotte Field working her way to being a Presidential candidate when she meets journalist Fred Flarsky (Seth), someone from her past, who shows his adoration for her on his sleeves.

His care free personality and how he is himself, wherever to whomever, is attractive to Charlotte - so she hires him as her speech writer. As they spend time together their relationship blossoms, contrary to her staff that wants her to hook-up with a more "visually" suited person. She finds that she has to choose between him and having the President of the Unites open the door for her to become the first female president. Their courtship, the different world colliding is hilarious and what she chooses to do abut her dilemma is shocking.
Long Shot arrives in theatres May 3, 2019 and is directed by Jonathan Levine (The Night Before) and produced by Seth, Charlize, Evan Goldberg, James Weaver and Beth Keno. The Good Universe, Point Grey Pictures and Denver & Delilah Films production also stars O'Shea Jackson, Jr. (Straight Outta Compton) as Fred's best friend Lance, Andy Serkis, June Diane Raphael, Bob Odenkirk and Alexander Skarsgard. Cameo appearances include Boyz II Men and Lil' Yachty.
www.LongShot.movie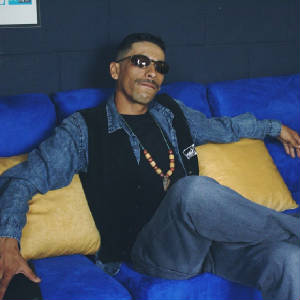 "I've been at it for a minute. I started as a drummer," said Latin Rapper Wilson Sandoval, known on stage as
InnocentMind,
about his new studio self-titled album. When asked about his unique Latin sound that combines all genres of music with Latin Hip-Hop InnocentMind said, "I spent five years with a band, then a solo artist. When I was with a band I was surrounded by that type of music Classic, Rock...like The Beatles...Led Zeplin. I try to network with difference people, built my experiences. I am working on increasing my fan base."
All anyone has to do is listen to his music. I met InnocentMind at the 98Cent Store selling his CD. I love supporting aspiring artists and I respect their struggle, so I brought one. I was immediately impress that he had a business card to go with it, and decided then that I would give it a listen and not just "shelve it." I was so pleased that I did. "InnocentMind" has high quality instrumental playing, high quality production and high quality vocals. His flow as a rapper is as diverse has is Hip-Hop styles of music.
"I do study on my own and work with people that know more than me," InnocentMind admitted. "Like this engineer that's with me. He's from Texas. I'm collaborating with him."
The self-titled project from InnocentMind offers 10 selections.
"When 'I' say Hip-Hop I mean like KRS- One. Real Hip-Hop...with scratching and the beats, it's the sound that motivates me more," he pointed out. "I merge with Latino things I like - my type of Latino has lots of Hip-Hop. Though there are Latinos like Bad Bunny (Trap and Reggaeton singer),,,mine comes from Central America and Mexico. I was born in Los Angeles."
Though the album is mostly in Spanish and I speak "poquito" (little) I was able to make out a few words that I will use to identify my favorite cuts on the "InnocentMind" album. The CD does have at least two selections that are mostly in English. My favorites include #1, which I titled "Listen" cause he says that at the beginning and the phase "Let's Go" at the end, because it starts off almost sounding like a lullaby and ends with an Latin Urban beat that is so simple. I like #2, which I titled "First" because it says "primero" a lot. It has a nice Latin/Hip-Hop feel that I like and I hear in Spanish "Mexican beautiful lady" so it has to be hot lyrically. I like #3, which I titled "You" because he kept saying it in Spanish - "ustedes" and I love the horn and piano keys that were flying which gives it a Latin/Jazz feel. I like #7, which I titled "What Pretty Is" because he says that throughout - "que bonita es." I like it because of the Salvador feel, which he says, along with "good morning" so instantly it became a favorite because that what I say Social Media each day - morning! I also like #8, which I titled "Life" because I heard a couple times "vita." I like it because it has a nice Latin feel that I love to dance to, in fact at one point he said "loco tango" (crazy dance). I also like #9, which I titled "Momma Said There'll Be Days Like This," because that is a hook from a cover song and its said in English by a R&B vocalist. It has a Rap hook that is in both English and Spanish making it very unique and relatable. This is one of two songs that combine English and Spanish, mixing the two cultures. Last, and as you can see I like practically the entire album, I like #10, which I titled "Tomorrow Friend" because it says it a couple of times in Spanish "manana" "amigo". I like the rap flow, which was in both English and Spanish, because it is reminiscent of the flow of Rapper Busta Rhyms "hard and fast." And the lyrics on "Tomorrow Friend" are very deep and I am so glad it was in English too, because it is a prime example of what Wilson aka InnocentMind is all about. InnocentMind raps on "Tomorrow Friend" repeatedly saying "I break my back for the U.S. but it wont let us claim it" and "I know you feel me cause I'm just like you."
Meeting InnocentMind and listening to his music, tells me without a doubt he will make his mark on the Hip-Hop culture in a big way, very soon.
www.Youtube.com/InnocentMind
SYNDICATED COLUMN: Eunice Moseley, has an estimated weekly readership of over ¼ million with The Pulse of Entertainment. She is also a Public Relations Strategist and Business Management Consultant at Freelance Associates, and is Promotions Director (at-large) for The Baltimore Times. www.ThePulseofEntertainment.com. EVENT: "Uplifting Minds II," a Free Entertainment Conference held annually in Baltimore (Saturday April 20, 2019), in partnership with Security Square Mall and The Baltimore Times and Los Angeles (November/TBD). Offering an Entertainment Business panel and a talent showcase and competition (vocal, songwriting, dance and acting) with over $15,000 valued in prizes for each category. www.UpliftingMinds2.com.