The Pulse of Entertainment: Grammy Nominated Calvin Richardson Releases Vocal 'Gold Dust' October 25, 2019 and Rob Hyman's The Hooters Inductees of the Philadelphia Music Walk of Fame

(September 24, 2019) - "I've been in the game for over 20 years. I'm seasoned," said two-time Grammy nominated
Calvin Richardson
. On October 25, 2019 the season singer releases
"Gold Dust"
(Shanachie Entertainment), with the newest single "Let Me Love on You" at radio.
Richardson debuted as a solo artist on his label Country Boy/Uptown Records imprint in 1999. Uptown Records was the label of Andre Harrell headed by Heavy D, distributed by Universal Music Group and home of Heavy D & the Boyz, Notorious B.I.G. and Jodeci. In 2003 Calvin released his sophomore album, "2:35PM," off Hollywood Records a label of Disney Music Group. In 2008 Richard signed with Shanachie Entertainment released "When Loves Comes." It was his 2009 release "Facts of Life" that garnered him two Grammy nominations. Three other Shanachie album releases followed. Shanachie was founded by two New Jersey natives Richard Nevins and Dan Collins in 1976 to release "fiddle' music. Evolving to meet the needs of the industry by mid-90s Shanachie was also releasing Reggae projects. Today they also include Jazz (Shanachie Jazz), R&B, Latin and Gospel.
Calvin adds author to his credits with the release of his first book "Do You Without Them."
"I started writing my book three years ago. I finished six or seven months ago," Calvin said about the project. "I shopped the book. It landed a publishing company. I just approved of the cover."
Calvin talked about vocal damage that he is just getting back from.
"I'm still getting back to where I want to be," he sincerely said. "It's like a muscle...you have to rehabilitate it...built it."
Richardson said the "Gold Dust" project us about his life story.
"I went with that as the end result in my mind," said concluded. "To be honest." www.Shanachie.com
www.IAmCalvinRichardson.com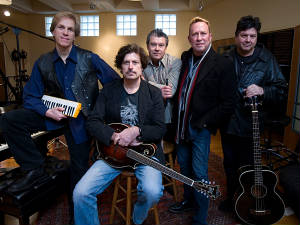 (September 20, 2019) - "I'm friends with Randy (Alexander)...on the Board. He knew the band and we talked about inducting The Hooters and it came around," said Robert Andrew Hyman, founder of two-time platinum selling The Hooters. "I'm very thrilled."


The Hooters is noted as a Rock band that combines SKA, Reggae and Folk Rock. They have sold over two million records. On October 22, 2019 The Hooters will be inducted into the 2019 Philadelphia Music Walk of Fame. Joining The Hooters are the renowned Philadelphia Orchestra, Evelyn 'Champagne' King (child prodigy with hits "Love Come Down" and "Shame"); The O'Jays ("Back Stabbers" and "Use to be My Girl"); WMMR air personality Pierre Robert (38 year career); music industry executive Jody Gerson (CEO of Universal Music Publishing for over 30 years), and philanthropist Dorrance 'Dodo' Hamilton (donating over $47 million). The honors will take place along the Avenue of the Arts in Philadelphia and conclude with the Philadelphia Music Alliance Gala at The Bellevue Philadelphia.

Rob Hyman, who is a keyboardist, is infamous as a songwriter and producer. He wrote the Joan Osborne debut "Relish." The "Relish" album garnered him a Grammy nomination in 1995 for "Album of the Year." He wrote the Cyndi Lauper's hit song "Time After Time," which garnered him a Grammy nomination in 1985 for "Song of the Year."

"'Time After Time' was the last song (on the 'Girls Just Want to Have Fun' album)," Rob said. "I certainly didn't know it would turn out to be the song it has become. You just do your job and make a song. I had a good feeling. It was the first song we wrote together. My partner and I were working with her first album 'Girls Just Want to Have Fun'."

Rob talked about other writing projects that were monumental in his career successes, which also garnered him a Tony Award nomination in 2018.

"In Reggae I had fun writing with Bob Marley, it touched my life," Hyman confessed. "Creativity is what it's all about, spreading good feelings and healing words."

The Philadelphia Music Walk of Fame is a project of the Philadelphia Music Alliance. The Hooters is a Philadelphia band founded by Rob Hyman and Eric Bazilian, which emerged in 1980 as a new kind of Rock band. They combined SKA, Reggae and Folk Rock. Hits include "And We Dance," "All You Zombies" and "Day by Day." Today they remain one of Philadelphia's most beloved Rock bands. The Hooters is celebrating 40 years in 2020 with major plans set-up to highlight that achievement. www.HootersMusic.com


SYNDICATED COLUMN: Eunice Moseley, has an estimated weekly readership of over ¼ million with The Pulse of Entertainment. She is also a Public Relations Strategist and Business Management Consultant at Freelance Associates, and is Promotions Director (at-large) for The Baltimore Times. www.ThePulseofEntertainment.com. EVENT: Eunice is founder of the annual "Uplifting Minds II" Entertainment Conference (ULMII), into its 20th year. Next event dates include Los Angeles Saturday, November 9, 2019 at the Los Angeles Convention Center (511) and Baltimore Saturday April 18, 2020, held in partnership with Security Square Mall and The Baltimore Times. The free conference offers an Entertainment Business Panel and a Talent Showcase and Competition (vocal, songwriting, dance and acting) with over $15,000 valued in prizes to selected artists. Log onto www.UpliftingMinds2.com for more information or to participate as a panelist or talent call 562-424-3836.
www.GoFundMe.com/Uplifting-Minds-II-Entertainment-Conference