The Pulse of Entertainment: Travis Greene's 'Broken Record' Seeks to Inspire Kingdom Living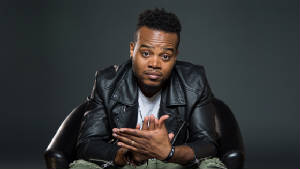 (October 4, 2019) - "My wife said, 'Kingdom living is proper culture,'" said Billboard winning Travis Greene about the message of his new album titled "Broken Record," which has a goal to inspire people to engage in proper culture. "For us we're about engaging culture...redefining culture."
"Broken Record" (RCA Inspiration) is led by the first single "Won't Let Go" with accompanying music video, the second single "Good and Loved," which also has a music video and the third single "Great Jehovah." The release date for the "Broken Record" album is November 15, 2019.
"You can complain, conform or confront it," Travis said frankly about your culture.
The culture he refers to is all about "the food we eat and the art we make."
"Being a pastor I see people needing God to make them whole," said the three-time Grammy nominated Contemporary Gospel artist.
On how the album came about he said, "It was spontaneous. We were preparing for a tour and we said let's record the music. It came out to be for broken people."
The album offers 11 songs and features vocal assistance from Steffany Gretzinger, D'Nar Young, Taylor Poole and Trinity Anderson.
On Saturday October 5, 2019 Greene will perform some of his new material in his pre-release concert in Washington, DC at the 12th annual Spirit of Praise Celebration. The event will also showcase the performances of Kurt Carr, William McDowell, Koryn Hawthorne, Jonathan Nelson & Purpose and BET's "Sunday Best" winner Melvin Crispell III and finalists Joshua Copeland and Tiffany Andrews. The pre-release performance will be held at the Entertainment and Sports Arena in Washington, DC.
"It's a pre-release concert in DC with Praise," Travis said. "It's going to be fun! I'm bringing Pastor William McDowell, Kurt Carr, Tiffany Andrews, Koryn Hawthorn and Jonathan Nelson."
www.TravisGreene.net
SYNDICATED COLUMN: Eunice Moseley, has an estimated weekly readership of over ¼ million with The Pulse of Entertainment. She is also a Public Relations Strategist and Business Management Consultant at Freelance Associates, and is Promotions Director (at-large) for The Baltimore Times. www.ThePulseofEntertainment.com. EVENT: Eunice is founder of the annual "Uplifting Minds II" Entertainment Conference (ULMII), into its 20th year. Next event dates include Los Angeles Saturday, November 9, 2019 at the Los Angeles Convention Center (511) and Baltimore Saturday April 18, 2020, held in partnership with Security Square Mall and The Baltimore Times. The free conference offers an Entertainment Business Panel and a Talent Showcase and Competition (vocal, songwriting, dance and acting) with over $15,000 valued in prizes to selected artists. Log onto www.UpliftingMinds2.com for more information or to participate as a panelist or talent call 562-424-3836.
www.GoFundMe.com/Uplifting-Minds-II-Entertainment-Conference