The Pulse of Entertainment: Spyro Gyra Releases, 'Vinyl Tap,' a Swinging CD of Classic Covers and The Sony Picture Release, Zombieland 2, is Funny to the Bone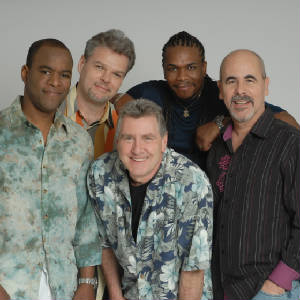 (October 22, 2019) - "Initially it was to try something different. Different for us is doing someone else's music," said saxophonist Jay Beckenstein, co-founder of the four-time Grammy nominated band
Spyro Gyra
, about their 31st album release this month -
"Vinyl Tap"
(Amherst Record). "I thought we'd go back to music that was inspirational to us in the beginning."
Spyro Gyra did just that on the "Vinyl Tap" project that consist of covers by Cream, Johnny Rivers, WAR, Eric Clapton, Doobie Brothers, The Beatles, Oliver Nelson Septet and Crosby, Stills & Nash. Aside from Jay on sax, Spyro Gyra consist of Tom Schuman on keys, Julio Fernandez on guitar, Scott Ambush on bass and Lionel Cordew on drums. The Spyro Gyra produced "Vinyl Tap" consist of nine selections.
"I'm the oldest guy in the band," Jay laughed when discussing artists that have inspired the band. "Some of my vinyl inspiration is from the 50s and some band members are later. We're musicians that have lasted 40 years intact. It helped us stay healthy, and people are still interested. I'm proud to be in this band."
Spyra Gyra debuted on Amherst Records in 1977 and was co-founded by Jay in 1974. Their single in 1979, "Morning Dance," reached #11 in the UK and #27 on Billboard's Top 200 Chart. It was certified Gold in 1979. In 1980 they released on MCA Records and it garnered #4 on Jazz Charts. They released another album that year on MCA, which was also certified Gold and reached #7 on the Jazz Chart. Their album release in 2006 "Wrapped in a Dream" garnered four Grammy nominations. Their style is fusing Jazz with Rock, R&B, Funk and Pop, and it's legendary.
My favorite cuts off the "Vinyl Tap" project include, a Johnny Rivers hit from 1966, "Secret Agent Mash," because of the Swing sound and Jay's sax playing makes you almost hear the lyrics. I also love the blend of Tom's tapping on the keys and Lionel's drum tapping on "Secret Agent Mash." I also like their version of the Cream 1990 hit, "Sunshine of Your Love," because it's a totally different song from the original. I also love Julio on the guitar making it Jazz flavored, as well as Lionel going crazy on the drums on "Sunshine of Your Love." I also like the 1974 Eric Clapton hit "Can't Find My Way Home," the first single from the project, because Jay's sax playing is simply beautiful that you will be swaying to the music as Lionel adds beats with percussion. The 1972 hit from WAR is another favorite, "The Cisco Kid," because it's a nice Jazz version of the song and with Jay leading the way on sax you want to sing the lyrics "Cisco Kid, he was a friend of mine..."
Spyra Gyra is currently, and constantly, on tour. They just finished an international tour that ended at the Cancun Jazz Festival. On November 15, 2019 they start their U.S. tour in Newark, NJ.
www.SpyroGyra.com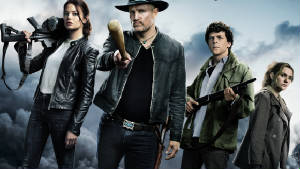 (October 18, 2019) - The Sony Picture's Zombieland 2 sequel is funny to the bone. The horror, action and comedy film is a continuation of the 2009 Zombieland movie release. The sequel to be released October 18, 2019 has the return of Emmy Award winning Woody Harrelson (The Hunger Games), Jesse Eisenburg (The Social Network), Academy Award winning Emma Stone (The Amazing Spiderman) and Academy Award nominated Abigall Breslin (Little Miss Sunshine) as the seemingly sole survivals of a plague that has turned everyone into zombies - living dead humans whose blood and bite turns you into a zombie. The new Zombieland also stars MTV Movie Awards nominated Rosario Dawson (Men in Black II), Teen Choice Award nominated Zoey Deutch (Beautiful Creatures), Avan Jogla (Nickelodeon's "Victorious"), Emmy Award nominated Thomas Middleitch (Silicon Valley) and Luke Wilson (HBO's "Enlightened").
Directed by Ruben Fleischer (Venom) and written by Rhett Reese (GI Joe: Retaliation), Paul Wernick (Deadpool) and Dave Callaham, Zombieland 2 is Rated R. The sequel is a Columbia Picture production. The storyline follows the four as they continue to survive the apocalypse with a country full of zombie living-dead humans. They pick up other survivors - Madison, Berkeley, Albuquerque and Flagstaff - along the way ending at the White House. As they set up roots in the Whitehouse Zombie trouble begins.

The climax of Zombieland 2 is how the survivors deal with the "superzombies." The superzombies are coming for them as a massive herd and they just won't die! www.Zombieland.com
SYNDICATED COLUMN: Eunice Moseley, has an estimated weekly readership of over ¼ million with The Pulse of Entertainment. She is also a Public Relations Strategist and Business Management Consultant at Freelance Associates, and is Promotions Director (at-large) for The Baltimore Times. www.ThePulseofEntertainment.com. EVENT: Eunice is founder of the annual "Uplifting Minds II" Entertainment Conference (ULMII), into its 20th year. Next event dates include Los Angeles Saturday, November 9, 2019 at the Los Angeles Convention Center (511) and Baltimore Saturday April 18, 2020, held in partnership with Security Square Mall and The Baltimore Times. The free conference offers an Entertainment Business Panel and a Talent Showcase and Competition (vocal, songwriting, dance and acting) with over $15,000 valued in prizes to selected artists. Log onto www.UpliftingMinds2.com for more information or to participate as a panelist or talent call 562-424-3836.
www.GoFundMe.com/Uplifting-Minds-II-Entertainment-Conference