The Pulse of Entertainment: Well Deserved Honor Bestowed to Public Relations Guru Dr. Edna Sims by The Caucus and The Plot Thickens on Jumanji: The Next Level, in Theatres December 13, 2019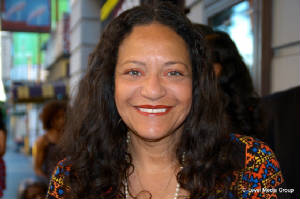 (December 13, 2019) - "They contacted me and said, 'We have selected you to receive our Chairs Award because of your good work,'"
Dr. Edna Sims
said about the "Chairs Award" she recently received from The Caucus for Producers, Writers and Directors - a 40 year-old membership organization.
Dr. Edna is a public relations specialist through her company ESP Public Relations. It is a full service agency whose clients include The Caucus. Other clients, past and present, have included the MTV Network, Comcast, Spike Lee, Kim Kordashion, David E. Talbert, Katt Williams, ASCAP, Grammy Foundation, Radio One and Janet Jackson. Dr. Sims joined a list of others honored that day by The Caucus, which include Actor/Producer/Director Edward James Olmos with the "Industry Icon Award;" Gary Levine, president of entertainment at Showtime Networks with the "Executive of the Year Award;" Producer/Director Paul Miller with the "Lifetime Achievement Award;" Writer/Producer/Writer Michael Berk with the "Distinguished Service Award;" Executive Producer Carolyn Strauss of HBO's "Game of Thrones" with the "Producer's Honor;" Writer Producer Brett Johnson of Showtime's "Escape at Dannemora" with the "Writers Honor;" Writer/Producer/Director Michael Tolkins of Showtime's "Escape at Dannemora" with the "Writer's Honor," and Director Amy York Rubin of Netflix's "Dead to Me" with the "Director's Honor." The honors were hosted by Actor James Pickens, Jr. (ABC's "Grey's Anatomy"). The Caucus' Co-Chairs Robert Papazian and Tanya Hart were in attendance.
"They are the guys that give TV its look," she said about her client, The Caucus.
Her longevity, over 20 years, in the public relations business with clients that are those who put the "Hollywood" in entertainment, is a testament to her skillful success as a P. R. specialist.
"I put a lot of time into my clients," said Dr. Sims. "Clients may not see, but God sees it. I work under Him. I said, 'Father, thank you. Use me - I'm your vessel."
So God has used her and now she is getting her well deserved honors, like her recent Honorary Doctorate in Theology for her work with Gospel clients and Christian artists. She was also honored by the Black Business Association with the "Excellence in Media Award."
"Never loose your fan base," she said when I brought up how some public relations representatives stop reaching out to "small" media outlets/journalists when their artists get to a certain level. "Sometimes African-Americans get to a certain point and hire white publicists. They forget who got them there."
Dr. Edna Sims never forgets her media sources that help her clients get to the next level, because after 20 years of working with her she still includes me. She has broken many barriers in Hollywood too as an African-American female, like acquiring The Caucus as a client. Salute to The Caucus for hiring her and for electing its first black female co-chair when they selected Emmy winning media personality/producer Tanya Hart (AURN's "Hollywood Live"/BET's "Live From LA").
"Everything I am...I represent God," Dr. Edna stressed, almost preaching. "He is my source for clients. I don't go out to get clients, He sends them to me. I put all my focus on God."
www.ESPPR.net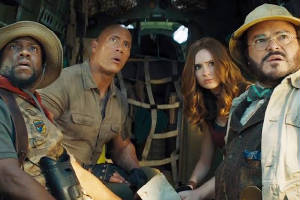 (December 10, 2019) - The new Jumanji movie release is tagged "The Next Level" and it has a plot that thickens as Spencer skips lunch with the gang to get sucked into the Jumanji game again. On December 13, 2019 Sony Pictures distributes "Jumanji: The Next Level" to theatres with the return of Dewayne Johnson (Furious franchise), Kevin Hart (Ride Along and Secret Life of Pets franchises), Golden Globe nominated Jack Black (Kung Fu Panda franchise), Karen Gillan (Guardians of the Galaxy franchise) and Golden Globe nominated Nick Jonas ("Jonas", Hawaii Five-O). Emmy winning Danny DeVito and Danny Glover (Lethal Weapon) joined the cast in this release.


Directed and written by Jake Kasden (Jumanji: Welcome to the Jungle) this installment is another adventure inside the Jumanji game where you have to win the game to live - in real life. Still funny, Jumanji 4 also gives you a feel of anticipation knowing that the game may be broken because it has an electrically-short. Two elderly characters are introduced - Eddie (Danny DeVito) and Milo (Danny Glover) that gives it a twist. Spencer (Alex Wolff) is home from college and has to share a room with his grandfather Eddie. While Spencer is in the garage looking for the Jumanji game, Milo, a former business partner of Eddie, comes for a visit. The elderly pair accidentally get sucked into the Jumanji game with Spencer's friends, Martha (Gillan) and Anthony, played by Ser' Darius Blain ("Charmed").When Spencer doesn't show for lunch Martha and Anthony go looking for him and find him gone and the game hooked up in the garage.

The plot thickens even more when Bethany (Madison Iseman) doesn't get sucked into the game with Martha and Anthony (Blain), and she has to enlist the help of all-grown-up Alex, played by Golden Globe nominated Colin Hanks ("Roswell"). Alex helps Bethany fix the broken game and gets her, and himself, into the game - the climax begins. There is magical water in the game that switches everyone's avatar's strength and weaknesses to keep everyone on their toes. They still only have a certain amount of lives in the game before they die in real life. There are also new avatars introduced to the Jumanji game as everyone tries to work together to get to the "final level."

Director Jake Kasden shares writing credits with Jeff Pinkner and Scott Rosenberg. Dewayne Johnson shares producers' credit with Dany Garcia, Hiram Garcia, Matt Tolmach, William Teiter and Jake. Kevin Harts' Hartbeat Productions shares production credits with Columbia Pictures, Matt Tolmach Productions, The Detective Agency and Seven Bucks Production. Rated PG-13 Jumanji: The Next Level is based on the book "Jumanji" (1981) by Chris Van Allsburg (The Polar Express) who wrote the first film (1995), which starred Robin Williams, Kristen Dunst, David Alan Grier and Bonnie Hunt. Zathura: A Space Adventure (2005), the second Jumamji installment, followed and Jumanji: Welcome to the Jungle was next - released in 2017.

Jumanji 4 also stars Awkwafina, Morgan Turner, Rhys Darby, Rory McCann, Ashley Scott, Marin Hinkle, John Ross Bowie, Dania Ramirez and Vanessa Cater. www.JumanjiMovie.com


SYNDICATED COLUMN: Eunice Moseley, has an estimated weekly readership of over ¼ million with The Pulse of Entertainment. She is also a Public Relations Strategist and Business Management Consultant at Freelance Associates, and is Promotions Director (at-large) for The Baltimore Times. www.ThePulseofEntertainment.com. EVENT: Eunice is founder of the annual "Uplifting Minds II" Entertainment Conference (ULMII), into its 20th year. Next event dates include Los Angeles Saturday, November 9, 2019 at the Los Angeles Convention Center (511) and Baltimore Saturday April 18, 2020, held in partnership with Security Square Mall and The Baltimore Times. The free conference offers an Entertainment Business Panel and a Talent Showcase and Competition (vocal, songwriting, dance and acting) with over $15,000 valued in prizes to selected artists. Log onto www.UpliftingMinds2.com for more information or to participate as a panelist or talent call 562-424-3836.

www.GoFundMe.com/Uplifting-Minds-II-Entertainment-Conference