The Pulse of Entertainment: Band Leader Chillie Willie Groove is an Unconventional Percussionist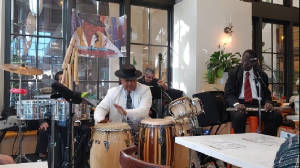 (January 17, 2020) - "I have a CD coming out...along with performances in Arizona with George Benson," said Percussionist Willie Portela, known on stage as Chillie Willie Groove, when I asked what was happening.
He invited me to a performance, which I attended for review, at the Historic Dunbar Hotel's Delicious Restaurant in Los Angeles to hear his
Chillie Willie Groove Band
. What I saw was a generous and very professional band leader and what I heard was an unconventional percussionist. He used so many instruments and surfaces I thought about myself - I have a habit of drumming on anything. He was also very entertaining as he cheered the audience on to join him in rhythm.
Willie is a very experienced percussionist who still shares his art with the community at his own expense to inspire other artists - all the qualities of an icon. He even has his own trade mark look that sets him apart. Willie has the talent honestly, being the son of a Latin percussionist. He makes it clear though that he writes music too and not just Latin music, but R&B and Jazz too.
"I have 67 songs on ReverbNation - it's the #1 music site," Willie informed me.
That day at the Historic Dunbar the Chillie Willie Groove Band performed like they were performing on the Grammy Awards before millions of people. The members of the Chillie Willie Groove Band were seasoned professionals and icon musicians, such as icon Art Webb (Prince/Stanley Clark/Norman Connors) on flute; Malik Alkabir on sax; Benji Torres on upright bass; Onier Bacallo on trumpet, Joseph Gomez as an additional percussionist, and Gustavo Rodriguez on piano. Willie's band also has a singer, Elisa Gomez Taylor and Nick Mancini on vibes, but they weren't there that day.
"I'm going to my 2nd audition with 'America Got Talent,'" he added excitedly.
Willie Groove performs all the time and everywhere and with his entertaining style he should make it to living legend status soon. He has a story that goes like this, his mother claims he was drumming in her womb and she was right. He grew up to perform as a percussionist with Spyro Gyra, Tower of Power, Poncho Sanchez, Bootsy Collins Angela Bofill and George Benson. He has played on many tours that have taken him all around the world like France. You can see some of his performance that day at https://youtu.be/cYj-4Cnk590. You can also follow Willie on Facebook @ChillieWillieGroove.
SYNDICATED COLUMN: Eunice Moseley, has an estimated weekly readership of over ¼ million with The Pulse of Entertainment. She is also a Public Relations Strategist and Business Management Consultant at Freelance Associates, and is Promotions Director (at-large) for The Baltimore Times. www.ThePulseofEntertainment.com. EVENT: Eunice is founder of the annual "Uplifting Minds II" Entertainment Conference (ULMII), into its 20th year. Next event dates include Los Angeles Saturday, November 9, 2019 at the Los Angeles Convention Center (511) and Baltimore Saturday April 18, 2020, held in partnership with Security Square Mall and The Baltimore Times. The free conference offers an Entertainment Business Panel and a Talent Showcase and Competition (vocal, songwriting, dance and acting) with over $15,000 valued in prizes to selected artists. Log onto www.UpliftingMinds2.com for more information or to participate as a panelist or talent call 562-424-3836.
www.GoFundMe.com/Uplifting-Minds-II-Entertainment-Conference