The Pulse of Entertainment: Michael League's Bokante' Band Performs at the Weinberg Center Feb 28, 2020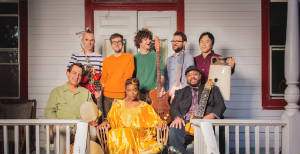 (February 7, 2020) - "The band leader shares the concept...the band sets the tone," said three-time Grammy Award winning Jazz, Gospel and R&B musician Michael League. He has several bands, his latest band is called Bokante' and they will be performing Friday, February 28, 2020 at the Weinberg Center for the Arts in Fredericks, Maryland - curtain opens at 8pmET. When asked what can attendees expect to hear at the Bokante' concert Michael said, "It will be a mixture from both records."

The Grammy nominated Bokante' (meaning "exchange" in Antillean Creole) ensemble consist of Michael (bass, guitar, keyboards), Roosevelt Collier (guitar), Chris McQueen (guitar), Bob Lenzetti (guitar), Andre' Ferrari (percussion), Jamey Haddard (percussion), Keita Ogawa (percussion), and Caribbean vocalist Malika Tirolien. Malika sings in Creole and French and the bands' tone is that of Electric Blues/Caribbean AfroPop. Their two album releases Michael talks about are titled "Strange Circles" and "What Heat."

A Long Beach, California native, League's first band is called Snarky Puppy. The garnered the three Grammy Awards. He formed that Jazz band while a freshman at University of North Texas in 2004. They are based in New York. He later went on to perform as an instrumentalist for or with Kirk Franklin, Walter Hawkins, Marvin Sapp and Israel Houghton. Michael also formed the Texas/NY based band Forq with keyboardist Henry Hey in 2012. He is a regular member of Erykah Badu's band The Gritz and is the current music director for David Crosby, founder of Crosby, Stills & Nash. Michael recently toured with Crosby for his 2018 "Lighthouse Tour." Michael League has also recorded with Lalah Hathaway, Michael McDonald and Esperanzo Spalding. Michael formed the Bokante' ensemble in 2016. In 2019 their received a Grammy nomination, "Best World Music Album," for their latest album "What Heat."

"I was writing... I'm always writing music...and I noticed a lot of it was different and didn't fit with my other bands. I decided to create another band," said Michael League as to why he put together another band when he already had two. "Same concept but not fitting...I got a bunch of guys together to allow them to do their thing."
On the Grammy nomination recently received by the band Bokante' Michael said, "I don't think about it very often to be honest. It's not as important to me then other things. It's like being voted very popular in school. Not a milestone but incredibility helpful and a blessing. It gave a lot of opportunities to the band, and to us individually"
Michael League owns the GroundUP Music League label. www.Bokante.com www.SnarkyPuppy.com www.ForqMusic.com www.WeinbergCenter.org
SYNDICATED COLUMN: Eunice Moseley, has an estimated weekly readership of over ¼ million with The Pulse of Entertainment. She is also a Public Relations Strategist and Business Management Consultant at Freelance Associates, and is Promotions Director (at-large) for The Baltimore Times. www.ThePulseofEntertainment.com. EVENT: Eunice is founder of the annual "Uplifting Minds II" Entertainment Conference (ULMII), into its 20th year. Next event dates include Los Angeles Saturday, November 9, 2019 at the Los Angeles Convention Center (511) and Baltimore Saturday April 18, 2020, held in partnership with Security Square Mall and The Baltimore Times. The free conference offers an Entertainment Business Panel and a Talent Showcase and Competition (vocal, songwriting, dance and acting) with over $15,000 valued in prizes to selected artists. Log onto www.UpliftingMinds2.com for more information or to participate as a panelist or talent call 562-424-3836.
www.GoFundMe.com/Uplifting-Minds-II-Entertainment-Conference