(June 4, 2021) - Distributed by Universal Pictures, the full-length Dreamworks Animation
Spirit Untamed
is
a sweet delight
. Sweet plot, sweet message and sweet animation that make it a wondrous film for the family to watch together.
Spirit is an untamed horse named by young Lucky Prescott, voiced by Isabela Merced (Dora and the Lost City of Gold), a headstrong young girl who moves back in with her father Jim Prescott, voiced by Academy Award nominated Jake Gyllenhaal (Spider-Man: Far from Home). After years living with her aunt Cora, voiced by Academy Award winning Julianne Moore (The Lost World: Jurassic Park), after the death of her mother Milagro Navarro Prescott, voiced by Eiza Gonzalez (Fast & Furious Presents: Hobbs & Shaw) a fearless horse-riding stunt performer, she is taken by her aunt to live with her father in Miradero, Mexico. She hopes that he can "tame" his daughter.
The epic tale follows Lucky as she tries to find a new "home" with her father in Mexico. His best friend Al Granger, voiced by Emmy winning Andre Braugher (Fox's "Brooklyn Nine-Nine), owns a horse stable where a heartless horse wrangler, voiced by Walton Goggins (FX's "Justified"), tames wild horses. Lucky notices how mean the horse wrangler is to one wild mustang who refuses to be tamed. She relates to the horse's struggle to be head-strong and wild so she makes it her mission to befriend the mustang - who she names Spirit.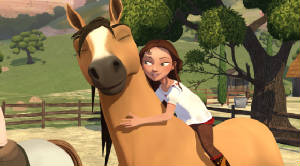 Lucky has the help of Al's daughter Pru Granger, voiced by Marsai Martin (Little) and Abigail Stone, voiced by McKenna Grace (Captain Marvel), and she learns what to feed horses and that breaks the ice between Lucky and Spirit. Mishaps happen, when Abigail accidentally lets Spirit out the fenced in area. Lucky's father Jim, afraid Lucky will be killed by horses like her mother, refuses to let her have or play with Spirit. However, once Spirit is freed she disobeys him and goes out in search of the mustang - with her two friends in tow.
So that is when the real adventure begins because the heartless horse wrangler is after Spirit too and the group of mustangs Spirit leads so he can ship them off to be sold. During the rescue Lucky learns about her mother's talents and her Mexican heritage.
Spirit Untamed is a continuation of the Spirit Dreamworks Animation saga that began in 2002 with the Oscar nominated Spirit: Stallion of Cimarron and includes an Emmy winning "Spirit Riding Free" television series on Netflix. It is directed by Elaine Bogan (How to Train Your Dragon franchise) and produced by Karen Foster.
www.Dreamworks.com/movies/Spirit-Untamed