The Pulse of Entertainment: In Review of 2022, Interviews with Marita de Lara, Boney James, Bishop Marvin Sapps and Kim Waters Shine Through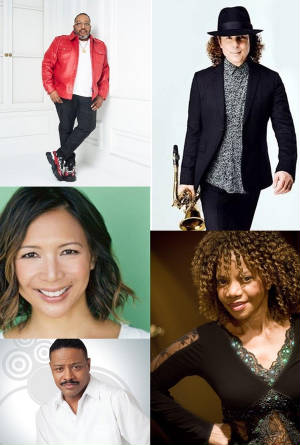 (January 3, 2023) - "I'm a jack of all trades," said comedian/actor Stamaur Mitchell (Fox Sports' movie 'Spencer vs Garcia) during my first interview in review of 2022 for The Pulse of Entertainment. Of all the quotes received in 2022 this one from Stamaur describes me. Mitchell ended-up virtually co-hosting my 23-year-old community event, an entertainment conference called Uplifting Minds II, for the Los Angeles date in November.

Each year in reviewing it for the New Year, I'm humbled by all those who honor me with their time. Sharing my interviews with those who would call or email me about who I've talked to, is one of the main reasons why I launched The Pulse of Entertainment. Initially I shared those interviews through email-blasts, then I added sending out a newsletter in print, and now it is a syndicated column. Its average weekly readership in syndication is over one million, and its website received over 60,000 readers monthly.

In highlighting 2022 for the new year, I find myself boasting, but I'll continue! After the Stamaur Mitchel interview, one with Marita de Lara followed. We talked about a new season for her recurring role on General Hospital. We also talked about her projects with Apple TV, Hallmark, and ABC Network. Marita too honored me by supporting my ULMII free conference by speaking on the panel.
Bishop Marvin Sapp blessed me with an interview next. It was about the release of his "Substance" album. He is one of those regulars that have kept the interview door-open since day-one. The Boney James interview followed Sapps'. His "Solid" tour was arriving in my hometown of Baltimore. I'm glad I can include Boney as one of the industry icons who I have interviewed for their many projects throughout the years, and I have been writing these entertainment pieces for over 35 years.

In 2022 on average, I published and syndicated over 100 columns and as a result I had that many interviews. I treasure all of them. After Boney my Najee interview comes to mind as a highlight of 2022. We talked about his album "Savoir Fair" featuring Alyson Williams, Barry Eastmond, Paul Brown, and Big Dog Davis on the Shanachie Entertainment imprint. Shanachie is known as a major label for Jazz musicians. An interview with Gospel singing sensation Tamela Mann followed. It was about her album release "Overcomer: Deluxe Edition." Interviewing the living legend Melba Moore followed and was another highlight. The Tony Award winner was promoting her 28th album release "Imagine," a project done with her daughter.

The Cocoa Brown interview about the release of her standup comedy special "Cocoa Brown: Famous Enough," which is produced by Comedy Dynamic, followed. Another honor was the interview with living Jazz legends Jeff Lorber, Everette Harp, and Paul Jackson, known together as the group Jazz Funk Soul. We talked about their album "Forecast." One more interview with Boney James followed, this one was about the release of his album "Detour," and its single titled "Bring it Back." Though there were many interviews after his, the 2022-year highlights end with an interview with saxophonist Kim Waters. He too is another legendary artist that I have had the pleasure of interviewing throughout his career. We talked about the release of his "That Special Touch" album that features assistance from his daughter Kayla Waters (piano).

I am looking forward to what interviews 2023 will bring and as always, I will share those talks with you. www.ThePulseofEntertainment.com
SYNDICATED COLUMN: Dr. Eunice Moseley has an estimated weekly readership of over one million with The Pulse of Entertainment. She is also a Public Relations and Business Management Strategist and Consultant at Freelance Associates, and is Promotions Director (at-large) for The Baltimore Times. www.ThePulseofEntertainment.com EVENTS: "Uplifting Minds II" Entertainment Conference (ULMII), founded by Eunice in 1999, is into its 24th year. Next events are coming to Baltimore via Zoom Saturday April 15, 2023, presented by Security Square Mall and The Baltimore Times, and Los Angeles via Zoom Saturday, November 11 2023. The ULMII event is a free entertainment conference offering a Professional Industry Panel Q&A Session, a Professional Talent Showcase and National Talent Competition (vocal, songwriting, dance and acting) where aspiring artists have a chance to receive over $17,500 valued in prizes/product/services. Log onto www.UpliftingMinds2.com for more information or to RSVP for Zoom Access email info@ThePulseofEntertainment.com.
www.GoFundMe.com/Uplifting-Minds-II-Entertainment-Conference