The Pulse of Entertainment: Rapper Lil Dallas is 'Finally Free' on New Album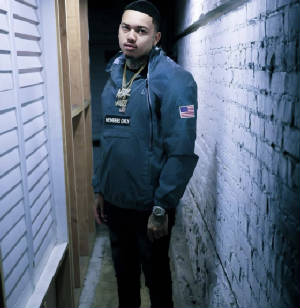 (January 31, 2023) - "I got Mozzy and...about eight featured artists," said rapper Lil Dallas about his upcoming album "Finally Free," slated for a September 30, 2023, release. "A couple of them are my partners. Mozzy is like a brother."

Lil Dallas' story is like many young males from the inner city trying to survive with seemingly drugs as the only escape. His story can be heard on the tracks of this new project. A native of North California, Lil Dallas did his time in the system and the experience changed his life. His rap flow is sweet, but when he is assisted by other artists he really delivers! Some of the artists on the "Finally Free" project include Mozzy, TeeJay3k, Seddy Hendrix, MMMonthabeat, MBKMoney, and EazyMoneyLeek.

"Life is too short," he told me when I asked about what he didn't know before he went to jail.

Lil Dallas is no longer worried about the little picture, the inner city-blues, but the bigger picture - that his destiny is his to shape and God gave him everything he needs. The rapper, who has a Nas vibe, is finally taking control of this life and is shaping it as the life of an artist. He is currently performing in and around California and as he does his fan base is growing because he is one of those artists you can tell you need to look out for.

"I plan on dropping as much music as I can...hoping to get a sort-of-a-deal," Lil Dallas admitted.

When I asked if he recorded his album with his featured artists in person he said, "Most for that tape (album) we were all separate. The artists are from other cities."
SYNDICATED COLUMN: Dr. Eunice Moseley has an estimated weekly readership of over one million with The Pulse of Entertainment. She is also a Public Relations and Business Management Strategist and Consultant at Freelance Associates, and is Promotions Director (at-large) for The Baltimore Times. www.ThePulseofEntertainment.com EVENTS: "Uplifting Minds II" Entertainment Conference (ULMII), founded by Eunice in 1999, is into its 24th year. Next events are coming to Baltimore via Zoom Saturday April 15, 2023, presented by Security Square Mall and The Baltimore Times, and Los Angeles via Zoom Saturday, November 11 2023. The ULMII event is a free entertainment conference offering a Professional Industry Panel Q&A Session, a Professional Talent Showcase and National Talent Competition (vocal, songwriting, dance and acting) where aspiring artists have a chance to receive over $17,500 valued in prizes/product/services. Log onto www.UpliftingMinds2.com for more information or to RSVP for Zoom Access email info@ThePulseofEntertainment.com.
www.GoFundMe.com/Uplifting-Minds-II-Entertainment-Conference